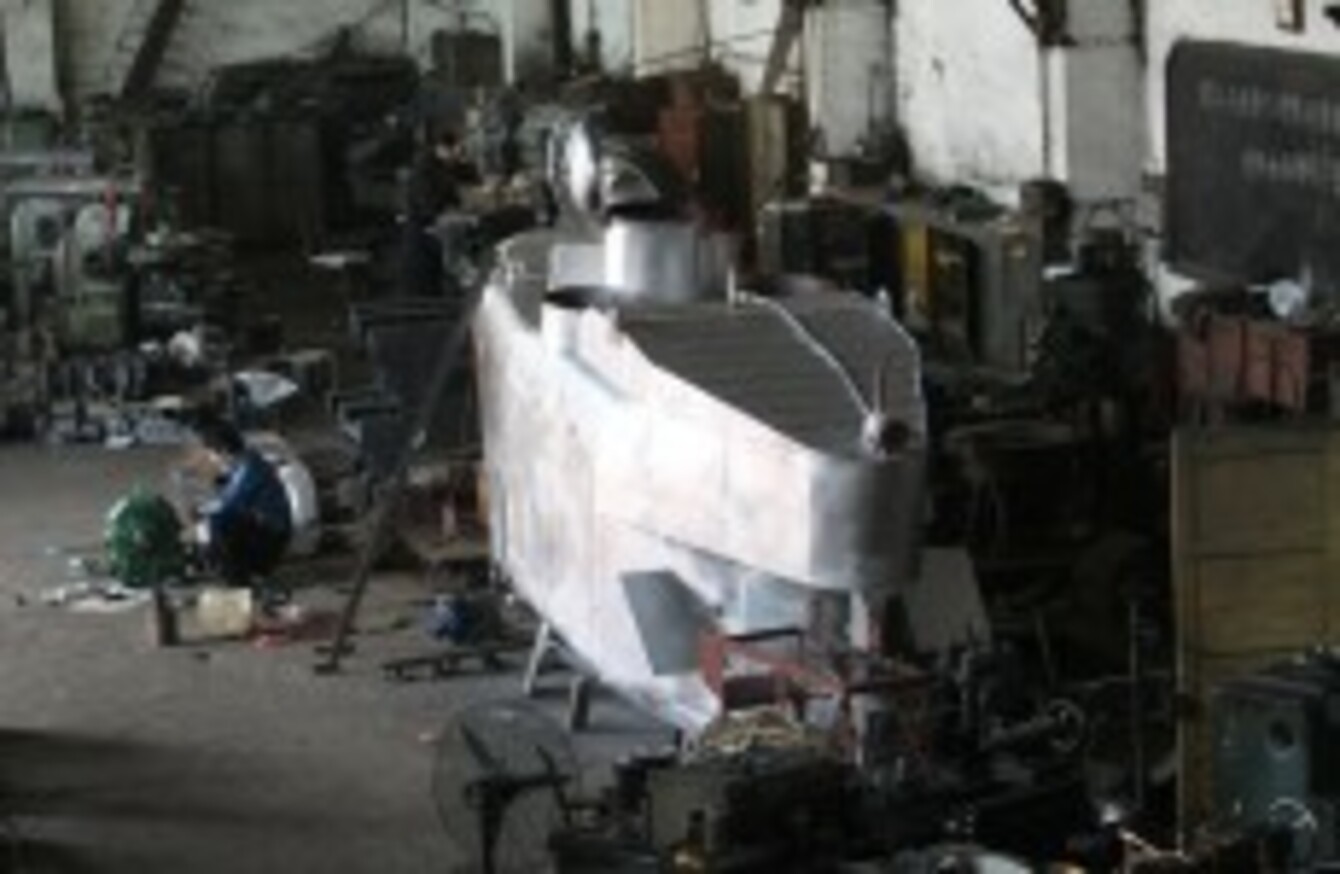 A submarine takes shape in Zhang Wuyi's workshop
Image: Sun Xinming/ChinaFotoPress
A submarine takes shape in Zhang Wuyi's workshop
Image: Sun Xinming/ChinaFotoPress
A CHINESE MAN who was laid off from his job has bounced back by building submarines in his workshop.
Pictures from Sun Xinming of ChinaFotoPress, taken in the last week, show Zhang Wuyi working on the mini submersibles in Wuhan in the Hubei province of China. A recent report on his work in the Wuhan Evening News (according to WantChinaTimes) found Zhang has won orders to produce three of the submarines this year. They are most often being used by fishermen who have to dive to farm sea cucumbers in the Bohan Gulf region of northern China. Sea cucumbers are popular in China as a delicacy and are reputed to act as an aphrodisiac.
Zhang's creations have proven so popular that he has taken on a number of employees (there are more visible in the pictures below than the one man cited in the Wuhan Evening News Report).  Zhang has invested about three million yuan (about €357,958) to study and make the small submarines. He sold his first one to a fisherman at 150,000 yuan (about €18,110).
We're not sure sea cucumbers are as in demand in Ireland but we admire the guy's creativity…
Have you started a new business or found a new line of work after losing a job? TheJournal.ie would like to hear from you at editor@thejournal.ie.
Zhang Wuyi's submarine workshop

Zhang Wuyi's submarine workshop

Zhang Wuyi's submarine workshop

Zhang Wuyi's submarine workshop

Zhang Wuyi's submarine workshop

Zhang Wuyi's submarine workshop

Zhang Wuyi's submarine workshop

Zhang Wuyi's submarine workshop
All images Sun Xinming/ChinaFotoPress/PA Images