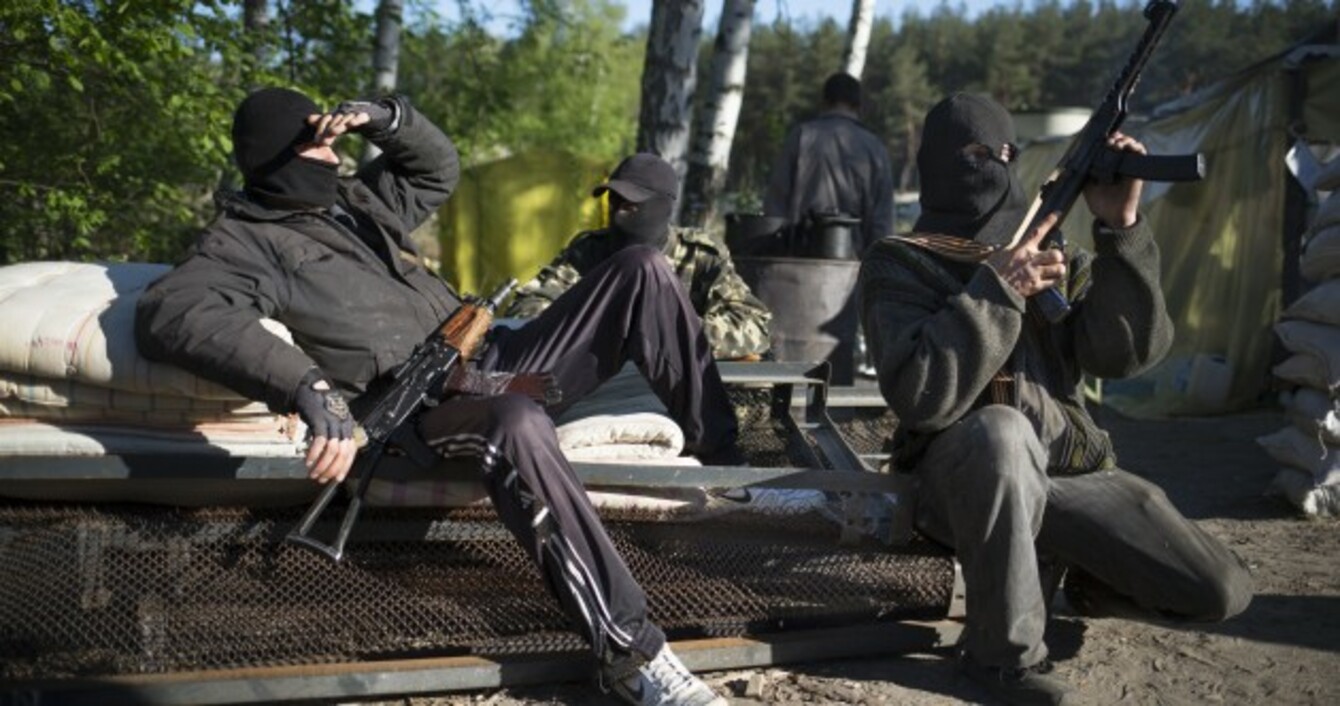 Pro-Russian armed men rest as they guard a checkpoint near Krasny Linam village outside Slovyansk.
Image: AP Photo/Alexander Zemlianichenko
Pro-Russian armed men rest as they guard a checkpoint near Krasny Linam village outside Slovyansk.
Image: AP Photo/Alexander Zemlianichenko
KIEV HAS ACCUSED Moscow of seeking to trigger a "third world war" as military tensions soared in east Ukraine and US President Barack Obama led a diplomatic charge against Russia.
A rocket-propelled grenade blew up a Ukrainian military helicopter sitting on the tarmac at a base near the eastern town of Kramatorsk, officials in Kiev said. The pilot escaped but was wounded.
The brazen attack by the insurgents came amid an army offensive to dislodge pro-Kremlin gunmen who are holding a string of eastern towns.
"Blockade"
Kiev announced Friday that its forces were now seeking to "blockade" rebels inside another flashpoint town, Slavyansk, to prevent militant reinforcements arriving.
On Thursday, Ukrainian armoured vehicles and commandos had made a brief but dramatic incursion into Slavyansk, killing one 22-year-old insurgent.
Russia responded by ordering its troops massed on Ukraine's border to launch a new military exercise.
The developments prompted German Chancellor Angela Merkel to call Russian President Vladimir Putin to voice "great concern" over the situation and to urge implementation of a Geneva accord signed a week ago that was meant to defuse tensions
Merkel's spokesman Steffen Seibert also warned of fresh sanctions against Russia, telling reporters in Berlin: "Sanctions are already in place… you have to face the facts — in case nothing changes — it is important to be prepared for more."
Cold War
Ramping up the Cold War-style rhetoric, Ukrainian Prime Minister Arseniy Yatsenyuk accused Russia of trying to spark a global conflict.
"The world hasn't forgotten the Second World War and Russia wants to start a third world war," he said.
"Russia's support for the terrorists in Ukraine constitutes an international crime and we call on the international community to unite against the Russian aggression."
US Secretary of State John Kerry said the Kremlin was making an "expensive mistake" by meddling in Ukraine, stressing that further Western sanctions on Moscow were poised to be unveiled.
"External intimidation"
Moscow, Kerry said, was trying to "actively sabotage the democratic process through gross external intimidation", described the latest Russian drills as "threatening".
"Let me be clear: if Russia continues in this direction, it will not just be a grave mistake, it will be an expensive mistake," he said.
Standard and Poor's on Friday downgraded its credit rating on Russia to one notch above junk status, suggesting Moscow was already feeling the pinch of the sanctions threat.
Russia's central bank reacted by raising its key interest rate because of "the growing inflationary risks".
Obama, on a visit to South Korea, said he would be consulting with key EU leaders later Friday.
Russia Foreign Minister Sergei Lavrov hit back by charging that Washington was "smearing" Moscow and claimed the United States wanted to "seize" Ukraine for its own "geopolitical ambitions and not the interests of the Ukrainian people".
Lavrov also complained that during private talks with his US, British and French counterparts he had come under pressure to call back Russian agents from Ukraine's east.
Ukraine's acting President Oleksandr Turchynov has vowed to push on with the "anti-terrorist" offensive to put down the rebellion in the east.
"We will not back down from the terrorist threat," Turchynov said in a televised address Thursday, telling Russia to stop interfering in Ukraine's internal affairs.