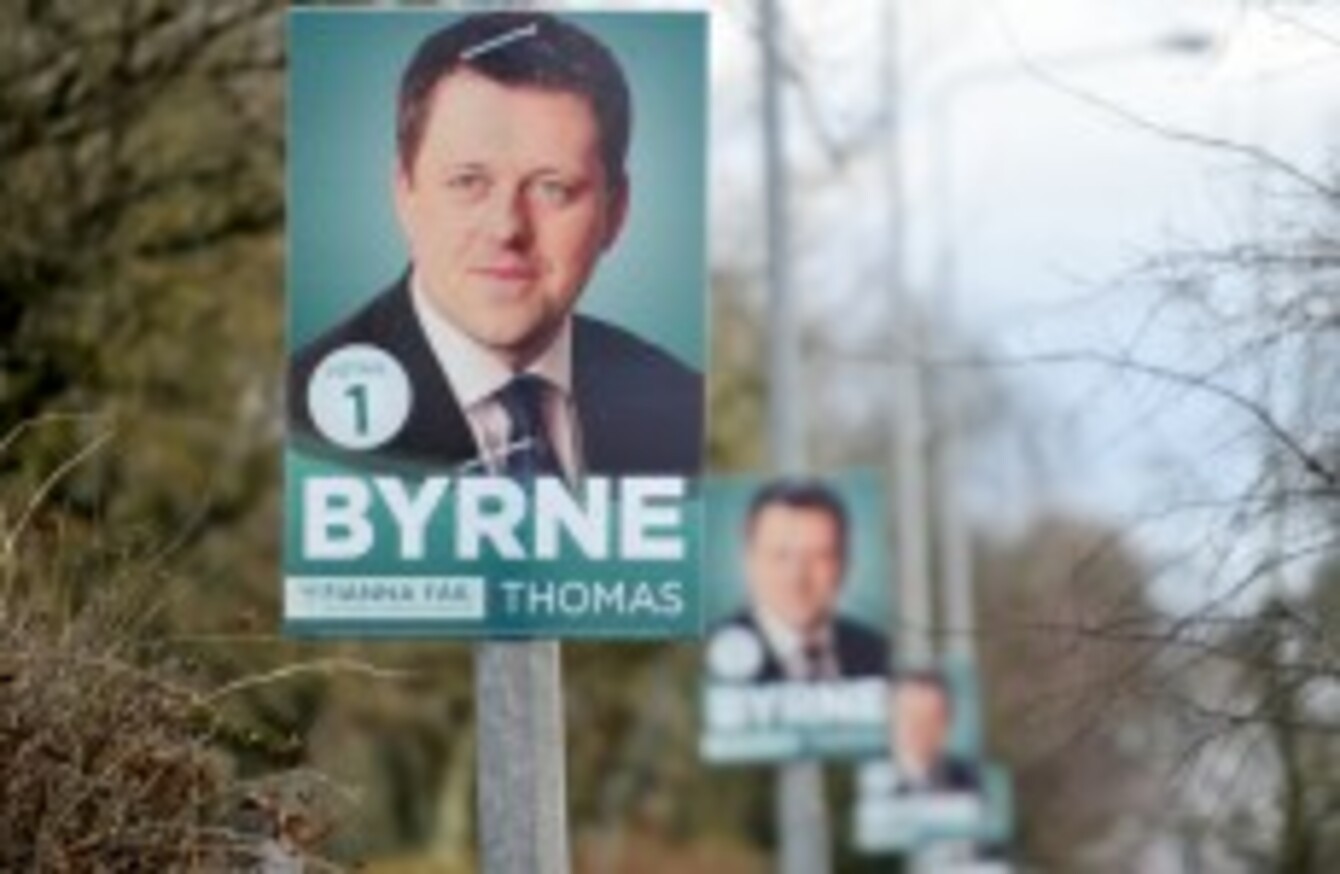 Posters for Thomas Byrne in Meath East during last year's by-election.
Image: Laura Hutton/Photocall Ireland
Posters for Thomas Byrne in Meath East during last year's by-election.
Image: Laura Hutton/Photocall Ireland
SENATOR THOMAS BYRNE is set to contest the European elections for Fianna Fáil in the vast constituency of Midlands North West (MNW).
The Meath-based senator, who missed out on being elected to the Dáil in the Meath East by-election last year, is likely to be selected at the party's constituency convention early next month.
The former TD, who lost his seat in 2011, has declined to comment publicly and has previously stated he is focused on regaining his Dáil seat in 2016, but it is likely he will outline his intention to run for Europe at the weekend, TheJournal.ie understands.
Byrne is the third senator to run in the four-seat constituency and is set to join incumbent MEP Pat 'The Cope' Gallagher on the Fianna Fáil ticket. Seanán Ó Coistín, a former independent candidate in Ireland East, is also seeking the party's nomination.
The 15-county constituency has been established on foot of the reduction in the number of Ireland's MEPs from 12 to 11 and the subsequent abolition of Ireland East. MNW stretches from Donegal down to Laois and from Mayo across the Louth.
The sheer size of the constituency means that no candidate is likely to cover the whole of it during the campaign leading up to the vote on 23 May. But Byrne's campaign will likely focus on north Leinster, Cavan and Monaghan with Gallagher's support strong in the west and his home county of Donegal.
Earlier this week, former Longford-Westmeath TD Donie Cassidy confirmed that he will not be putting himself forward at the party's forthcoming selection convention, throwing his support behind Byrne in light of Fianna Fáil deciding to go with two candidate strategy.
Fine Gael has already selected incumbent MEPs Mairead McGuinness and Jim Higgins as it targets two of the four available seats in the constituency.
Labour has selected senator Lorraine Higgins, Sinn Féin is running councillor Matt Carthy, and the Green Party is running councillor Mark Dearey.
Incumbent independent MEP Marian Harkin is seeking to retain her European Parliament seat, and independent senator Rónán Mullen also contesting the election.