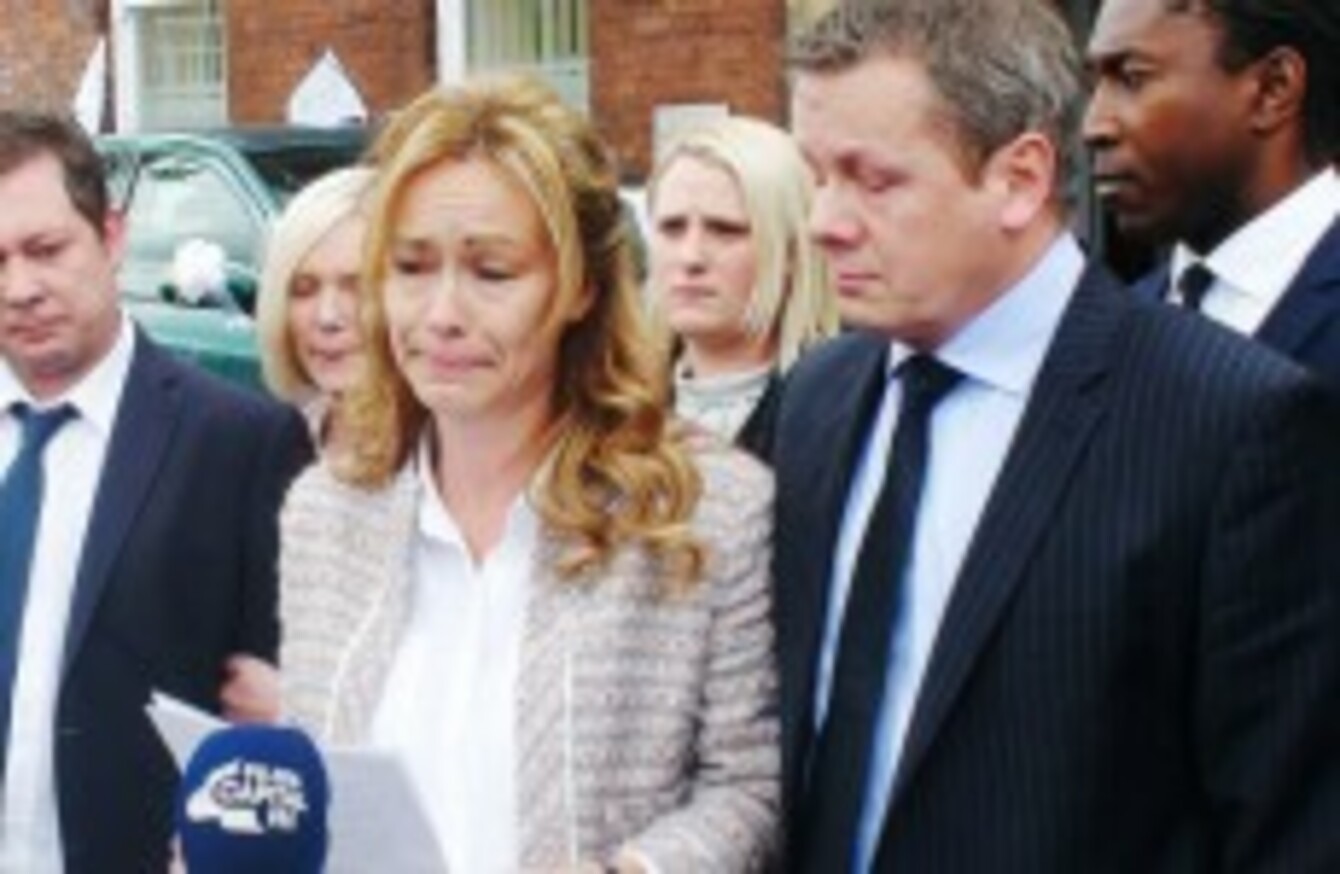 Sharon Wood makes her statement outside Wakefield Coroner's Court following the inquest
Image: PA Wire/Press Association Images
Sharon Wood makes her statement outside Wakefield Coroner's Court following the inquest
Image: PA Wire/Press Association Images
THE MOTHER OF two children killed by carbon monoxide poisoning in Corfu in 2006 has said she will never forgive the travel agent Thomas Cook who have been found guilty of breaching their duty of care.
Bobby (6) and Christi Shepherd (7) were fatally poisoned by fumes from a faulty boiler in their room at the Louis Corcyra Beach Hotel on the Greek Island in October 2006.
An inquest jury found the travel agent had breached its duty of care towards the children after West Yorkshire coroner David Hinchliff instructed them that the only conclusion they could arrive at was unlawful killing.
Following the inquest, the Shepherd children's parents Sharon Wood and Neil Shepherd made emotional statements outside the court.
"Thomas Cook put Christi and Bobby in that bungalow and I will always hold Thomas Cook responsible for their deaths," she said.
Thomas Cook said they offered our family practical and financial support. This is simply not true.
Whilst we appreciate there were criminal convictions in Corfu, it is clear that Thomas Cook could and should have identified that lethal boiler.
I would also like to say that there can never be true justice for the deaths of my two innocent children, their whole lives ahead of them.
Rest in peace now our beautiful angels.
"Thomas Cook should hang its head in shame as a result of these deaths. The families of Christi and Bobby have waited nearly nine years for an apology – they are still waiting," the family's lawyer, Leslie Thomas QC, told The Guardian.
Family members also spoke of their anger that the travel agency has refused to apologise for the deaths.
Bobby and Christi's father Neil fell into a coma with his partner Ruth as a result of the poisoning and came very close to dying also. He accused Thomas Cook of failing his family and lambasted the tour operator for refusing to answer questions about the deaths.
"From start to finish, Thomas Cook have hidden behind a wall of silence and they have refused to answer any questions for almost nine years," he said outside court.
Thomas Cook are not blameless; we are disappointed they have refused to apologise to us.