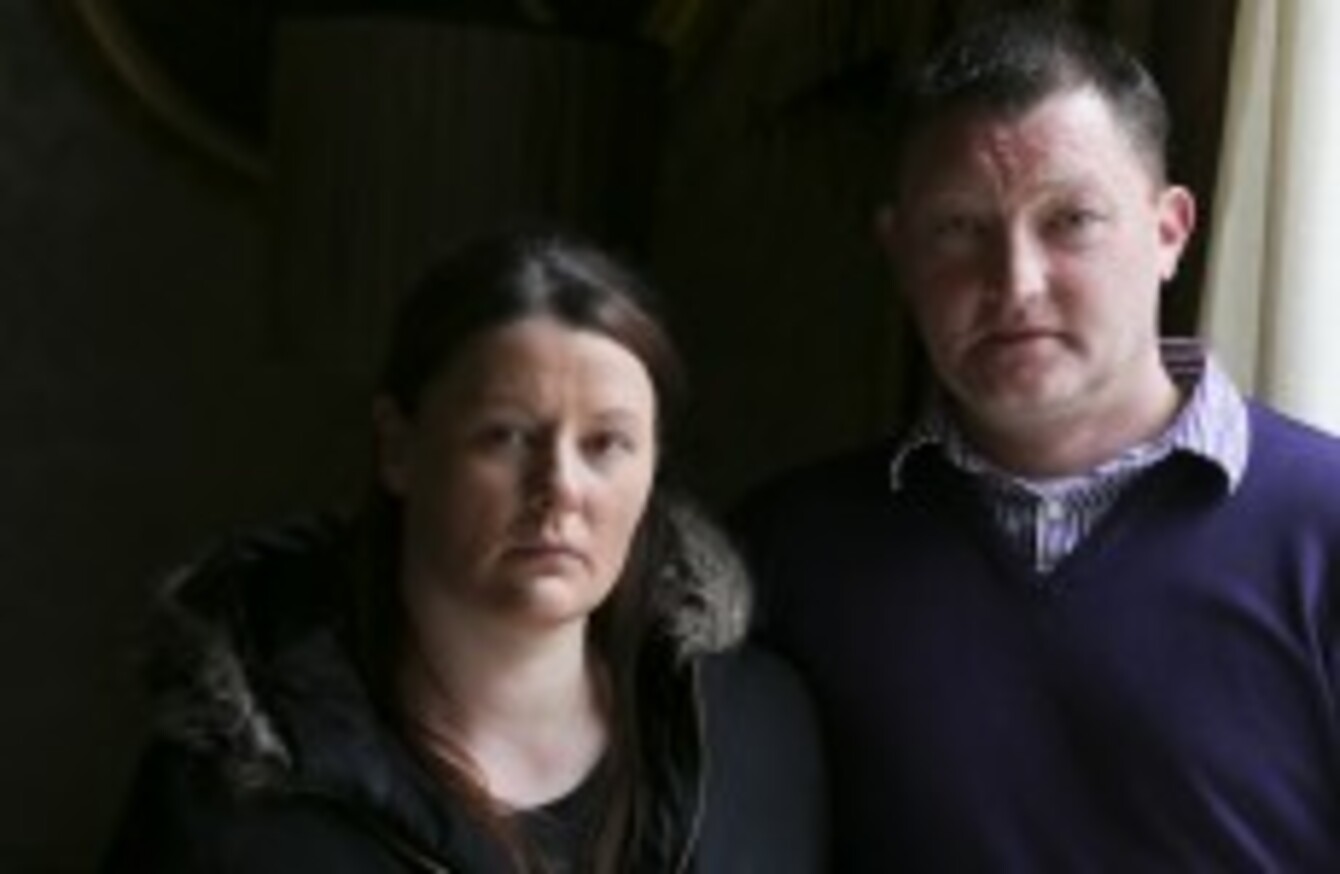 Rachael Kelly and Wayne Fitzgerald
Image: Sam Boal via Photocall Ireland
Rachael Kelly and Wayne Fitzgerald
Image: Sam Boal via Photocall Ireland
TENS OF THOUSANDS of families in Ireland are "facing imminent eviction" because their landlords are insolvent, according to Richard Boyd Barrett.
The People Before Profit TD said he is contacted by families in this "really dire situation" on a daily basis. "They are at their wits' end and they are getting no help or support anywhere," he stated.
Boyd-Barrett noted that once an insolvent landlord's property portfolio is taken over by receiver on behalf of a bank, tenants are "completely at sea" if the receiver decides to sell the house.
He added that tenants have "absolutely no recourse" to stay in the house or recoup their deposit, even if their rent has been fully paid. He called on the government to update the Residential Tenancies Act 2004 to ensure protection and rights for tenants in receivership.
Boyd-Barrett added that the situation was compounded by increasing rental prices and recent cuts in rent allowance caps by Social Protection Minster Joan Burton.
'Political bulls**t'
Property expert Karl Deeter stated that the government needed to "get the finger out" and deal with the issue.
"Any bit of political bulls**t you hear is not going to make a damn bit of difference," Deeter said.
He added that there are 3,700 receiverships in place throughout the country, meaning "a five figure number of people are being affected by this".
Four months ago Rachael Kelly and Wayne Fitzgerald were sent a letter from receivers Kavanagh-Fennell informing them that their house in Rose Hill estate in Wicklow town was going to be sold and they would have to relocate.
"Myself and Rachael got a letter from a receiver in November and it said that the landlord had gone into receivership and that they were going to sell the house," Fitzgerald said.
Kelly has lived in the house for six years and said she had never missed a rent payment in that time. The couple have three young daughters who are "very stressed" about the move.
Special needs
Their eldest daughter Leah, who will turn 9 in April, has special needs, including serious spinal and heart conditions. The family have been looking for a suitable house to move to for months, but have not been successful in their search.
Fitzgerald said that a three-bedroom house in Wicklow would cost about €950 a month, but that the couple only receive €550 a month in rent allowance. He noted that about ten families in their estate were also facing eviction due to their landlords becoming insolvent.
The couple has not heard from their landlord since receiving the letter. Fitzgerald said that the local council's "hands are tied as well" as they do not have enough funding.
Fitzgerald noted: "I'm not moving until I have a house, that's the end of it. I've a family to look after."
Barrett said that 30,000-40,000 buy-to-let properties are in arrears in Ireland, making it "absolutely the biggest crisis in the country at the moment".
He praised the "courage" of Kelly and Fitzgerald for going public with their concerns, adding that most people in this situation don't want to speak out as it's "humiliating" and "very personal".