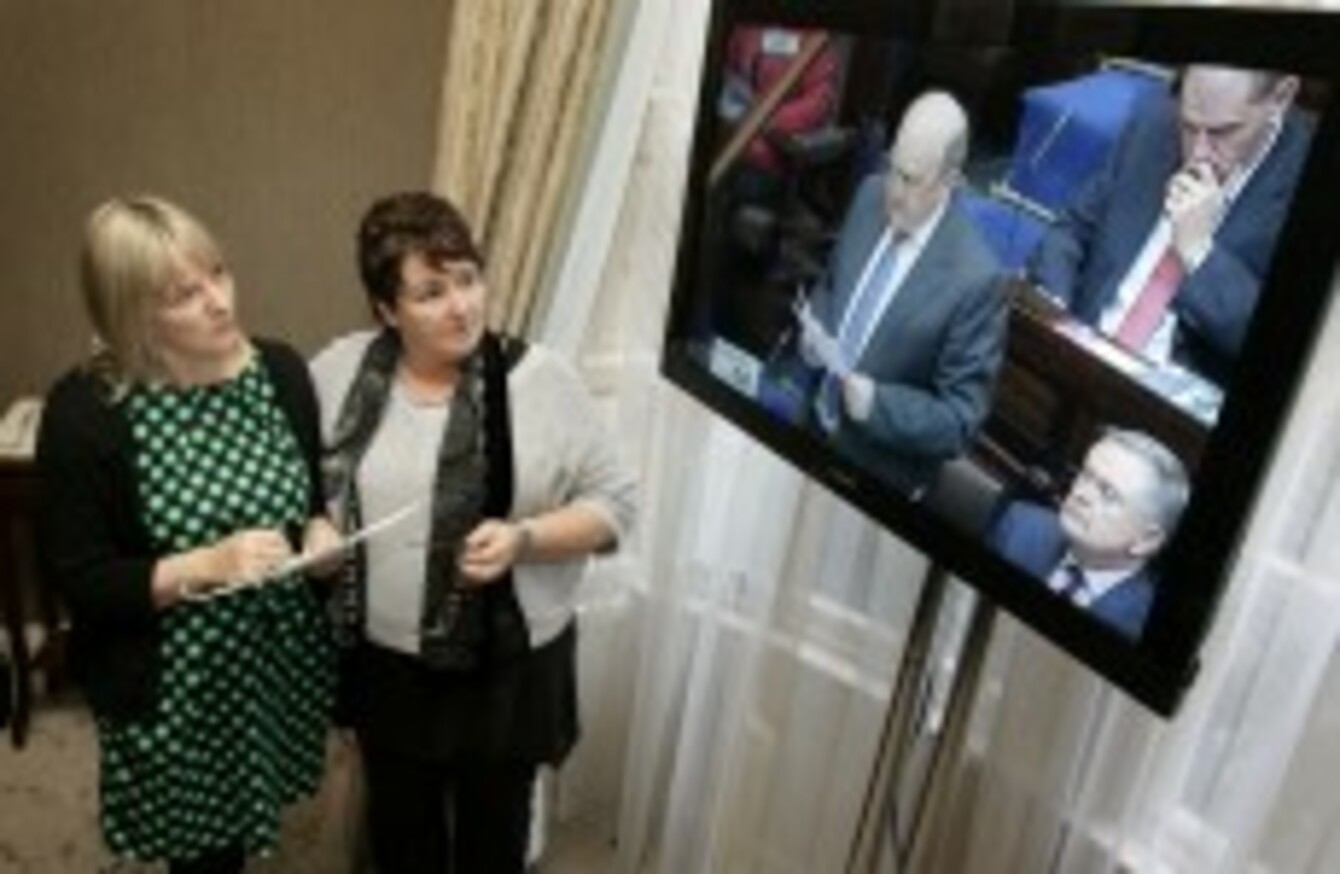 All eyes will be on Michael Noonan in the Dáil this Tuesday
Image: Mark Stedman/Photocall Ireland
All eyes will be on Michael Noonan in the Dáil this Tuesday
Image: Mark Stedman/Photocall Ireland
OVER THE PAST few months Dr Daragh McGreal, an economic advisor to the independent TD Stephen Donnelly, has been writing for TheJournal.ie about the forthcoming Budget and some of the options that could be considered. 
In this final article before Tuesday's Budget announcement, McGreal outlines some of the ideas in Donnelly's pre-Budget submission and explains why Hamburg has some valuable lessons for Ireland. 
 AS YOU ENTER the University of Hamburg, you'll see a large electronic clock. It shows the city's debt increasing as the seconds pass. You can't escape it.
So concerned is Germany with debt and stability that it has been cutting funding to the Kaiser Wilhelm Canal, which allows ships go directly from the Baltic to the North Sea. The funding cuts have led to the canal closing for periods. The result: ships rerouting and Hamburg's port suffering. But at least money was saved.
What are the lessons for Ireland? Can we reduce our debt while fostering growth? Or does the economy growing mean we can 'let up'? The answers are lots, yes, and not really. A giveaway budget would be financed through borrowing, meaning our debt would increase.
So the brief is clear: How do we solve social problems, spur the economy, and save money? Here are a few ideas.
Reduce red tape
Firstly, to get businesses growing, we can reduce red tape and support enterprise. To build a factory it takes an average of 156 days to get a construction permit and an average of 205 days to get an electricity connection.
This could be solved by mandating quicker decisions on planning applications from SMEs, by setting up one-stop-shop business development centres, and by increasing cash accounting thresholds for SMEs. This would foster entrepreneurship at low cost.
We could also increase funding to support exporting businesses and put money into bringing together start-ups and investors. Through such measures, we would be helping firms employing over 70 per cent of the Irish workforce and which reinvest in their communities. This would initiate a cycle of growth at low cost and give the impetus to entrepreneurs.
Secondly, we could take a people-led approach by empowering targeted groups, and thus achieve economic growth. With childcare costing up to 40 per cent of the average wage, many parents cannot return to work. This may explain why only 56 per cent of mothers do so. Our research shows that for a stay-at-home parent facing high childcare costs to make more money working than through welfare, the role would need to pay about €70,000.
To solve this, a 20 per cent rebate on childcare costs could be introduced, an additional free year of Early Childhood Care and Education (ECCE) could be provided, and maternity leave could be turned into parental leave.
These policies would give families financial respite, allow mothers to return to work, and grow the economy. In Nova Scotia, investing $1 in early years childcare was shown to add $2.23 to the economy. Similar growth would not be unreasonable in Ireland.
Reverse cuts
Thirdly, we can both solve social problems and help the economy together. Between 2007 and 2012, the deprivation rate shot up, increasing from 21 per cent to 49 per cent for single parents, from 19 per cent to 32 per cent for children under 14, and from 24 per cent to 44 per cent for separated individuals with children.
Reversing cuts to One Parent Family Payments would allow lone parents work, allowing welfare recipients to keep portions of their payments in the months after leaving welfare would help them stay in the workforce, while fixing PRSI problems would help minimum wage workers earn more without paying more PRSI.
These, and other, policies should be introduced alongside saving and raising money. Tax exemptions could be cut back by a modest  3 per cent, the HSE could co-purchase pharmaceutical drugs with the NHS, the European Commission's Financial Transaction Tax could be introduced, taxes on (solely) lottery jackpots could be brought in, and the money used to top up the AIB pension fund could be reclaimed.
Outside of numbers and balance sheets, this Budget can also start a conversation about policy. What kind of Ireland do we want? Are we happy being the lowest tax and lowest spending country of the old EU countries? Or do we want a new model? Having left the Troika behind, these are genuine questions we should address.
John Lennon once said: 'I may have been born in Liverpool, but I became a man in Hamburg'. It's a city that teaches a lot. For Ireland, the lesson is clear: financial prudence need not mean austerity.
Closing the deficit while capturing growth is a real and responsible course of action. Tuesday gives us an opportunity to reflect on where we are going and to work together to build a more mature Ireland.
Dr Daragh Mc Greal is an economist and human rights consultant currently working with Stephen Donnelly TD on Budget 2015 and other policies.