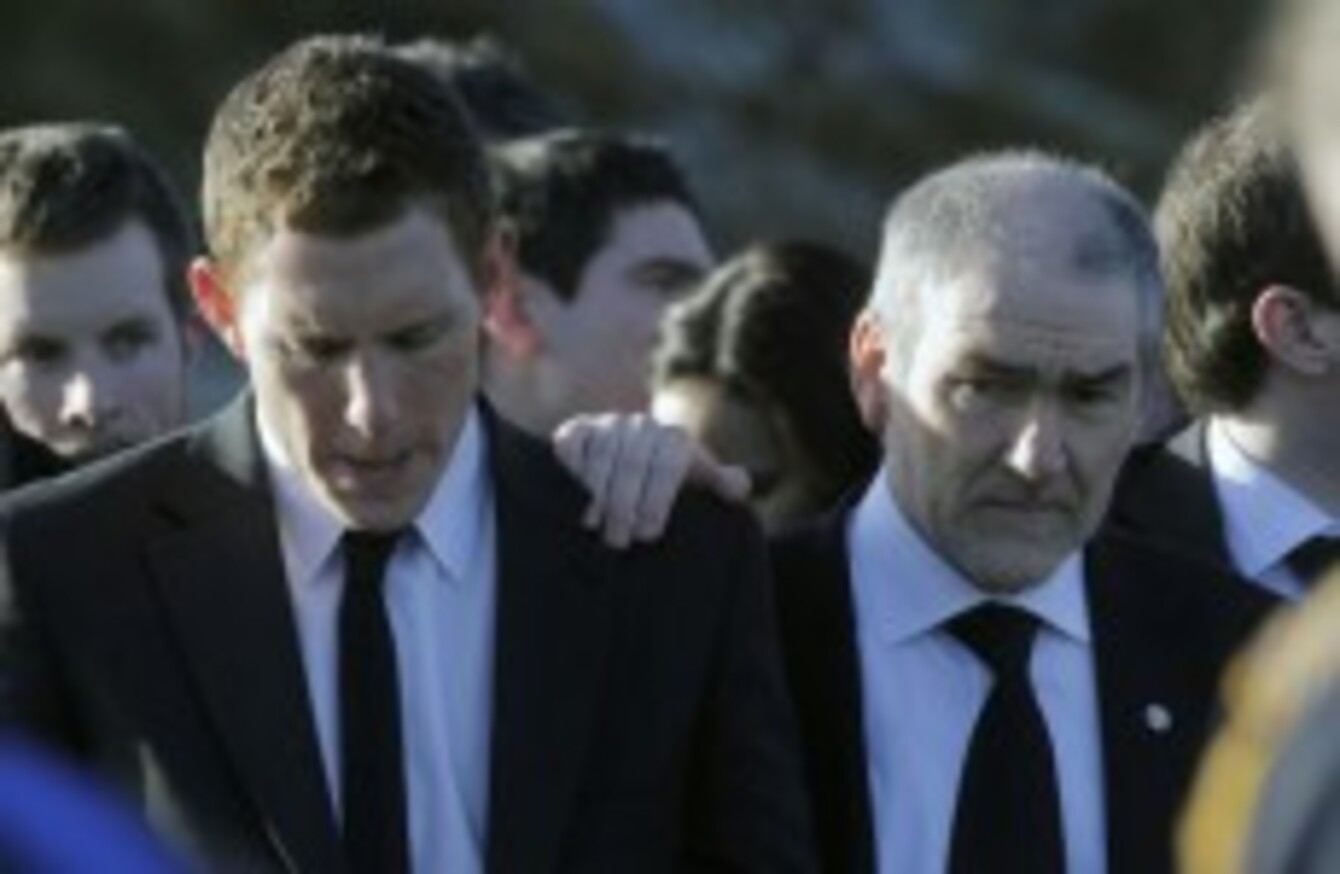 Mickey Harte has said that he hopes Michaela's young husband John, left, will one day marry again
Image: PA Images/Niall Carson
Mickey Harte has said that he hopes Michaela's young husband John, left, will one day marry again
Image: PA Images/Niall Carson
THREE HOTEL WORKERS were charged yesterday with robbery at a 5-star hotel in the south of Mauritius.
The Criminal Investigation Division (CID) of the Chemin Grenier area arrested the three at the unnamed hotel for allegedly stealing money from reception. A plastic bag stashed in a luggage room was later found to contain 40,000 Mauritian rupees (around €1,000) and €855 in euro currency.
News Now Mauritius, reporting the latest case of alleged robbery in one of the island's luxury hotels, notes that it is only a week since employees of another five-star hotel were also accused of robbery. That hotel was Legends Hotel, where Irishwoman Michaela McAreavey met her death on her honeymoon in January.
The equivalent of €500 was taken from two rooms at Legends at the most recent robbery and one man, room attendant Reaz Gurib, has been charged with theft at the District Court of Mapou.
It is believed that Michaela McAreavey, daughter of Tyrone football manager Mickey Harte, was killed when she disturbed an attempted robbery on the room she shared with her new husband John.
The prime suspect in Michaela's murder, Sandip Moonea, 41, was due to appear in court today for the preliminary stage of the case during which police would begin to outline their case against him. Dassen Narainen, 26, has been provisionally been charged with conspiracy to commit larceny and it will be argued that he substituted the electronic swipe card of the room where Michaela was staying.
Avinash Treebhoowoon, 29, is charged with murder along with Moonea. A fourth suspect, room attendant Raj Theekoye, 31, had all charges dropped on Monday at Mapou District Court. The actual trial of the three will not begin for several weeks.
A heartbreaking interview with Mickey Harte by Jilly Beattie in today's Irish Daily Mirror has the football legend say that he can not find hatred in his heart for those who killed Michaela.
He said:
I've tried to conjure up those feelings but they just won't come. There is no hatred inside me for them or anyone else. And I honestly think that Michaela is right by my side keeping me calm.
Harte also said that his family was in "terrible pain" and he feels that the ache in his heart for his lost daughter will never leave. However, he said that he hoped that her young husband John would one day find happiness and love again. He said:
John, poor John. At the moment he just can't see a way out of this. He doesn't know how he'll ever feel happy again. But I have to believe that he will because that's what I want and I know that's what Michaela would want for him.

But I hope that when the time is right for John he will find a nice girl and get married. That would make me happy, that would make Michaela happy.