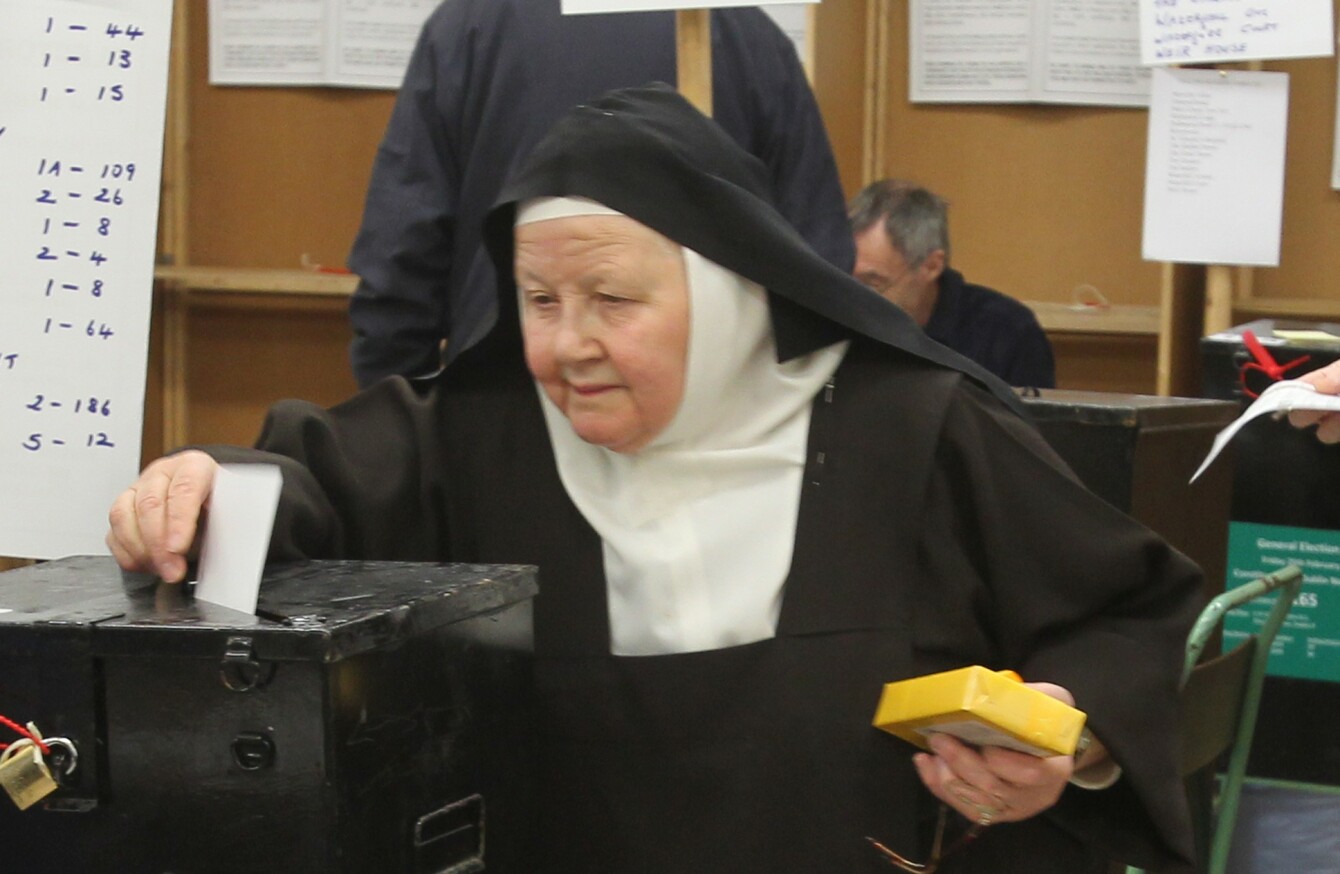 A nun casts her vote in the 2011 general election
Image: RollingNews.ie
A nun casts her vote in the 2011 general election
Image: RollingNews.ie
OVER THREE-QUARTERS of people want the general election held on a Friday, heavily favouring that day over it taking place on a Thursday.
A new poll carried out by Amárach Research for Claire Byrne Live shows that 77% of people want the election held on a Friday.
Just 13% want the election to be held on a Thursday while 10% responded that they don't know.
The poll result comes ahead of what's expected to be the confirmation of the election date by Taoiseach Enda Kenny as early as tomorrow.
While it's expected the election will be called for Friday, 26 February there have been suggestions the vote could be held on Thursday, 25 February.
This follows concerns among some within Fine Gael that Ireland's Six Nations clash with England on Saturday, 27 February could affect turnout. However, Labour ministers have expressed a preference for Friday.
Youth groups, including the youth wing of Fine Gael, have called for the election to be held on a Friday to allow students and other young people to travel home to vote.
Unsurprisingly, the poll shows the strongest support, 83%, for a Friday election among those aged 18 to 24.
Geographically, the strongest support is in all areas of Leinster outside of Dublin with 81% backing a Friday vote.
Environment Minister Alan Kelly, who must sign the polling order, said at the weekend that all elections should be held on Fridays.
Meanwhile, Tánaiste Joan Burton said this afternoon that Friday is a "popular day for voting, particularly for people who are leaving Dublin and going back home to vote".
However she added that voter turnout "doesn't differ markedly between a Thursday and a Friday".
The poll was conducted by Amárach Research on Monday, 11 January. The survey panel comprises more than 1,000 adults who all own a smartphone. More details here.