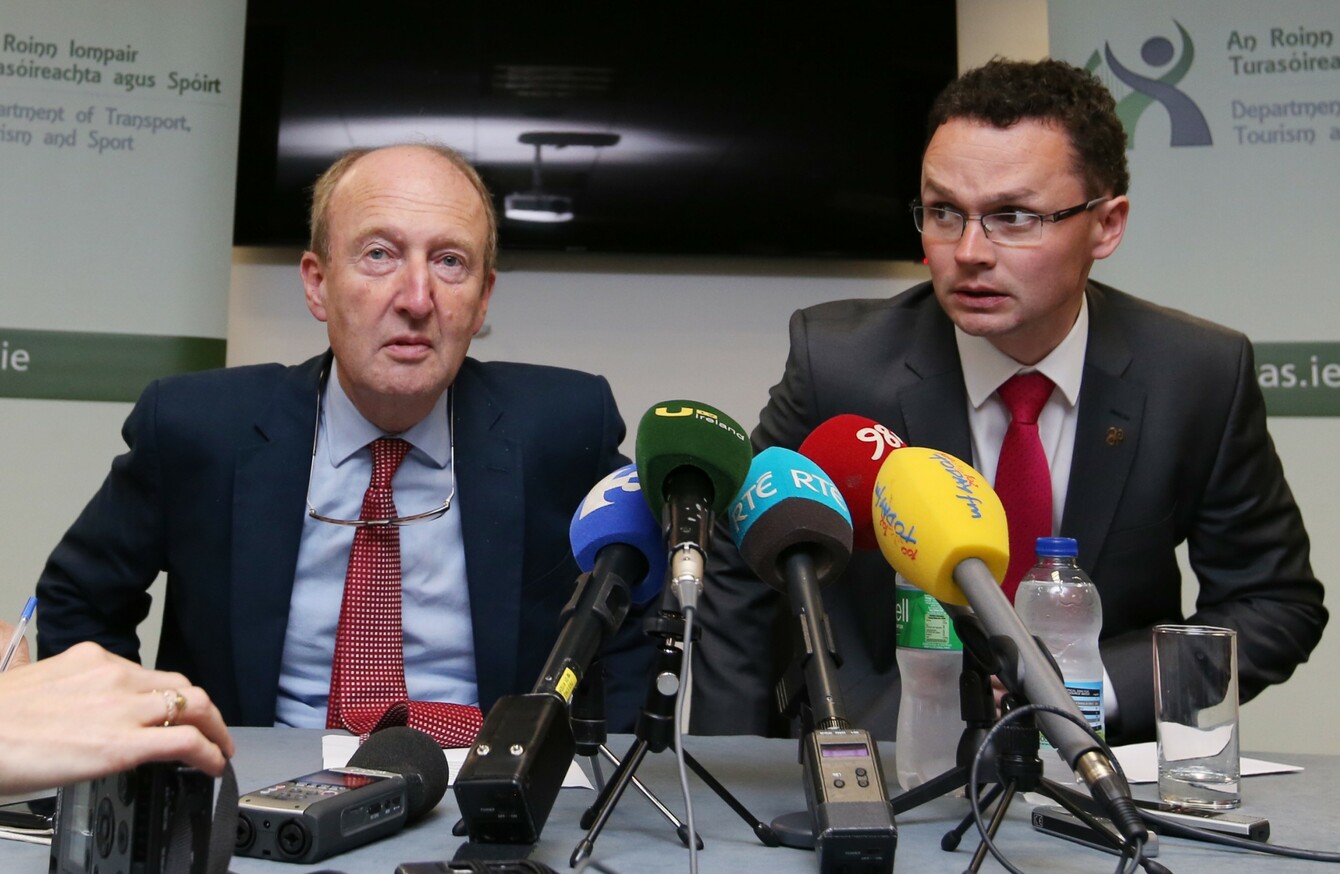 Minister Shane Ross and Junior Minister Patrick O'Donovan at today's press conference.
Image: Sam Boal
Minister Shane Ross and Junior Minister Patrick O'Donovan at today's press conference.
Image: Sam Boal
Updated 21.14
SPORTS MINISTER SHANE Ross has announced the establishment of an independent inquiry into the Rio ticketing scandal.
The inquiry will be chaired by a retired judge with the minister saying he expects it will last 12 weeks.
It will be a non-statutory investigation, meaning that it will be able to present the facts as it finds them but will not be able to make judgements.
In a joint statement read out at a press conference this evening, Ross and Minister of State Patrick O'Donovan said that they felt the non-statutory inquiry "is the most appropriate mechanism to establish the facts."
In its latest statement, the Olympic Council of Ireland said it will meet this weekend, and "co-operate fully" with any State inquiry into its handling of ticketing arrangements for the Rio Olympics.
The board of the OCI also said it will appoint an "external independent firm" to carry out a review.
Speaking at today's press conference, Ross said it was a pity that this wasn't their stance last Sunday.
Ross was referring to a meeting he had with Pat Hickey in Rio when he was told by him that the OCI would not allow an independent person sit on their inquiry into the ticketing scandal.
Since that meeting, Hickey was arrested in Rio and is being questioned by police after spending a night in hospital.
Parallel investigation
This evening, Minister of State Patrick O'Donovan said: "Firstly we want to make sure that we don't in any way impact on any investigation happening in another jurisdiction.
"There is a parallel investigation happening in Brazil. We're confident we will have full co-operation from the Olympic Council of Ireland."
Minister Shane Ross added: "We're certainly not going to do anything that will prejudice what's happening in Brazil. We know that key people in the OCI, over a number of years are now going to be available, and we can confidently go ahead on that basis. We have the absolute full support of the Taoiseach for this."
Scope for athletes
Giving details of inquiry, Ross said the scope of its investigations have not been limited and that "there will be scope for athletes to give their own experiences".
The judge will be appointed to the inquiry next week and the terms of reference for the inquiry "will be finalised shortly thereafter".
"We don't want to make it too limiting," Ross added.
Obviously the inquiry may leak into things which are historic, and which are relevant.
"There will be I suppose as broad an inquiry as possible.
"At the initial stage, it's wise to have a non-statutory inquiry, because it gives you more flexibility in what you're doing."
Minister of State Patrick O'Donovan added: "In the first instance I'm anxious to establish the facts.
"We hope to have a report done for us in a time frame which is acceptable to the two of us, and after that on the back of that report we may have to take it further."
Compellability
Minister Ross added that they had discussed the issue of 'compellability' – the inquiry's power to make people attend before it.
"That could mean it lasted longer. And we don't think compellability is essential at this stage, because today as you know a large number of interested parties have agreed to co-operate with any inquiry we set up.
I'm delighted the OCI have agreed to co-operate with us, because it will make it much easier to discover what went on. If they want to set up their own inquiry, let them – we're not going to be competing.
The decision to hold an inquiry was made after a meeting today between Ross, O'Donovan, the Attorney General Máire Whelan as well as officials from her office and from the Department of Foreign Affairs.
Tonight, the Olympic Council of Ireland released a statement stressed that it is taking the recent events in Rio "very seriously".
It said a top priority is support for current Irish athletes and teams at the Olympics, adding:
The Board has no further comment on the charges against Mr Hickey who is receiving his own legal advice and is entitled to natural justice and due process.
The OCI statement also said that it had appointed Arthur Cox, one of Dublin's 'big five' law firms, to advise them, and said the board had not yet met in person to discuss the events in Rio. They added:
As referenced in a statement earlier the Board will co-operate fully with a State inquiry and it will now appoint an external independent firm to carry out a review.
The scandal began a fortnight ago when an Irishman, Kevin James Mallon, was arrested in Rio de Janeiro for allegedly touting Olympic Games tickets at exorbitant prices.
The tickets were registered to the OCI.
With reporting from Rónán Duffy.
Comments have been disabled for legal reasons.