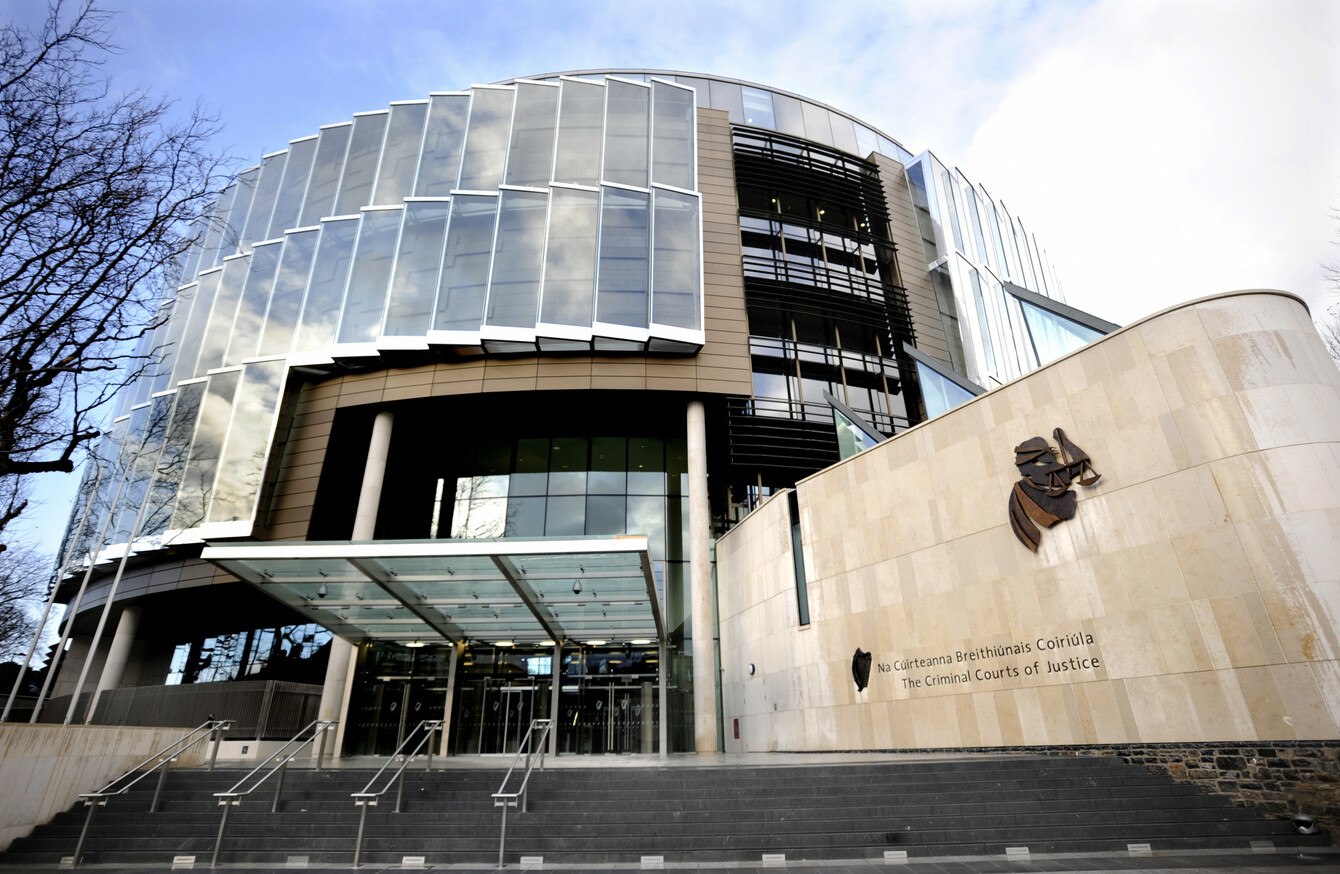 Image: Sasko Lazarov/Photocall Ireland
Image: Sasko Lazarov/Photocall Ireland
A CAVAN RESIDENT has been convicted of a €90,000 tiger kidnapping four years ago in which a postmistress, her daughter and an Italian student were abducted from their home.
Paschal Kelly (53) with an address at Cootehill, Co. Cavan, had pleaded not guilty to trespass and to false imprisonment of postmistress Susan Lawlor, her daughter Emma Carter and Italian student Gabriella Saisa at Seabury Drive, Malahide, Dublin, on 25 September, 2014.
Kelly had also pleaded not guilty to robbing Lawlor of cash at Bayside Post Office, Sutton, Dublin, and threatening to kill her, Carter and Saisa at an unknown location in the State.
He had also denied unlawful possession of a vehicle, all on the same date.
Shortly after midday today the jury of seven men and five women returned unanimous guilty verdicts on all charges after one hour and 40 minutes deliberating.
The trial was originally scheduled to last six weeks, but extended into a ninth week due to legal argument in the absence of the jury.
Judge Karen O'Connor thanked the jurors for their "extraordinary service and your extraordinary commitment to you jury service".
She excused them from jury service for life. Kelly has been remanded in custody for ahead of sentence in January next year. She directed victim impact statements for the three injured parties.
Abducted
During the trial Lawlor, Carter and Saisa described being abducted by two masked and armed intruders in the early hours of the morning and driven to various locations before the post office raid.
The two men broke into the home, tied the women's hands with cable ties and bundled them all into Lawlor's Nissan Qashqai. They were later joined by a third raider in a Volkswagen Golf at a field in an unknown location.
On the way to this field, Lawlor told the jury her phone rang in her handbag. She said the driver "freaked" and asked "Who the fuck is ringing you at this hour of the morning?"
She said that this raider, who she called "Number 1", had initially come into her room after breaking in and had demanded to know if she'd made a call.
She denied doing so to the intruder, but told the jury that she had managed to ring a special "tiger raid hotline number" issued by An Post when she heard her daughter screaming in the house.
After her phone rang in the car, her daughter tried to calm the situation by suggesting it was one of the neighbours.
"I feared for my life because the Number 1 guy kept saying he was going to shoot me if I'd made the call," Ms Lawlor testified.
"Horror movie"
Carter said it had "felt like a horror movie" upon seeing two intruders in her home but that she "knew it would be ok" once she realised it was a tiger kidnapping, if the raiders got their money.
Saisa, who had been staying with Lawlor while she learned English, said she had felt nauseous on the car journey to one destination and thought the men were going to kill her.
She said at one point she heard them say they had "no choice" but to do what they were doing.
Lawlor said raider Number 1 beat and threatened her when she told them the post office safe was on a timer. She said they drove her alone to her workplace hours later and robbed the cash.
She described how she spat in the backseat of the raiders' car and plucked one of her hairs on this journey to the post office. She told the court:
If I died, I wanted gardaí to know I'd been in the car.
She said once she got to the post office, "Number 2″ brought her inside while Number 1 waited in the car.
She said "Number 3″ joined them in the post office and he brought the other two women inside.
She said she heard Number 2 on the phone to Number 1, assuring him the women were "tied up face down on the ground with guns to our backs and not to be worrying".
Lawlor said at 8am the raiders opened the safe and she suggested they use a post bag to empty the money, as she knew it would be linked to the raid.
Panic button
She said as soon as the men left her and the other women, she hit the panic button and phoned gardaí.
Lawlor described the third man, "Number 3", as seeming younger than the other two raiders. Both Lawlor and her daughter said "Number 1" raider was the most aggressive of the three, with Carter describing him as "terrifying" and showing no compassion.
The women confirmed to O'Rourke that gardaí had never asked them to take part in an identification parade. Carter said she would not have been able to identify any of the raiders, because she didn't get a good look at them.
Chase     
A Chubb Ireland employee told Kerida Naidoo SC, prosecuting, that he was working at his company's monitoring centre when a call came through on the "tiger kidnapping line".
He explained that Chubb Ireland ran this helpline for An Post and other financial institutions. He said that when the call came in about 1 am, "An Post TK" displayed on the monitor on the special phone.
He said he heard "muffled sounds" when he listened and that the caller's number came up as belonging to Lawlor.
Gardaí were contacted as a result of this call and the situation was monitored over the night.
A member of the Garda Emergency Response Unit (ERU) said he saw the raiders' Volkswagen Golf in a line of traffic, while he was on duty in an unmarked patrol car.
He described seeing "a flurry of activity within the cockpit of the car" and "a lot of agitated movement".
He said he pulled up alongside the car, shouted out "armed gardaí" and then got out of his vehicle with his firearm drawn. He and his colleague ran after two men who exited the Golf.
The garda described how he chased one of these men down the driveway of a house and saw him throwing a small black item away towards woodlands on his right. The suspect ran past some stables and got over a fence into a field.
"I saw him suddenly stop and begin to turn around. I saw what I believed to be a firearm in his right arm. I called armed gardaí and called on him to stop," he testified.
He didn't react and I discharged a shot at him. He continued to turn. He didn't react. I discharged a a second shot. I was in fear of my life
After the second shot the suspect dropped to the ground but then "suddenly sprang to his feet" and ran to a nearby wall. The detective continued to chase him but lost sight of the man in the end.
Another ERU member said he ran after the two suspects who fled the vehicle, one of whom was later identified as Stephen Murray.
Arrested
He was arrested at the scene and described by another garda in evidence as 5ft 7in, slim, short dark hair and approximately 30 years of age.
Garda Gerry Archer told the jury that he attended at a premises in June 2016 where Murray had taken his own life.
In his closing address to the jury, prosecution counsel Kerida Naidoo SC said Ms Lawlor's description of "Number 1" matched Mr Kelly.
CCTV footage of who the prosecution said was the getaway driver running through a nearby housing estate was shown to the jury during the trial.
In his closing speech, Mr Naidoo said a hat and neck-warmer found in the gardens which this man ran past were later analysed and found to contain Mr Kelly's DNA.
He said the phone which the State say had been used by the getaway driver was also found in the same garden.
He told the jury that Mr Kelly's DNA was also found on two water bottles later recovered from the Golf, which he said had been stolen two weeks previously to be used for this robbery.
Martin O'Rourke SC, defending, strongly contested the garda evidence in the case.
He suggested the gardaí had "ignored" a line of inquiry into another man who could have been involved in the raid, because of their fixed view of Mr Kelly.
He described the attitude of some gardaí giving evidence in the trial as "contemptuous" , suggesting they had feigned memory lapse or omitted to take notes.
Comments have been closed for legal reasons