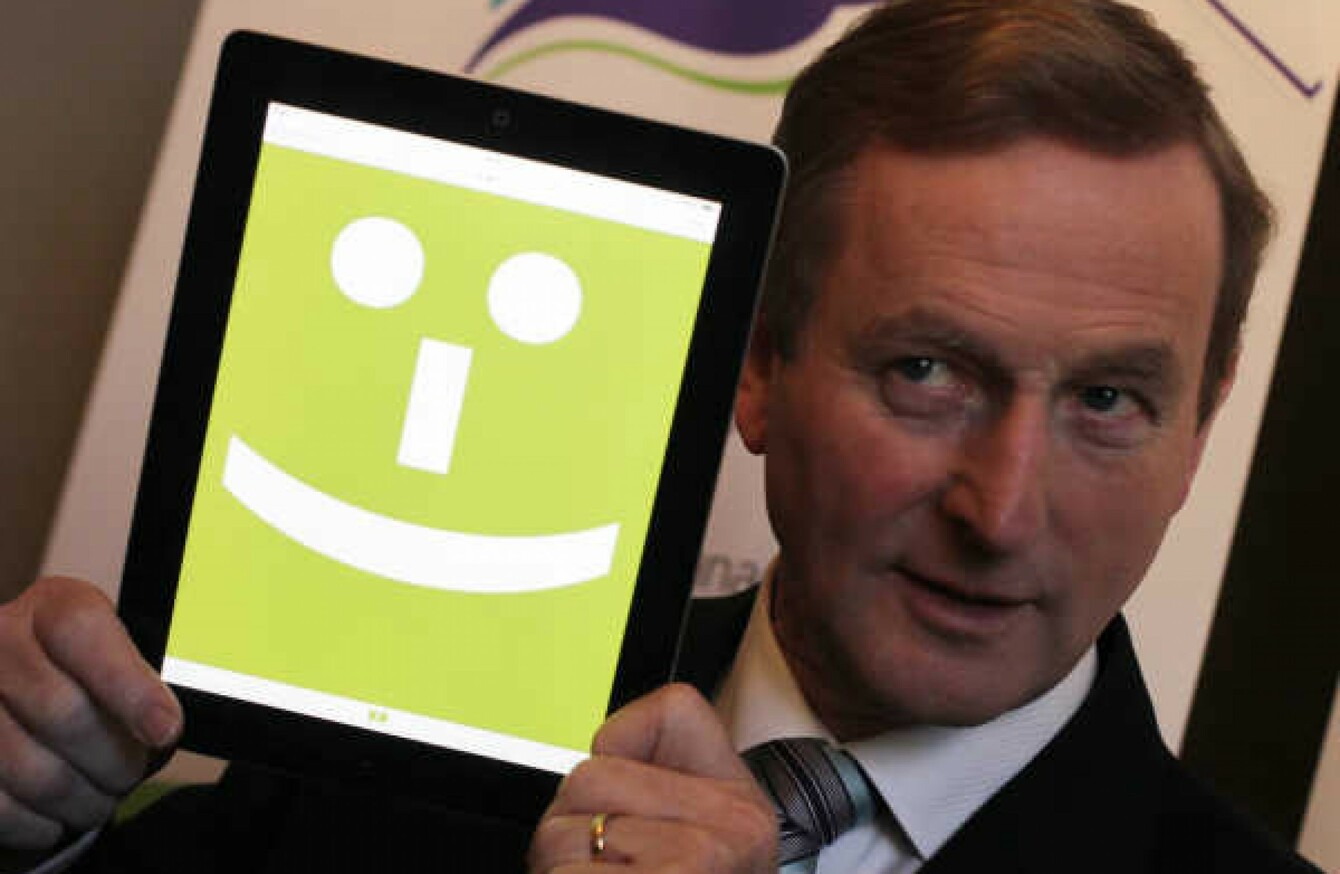 Taoiseach Enda Kenny is very happy with Apple.
Image: Rollingnews.ie
Taoiseach Enda Kenny is very happy with Apple.
Image: Rollingnews.ie
ENDA KENNY WILL meet Apple CEO Tim Cook today, and paid tribute this morning to the multinational's contribution to Irish employment.
The Taoiseach is on a three-day trip to the US, where he will meet business leaders, and visit the headquarters of Apple and Facebook.
He will speak to Cook – the head of the world's biggest tech company – about the implications of the recent Apple Tax ruling on the multinational's plans here.
Speaking from Silicon Valley, Kenny praised Apple's operations in Ireland.
"They've thousands of employees, very highly skilled, very highly trained, with a great reputation," he told reporters in comments broadcast on RTÉ's Morning Ireland.
And obviously there is a process going through in the case of their other investment in Ireland, of almost a billion [euro] in Athenry in terms of their data content storage facilities.
"That's obviously in the process of adjudication, it will go before the Commercial Court in due course."
Kenny said that "Tim Cook himself has been publicly and privately very strong in support" of the Irish government, adding:
I'm very happy with their response and their investment over many years.
In August, the European Commission ruled that Ireland gave illegal state aid to Apple, and ordered the government to reclaim €13 billion in taxes from the company.
Profits
The EC alleged that Ireland's Revenue Commissioners allowed the firm to pay tax on its European profits in Ireland of just 1% in 2003. The fell to 0.005% by 2014.
It also said that Apple Sales International, based in Cork, made €16 billion in profits in 2011, but paid tax on less than €50 million of this via its Irish branch. The rest was assigned to head office, which failed to pay tax anywhere.
Apple employs almost 6,000 people in Ireland, mostly in Cork, where it has its offices at Holyhill and Lavitt's Quay. Earlier this year, Apple was granted planning permission to build in Hollyhill, and also announced plans to hire up to 1,000 more staff for its Irish operations, which also include a base in Athenry in Galway.
The Taoiseach is in San Francisco today, and has a number of engagements in New York tomorrow and on Saturday with business groups. No meeting with President-elect Donald Trump is scheduled.