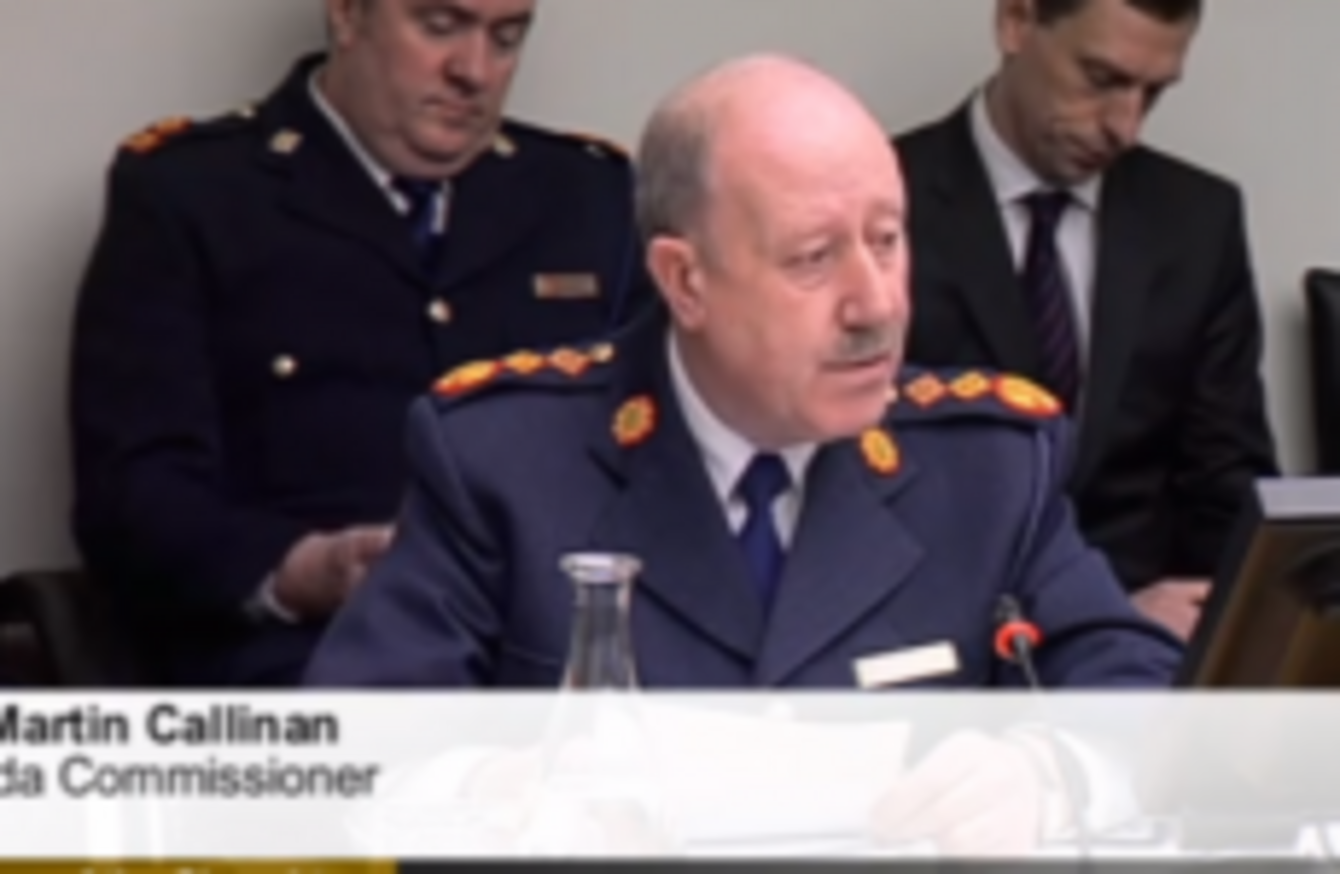 Callinan at the PAC meeting in January
Image: Image: Screengrab via Oireachtas TV
Callinan at the PAC meeting in January
Image: Image: Screengrab via Oireachtas TV
GARDA COMMISSIONER MARTIN Callinan resigned this morning. Here,  TheJournal.ie gives you a timeline of events that led to today's announcement.
January 23: When appearing before the Public Accounts Committee to discuss the controversy surrounding the administration of the penalty points system, Callinan described the actions of whistleblowers Sgt Maurice McCabe and retired Garda John Wilson as "disgusting".
He told Independent TD Shane Ross that it was "quite disgusting" that two people out of a force of 13,000 people are making "extraordinary serious allegations" and there is not "a whisper" from elsewhere in the force of "corruption or malpractice".
January 25: Two days later, Wilson reiterated calls for a public inquiry into the penalty points allegations.
January 27: As the scandal rumbled on, Justice Minister Alan Shatter announced that he would ask the Garda Ombudsman to investigate the whistleblowers' allegations. Callinan welcomed the decision, saying it was a necessary step to retain "the support of the public" in the Fixed Charge Penalty Notice System.
January 29: Callinan expressed reservations about McCabe appearing before the PAC in a private session.
GSOC bugging
February 9: Reports emerged that the Garda Síochana Ombudsman Commission (GSOC) headquarters in Dublin was bugged.
February 11: Shatter told the Dáil the suggestion that gardaí were in involved in the potential bugging of GSOC was "baseless innuendo".
GSOC Commissioner Kieran Fitzgerald appeared on RTÉ's Prime Time and said that while there was no "definitive evidence" of bugging at its headquarters but, it could not be definitely ruled out.
Fianna Fáil TD Niall Collins read into the Dáil record parts of a transcript from an alleged conversation between McCabe and Garda Confidential Recipient Oliver Connolly. The issue was first raised by Independent TD Mick Wallace a week earlier. Connolly is alleged to have told McCabe:
February 12: Members of GSOC appear before the Public Oversight Committee to discuss the bugging claims.
February 13: Shatter rules out an independent inquiry into the bugging controversy.
February 16: Callinan released a statement saying that he was "entirely satisfied" that no members of the Garda Síochana bugged GSOC.
February 18: The Government announces that a retired high court judge will review GSOC surveillance and report within eight weeks.
February 19: Shatter sacks Connolly over the comments he allegedly made to McCabe. Connolly was appointed to the role of confidential recipient in June 2011. He previously donated €1,000 to Shatter's election campaign in 2007, something the justice minister said he did not "recall or remember".
Calls for resignation
Retired garda John Wilson at a protest outside Leinster House on 19 February. (Image: Sam Boal/Photocall Ireland)
February 26: Deputy Mick Wallace, who was among a number of Independent TDs who first brought concerns about the penalty points system before the Dáil, launched a scathing attack on Shatter. He called for both the justice minister and Callinan to resign.
#Open journalism No news is bad news Support The Journal

Your contributions will help us continue to deliver the stories that are important to you

Support us now
March 12: Following the publication of the Garda Inspectorate report on the penalty points controversy, Fianna Fáil leader Micheál Martin said that the whistleblowers were "vindicated". He urged Shatter to apologise to McCabe for comments he made in October 2013 suggesting he failed to co-operate with an internal inquiry into the penalty points controversy.
On the same day, Callinan clarified his "disgusting" remarks, saying he was not referring to McCabe or Wilson personally. He stated:
I want to clarify that my use of that term was not in reference to the character of either Sgt McCabe or former Garda Wilson, but the manner in which personal and sensitive data was inappropriately appearing in the public domain without regard to due process and fair procedures."
March 20: Transport Minister Leo Varadkar said that Callinan should withdraw his "disgusting" comments. A garda spokesperson confirmed that Callinan would not do so.
March 21: Several Labour ministers, including Tánaiste Eamon Gilmore, back up Varadkar, despite Taoiseach Enda Kenny stating that it was his "preference" that "if any minister who has an issue to raise that they raise it at the Cabinet or raise it where we could have discussions and deal with them, rather than have them aired in public".
March 24:
Kenny declines to answer questions on the Callinan controversy.
March 25: Ministers avoid reporters on their way to a Cabinet meeting to discuss the issue. Callinan announces his resignation.