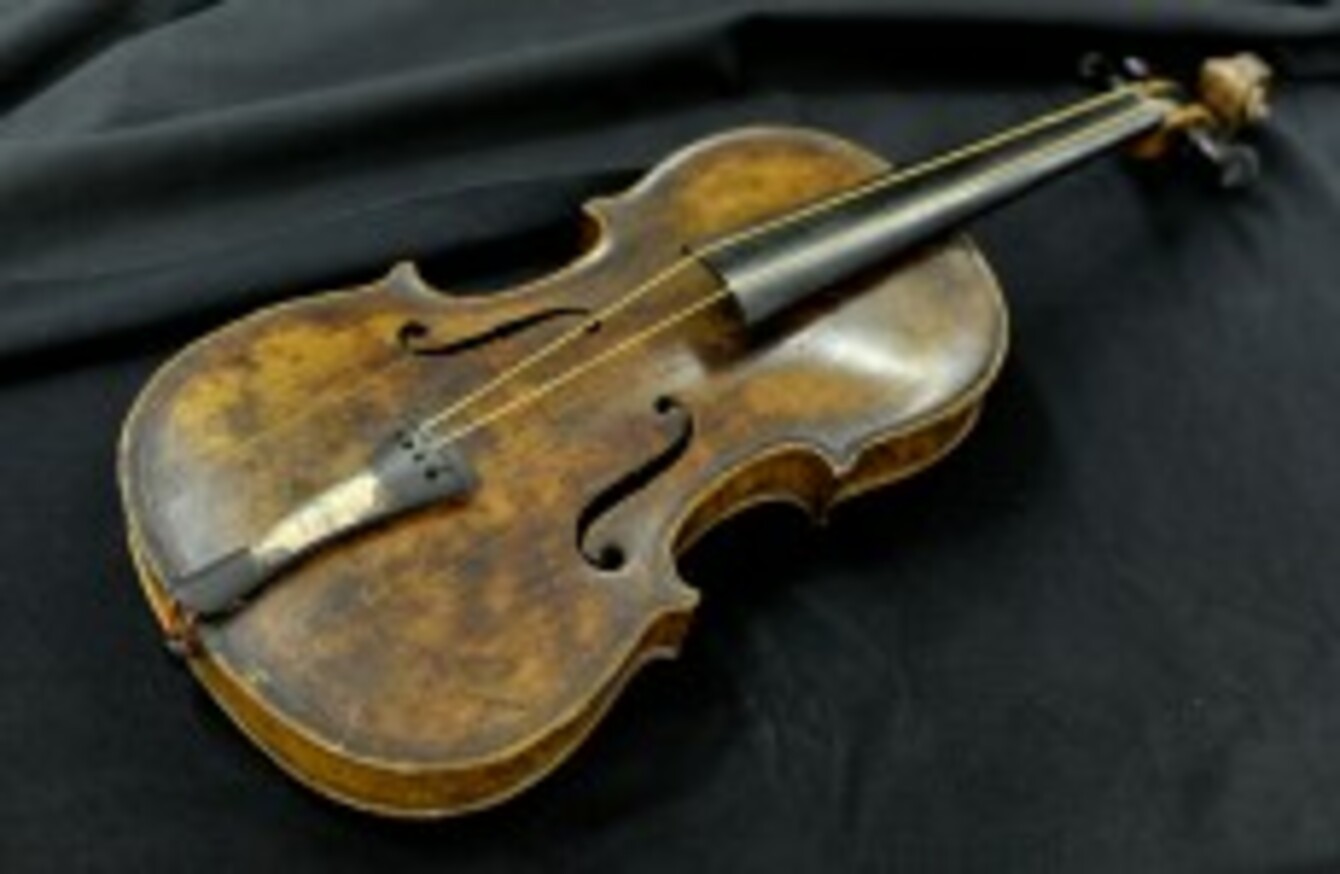 Image: Tim Ireland/PA Wire/Press Association Images
Image: Tim Ireland/PA Wire/Press Association Images
Updated: 17:29
THE LONG-LOST VIOLIN which was played by the bandmaster of the RMS Titanic when he met his tragic end in the 1912 disaster sold at auction today for €1.06 million. The sum is a record fee for memorabilia from the doomed liner.
Wallace Hartley led a group of musicians in music as passengers of the ship scrambled for their lives on that fateful night.
All eight died along with 1,517 others.
Survivor testimony has revealed that Hartley played the hymn 'Nearer, My God, To Thee' into the early hours of 15 April 1912 to raise the spirits of those around him.
The violin he brought with him for the inaugural trip of the Titanic was made around 1880 in Germany. Attached to its dark brown case was a tailplate bearing a silver hallmark and engraved with the words: "For Wallace on the occasion of our engagement from Maria."
Tim Ireland/PA Wire/Press Association Images
According to the auction house, Henry Aldridge & Son, the instrument is one of the most iconic collectables of the 20th century.
"It bears testimony to the courage and spirit of the Bandsman onboard the Titanic who played until the end on that fateful night," the catalogue reads.
The violin was expected to fetch about £200,000 at the sale in Wiltshire. A spokesperson for the auction house said today they were "absolutely overjoyed" with the result.
"It was sold to a UK collector who was bidding by telephone," they said. "The whole sale only took about 10 minutes."

Scene from A Night to Remember (YouTube: Zebonka)
"It is just a remarkable piece of history," said Andrew Aldridge. "I have been an auctioneer for 20 years, but I have never seen an item that brings out this degree of emotion in people before."
The violin was found at sea with the musician's body more than seven days after the ship sank. Aldridge said many tests have been carried out to ensure the authenticity of the item.
Also on sale at today's auction was the replica that was used in the 1997 Oscar-winning movie depicting the demise of the boat.
Additional reporting by the Associated Press and AFP.