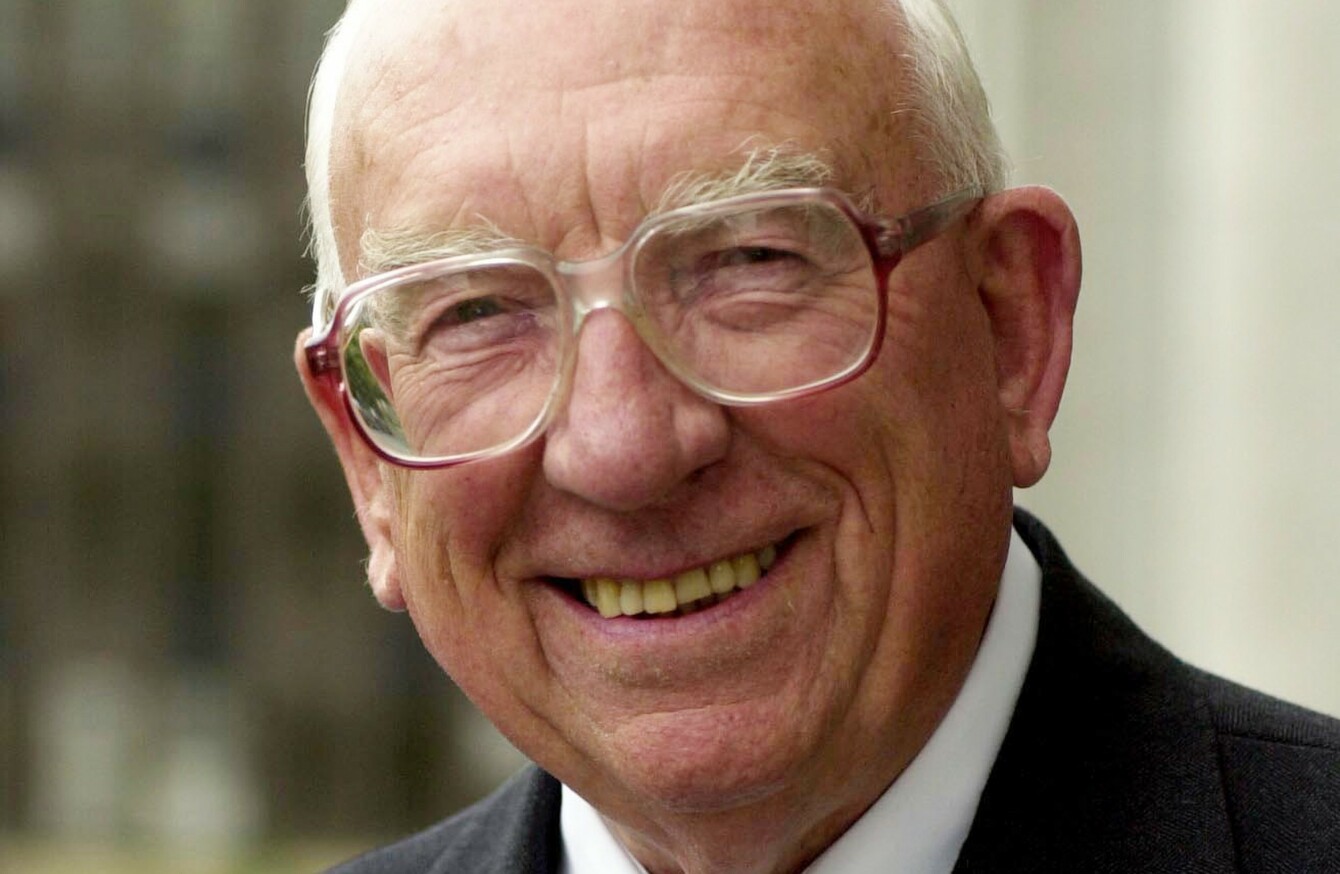 TK Whitaker passed away yesterday.
Image: Joe Dunne
TK Whitaker passed away yesterday.
Image: Joe Dunne
THE PRESIDENT AND the Taoiseach have led the tributes for influential economist and civil servant TK Whitaker, who passed away age 100 yesterday.
Whitaker was appointed as secretary general of the Department of Finance in the 1950s at the young age of 39.
He oversaw an economic expansion programme which reversed Ireland's economic fortunes in the 1960s, increasing employment and spurring on foreign investment.
Taoiseach Enda Kenny today described Whitaker as "both incomparable and irreplaceable".
"TK Whitaker was in every sense a national treasure," said Kenny.
"He had an innate understanding of our patrimony – what we inherit from our ancestors – our ingenuity, our elegance, our intellect, our artistry, industry and kindness, and how we could put this to work for our country and our people.
TK Whitaker changed life, lives and generations in Ireland. In the last decades, he more than any other person was responsible for transforming our economy and public life.
"He had a rare vision for our country and its future. He was a gentleman and patriot. Today, as a nation, we mourn the passing of this outstanding man.
We celebrate and give thanks for his exemplary achievements on behalf of Ireland.
Influential
President Michael D Higgins said that Whitaker was "as fine an Irishman as there has been".
"As an economist and as a public servant, he contributed enormously to the building of an independent Ireland," said Higgins.
"He was recognised for this in the popular vote of him as the most influential Irish person of the last century."
As well as his role in the Department of Finance, Whitaker served in various other roles throughout his life. He was a founder and president of the Economic and Social Research Institute from 1974 until 1987.
"He understood Ireland and its people at a profound level, but what is more, he loved Ireland deeply – its people, language and culture," said Higgins..
May I convey my deepest sympathies to the Whitaker family on behalf of the Irish people at this sad time.
Finance minister Michael Noonan thanked Whitaker for his contribution to Irish life.
"TK Whitaker's contribution to Irish society is widely known, and the respect with which he is held by politicians of all hues speaks volumes for his legacy as a public servant," said Noonan.
We remember the man and his family at this time, we  also recall the great achievements he has had in public policy and thank him for his contribution to public life in Ireland.
Whitaker last month celebrated his 100 birthday surrounded by his family.