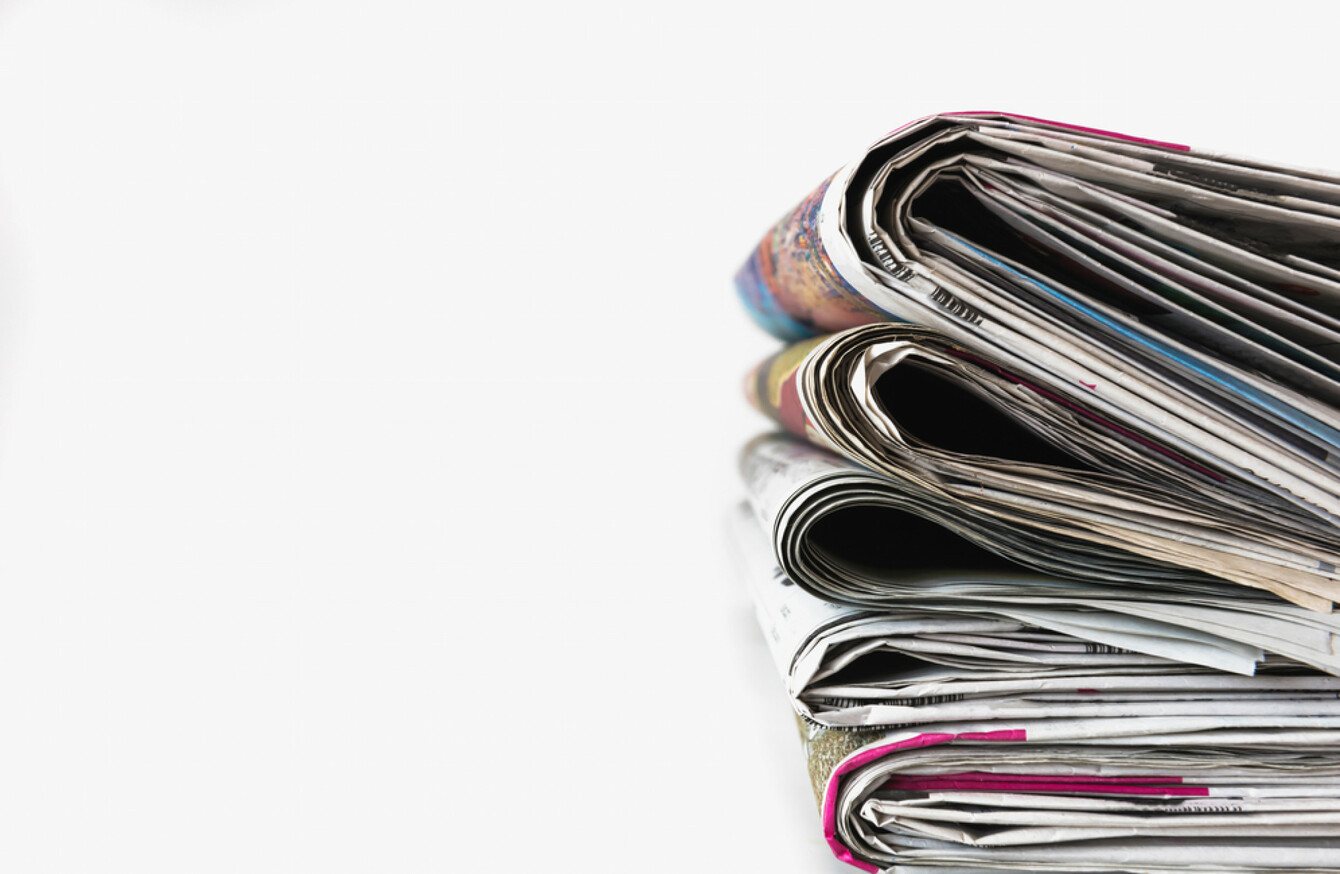 Image: Shutterstock/Jr images
Image: Shutterstock/Jr images
FINE GAEL TD Noel Rock has criticised an idea from Fianna Fáil which would see the establishment of a fund to aid newspapers in Ireland.
The Dublin deputy said that there should be no preferential treatment in Irish media in response to Timmy Dooley's proposal to establish a so-called Print Journalism Unit, within an expanded Broadcasting Authority of Ireland.
The proposal was announced earlier today by Dooley, who is the party's communications spokesperson, as a means to secure the future of Irish print journalism.
Rock believes that these proposals have not clearly been thought out, specifically referring to changing consumer habits and how more people obtain their news online.
In a statement issued after a press briefing by Dooley, Rock said:
The desire to support quality journalism is laudable, but to only support print journalism is bizarre.
Rock makes reference to the Reuters Institute Digital Report 2018 which found that people rely more on the online version of newspapers as their main source of news (44%) ahead of the print editions (35%) – but this is behind television (56%), social media (53%), and radio (45%).
It pointed out that the decline of print newspapers continues, falling from 40% in 2017 to 35% in 2018.
The same report found that among online brands, TheJournal.ie is the most popular (34%), followed by RTÉ News Online (33%) and Irish Independent Online (30%).
"Quality journalism provided only in an online context would be excluded entirely under these proposals. Is that fair use of public funds? What about independent broadcasters and online websites who offer the country and their communities good journalism? Why exclude them?" Rock continued.
The motivation behind these proposals may be good but we are left with far more questions than answers. Whatever initiatives are taken in relation to the media need to reflect modern realities and be future-proofed.
Under Fianna Fáil's proposal, the remit of the proposed unit would be to disper­se grant aid to support newspaper publishers in providing public service content and to deliver schemes to support the work of print journalists at both national and local level.
According to Dooley, the proposals will "secure the future of quality print journalism in the country for generations to come".
"Many print newspapers see their work being shared widely and freely on digital platforms. They receive no payment for this content, and this needs fixing.
Newspaper journalists research and fact check – this costs money. Those reusing their work must pay for that, otherwise, we risk seeing newspapers go bust.
Dooley has proposed that 6% of the digital advertising levy could be imposed on all digital advertising sales in Ireland, a market which was estimated to be worth around €500 million in 2018,  yielding around €30 million.
"This levy would ensure that the success of online platform does not come at the cost of independent public interest journalism," Dooley said.
Reacting to Dooley's announcement, Susan Daly, Editor of TheJournal.ie, welcomed any move towards supporting for quality journalism but said the Fianna Fáil proposals are "myopic and unsustainable".
"Public service content is not the sole responsibility or remit of the state broadcaster and a handful of print publications, nor should it be," she said.
"All reputable media organisations in Ireland are keenly aware of the challenges faced by shrinking advertising revenues and the proliferation of disinformation on numerous platforms. However, Deputy Dooley's assertion that 'newspaper journalists research and fact check – this costs money' is archaic and exclusionary.
"As the sole IFCN-verified (International FactChecking Network) news outlet in Ireland, the online-only TheJournal.ie is only too aware of the cost of providing such a public service."
Daly said that proposing to extend funds exclusively to organisations with a print arm would create an anti-competitive environment in an industry where the content of every large print publication is also carried on its digital platform.
"To suggest funding such grants through a levy on digital advertising is baffling, to say the least. This would have the potential to not only represent a double penalty on quality digital news outlets, stifling growth and strangling innovation, but it would also damage the new business models of those very print-origins organisations who is proposing to support," Daly said.