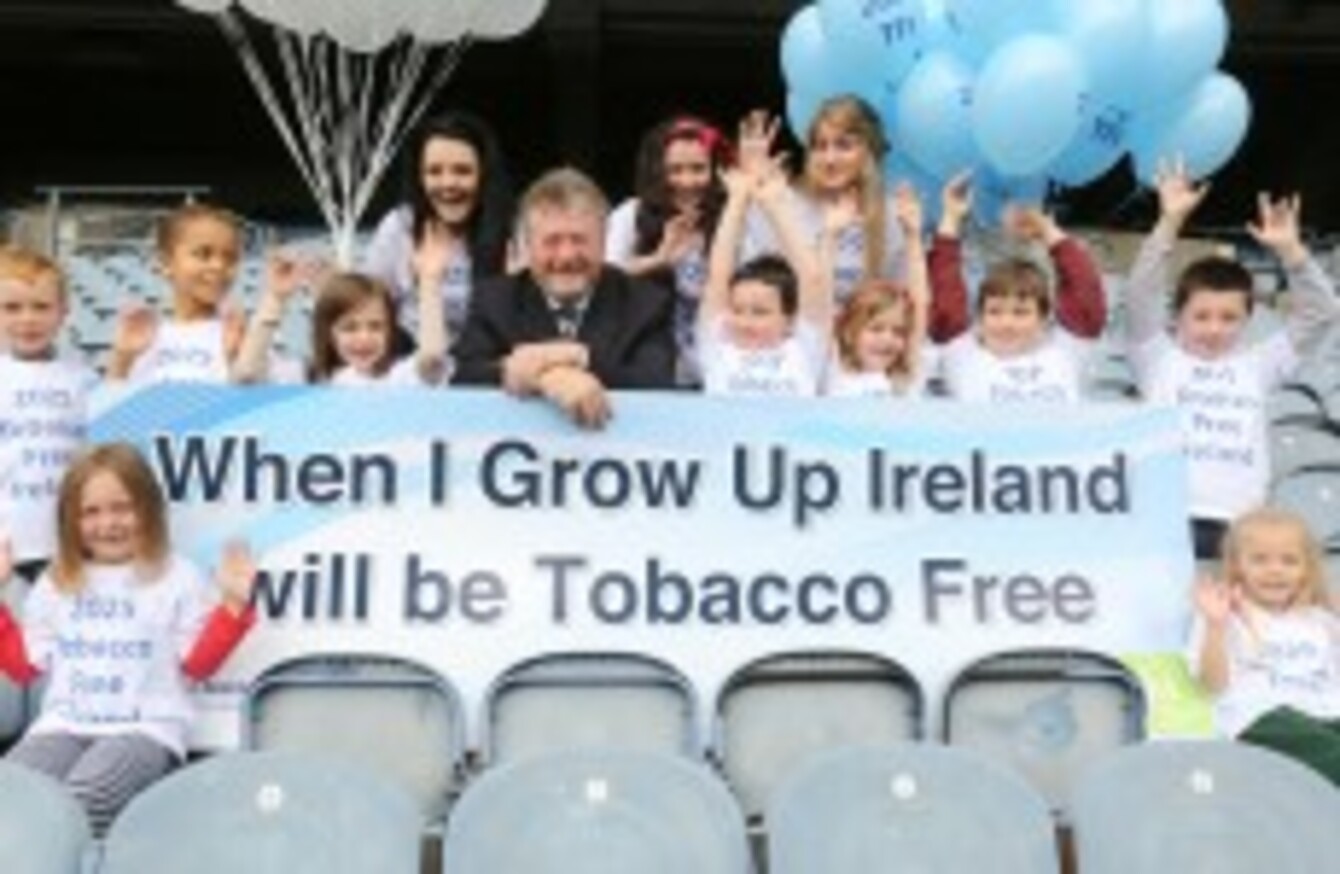 The Minister for Health is joined by children and teenagers at todays launch
Image: Conor McCabe
The Minister for Health is joined by children and teenagers at todays launch
Image: Conor McCabe
THE HEALTH MINISTER today launched an ambitious plan that would see Ireland free of cigarettes by 2025.
The Tobacco Free Ireland document has over 60 recommendations that have the overall aim of "denormalising smoking in Irish society".
The document also pledges to:
protect children from tobacco
enforce, regulate and legislate for tobacco activities
educate citizens
assist those who smoke to stop
James Reilly said that the implementation of the report would be a challenge.
"To make Ireland tobacco free in 12 years is an extraordinary challenge, but if we work together to de-normalise smoking for young people we can do it. And do it we must because for every two young people who become addicted to tobacco one of them will die as a consequence.
Let's not forget that approximately 5,200 Irish people die each year from diseases caused by smoking.  These are all preventable, avoidable deaths.
The publication of the report has been welcomed by the Irish Cancer Society, who warned that the tobacco industry would "try to block, delay and derail" any efforts to denormalise their products.
John McCormack, Chief Executive Officer of the Irish Cancer Society, warned that the tobacco industry would be working tirelessly to undermine the Minister's ambitions:
"The tools identified in Tobacco Free Ireland to deal with the constant marketing assault on children and teens are very comprehensive.
However, we need to be mindful of obstacles the tobacco industry will use to try and block, delay and derail any effort to create a healthier, more productive society.
Not everyone welcomed the report, however.
Forest Eireann, a smokers lobby, says that plans to denormalise smoking are "morally wrong".
"It is morally wrong to denormalise smoking because that means stigmatising consumers of a legal product enjoyed by hundreds of thousands of adults throughout the country.
"Denormalising tobacco will drive more and more people to the black market and the fringes of society.
"This personal crusade to denormalise tobacco and stigmatise adults who choose to smoke has got to stop."