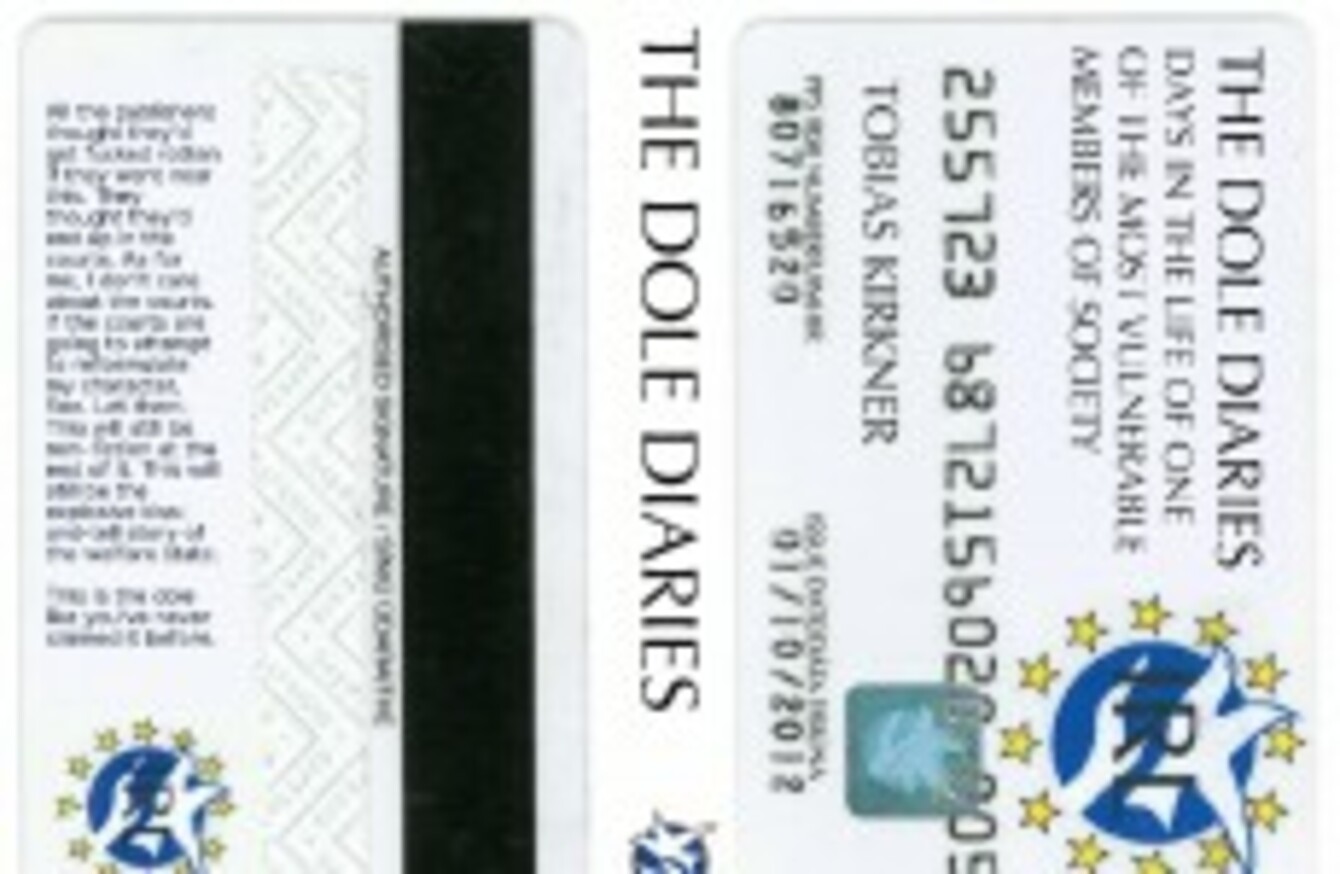 Image: Tobias Kirkner
Image: Tobias Kirkner
BEING ON THE dole is not a funny thing.
But one Irish man has used his experience – which was frustrating and unexpected – to inform a dark comedic book called The Dole Diaries.
Tobias Kirkner spent 10 years working abroad before returning to Ireland. When he arrived back here, he tried to access social welfare. It was his experiences with this that led to him writing the book.
He describes the self-published book as documenting "days in the life of one of the most vulnerable members of society".
A new generation of unemployed people
In the prologue, he says:
What follows is an honest tale told as truly as I can tell one, and though it is no easy thing to speak on behalf of a generation, especially when you never got on with them particularly well, especially when you haven't lived in the same country as them for a  decade, nonetheless that is exactly what I propose to do – to speak on behalf of my generation, whether they like it or not.
He notes that every new Irish generation "must define for itself what it means to be unemployed".
The book is peppered with salty language, and takes a particularly dark satirical tone.
He admits that he doesn't know if people will get the jokes inside his dark humour, but said that "people are sick of the misery". But Kirkner said he has injected "a little bit of gallows humour" into the book.
Returning home from abroad
Kirkner spent the last decade working in Japan, Sri Lanka, the Sultanate of Oman, South Korea and Syria, and was the last Westerner out of Homs prior to the siege of that city by government forces in 2011.
"Three years later that hitherto unknown locale has become the Stalingrad of our times, and I listened to the massacre that started it," he said.
He came back to Ireland with "half-assed notions of doing a doctorate" and the idea for writing columns about his experiences "snowballed and became a lot more fun than the doctorate".
He doesn't want to spoil the book, as there is a twist in the latter stages. But he does posit his narrator as a sort of "everyman character".
In the book itself I don't really say how old I am. It's easier to identify with this character rather than limiting him by facts or figures.
There are hints throughout the book that point to the book's 'suckerpunch'.
A fascination with welfare
He has always had a "fascination" with welfare.
Through the nine years of what would turn out to be my brief career, it always held a fascination for me, the side of welfare – the liberty and freedom it gives you. That's one thing this life gives you is the time.
"It's not as easy as it is made out to be," said Kirkner of going on the dole. "I thought it would be over in three to four weeks, but it's a bit of a struggle."
This was particularly because he had been abroad for so long, he had to prove that he was living in Ireland and intended on staying.
"If you're walking in there to seek their services you are kind of at their mercy in a way," said Kirkner.
He wrote the book because he believed "there is no narrative out there of how it is to enter the machine. I thought that needed to be marked and written".
After the boom
He left Ireland "when the whole boom nonsense was just beginning" and said that every year when he came back, Ireland was progressively more awful".
"It was just appalling how bad the country had become," he said, suggesting that in post-recession Ireland "things are a whole lot nicer".
Who did he write the book for? "I guess people in the same position as myself," he said. "It's nice to see the journey that you've walked dramatised and put up there and recounted. Like a little souvenir of the bad old days."
But he also wants to impress on people "that things aren't as bad as they're made out to be, we only arrived at this brief period of comfort".
"We built the sandcastle one grain of sand at a time. It's so easy to knock it down."
Dubray's is carrying the book exclusively in cities wherever it has a presence. It is also available in independent retailers such as O'Mahoney's, Vibes & Scribes in Cork and Just Books in Mullingar.