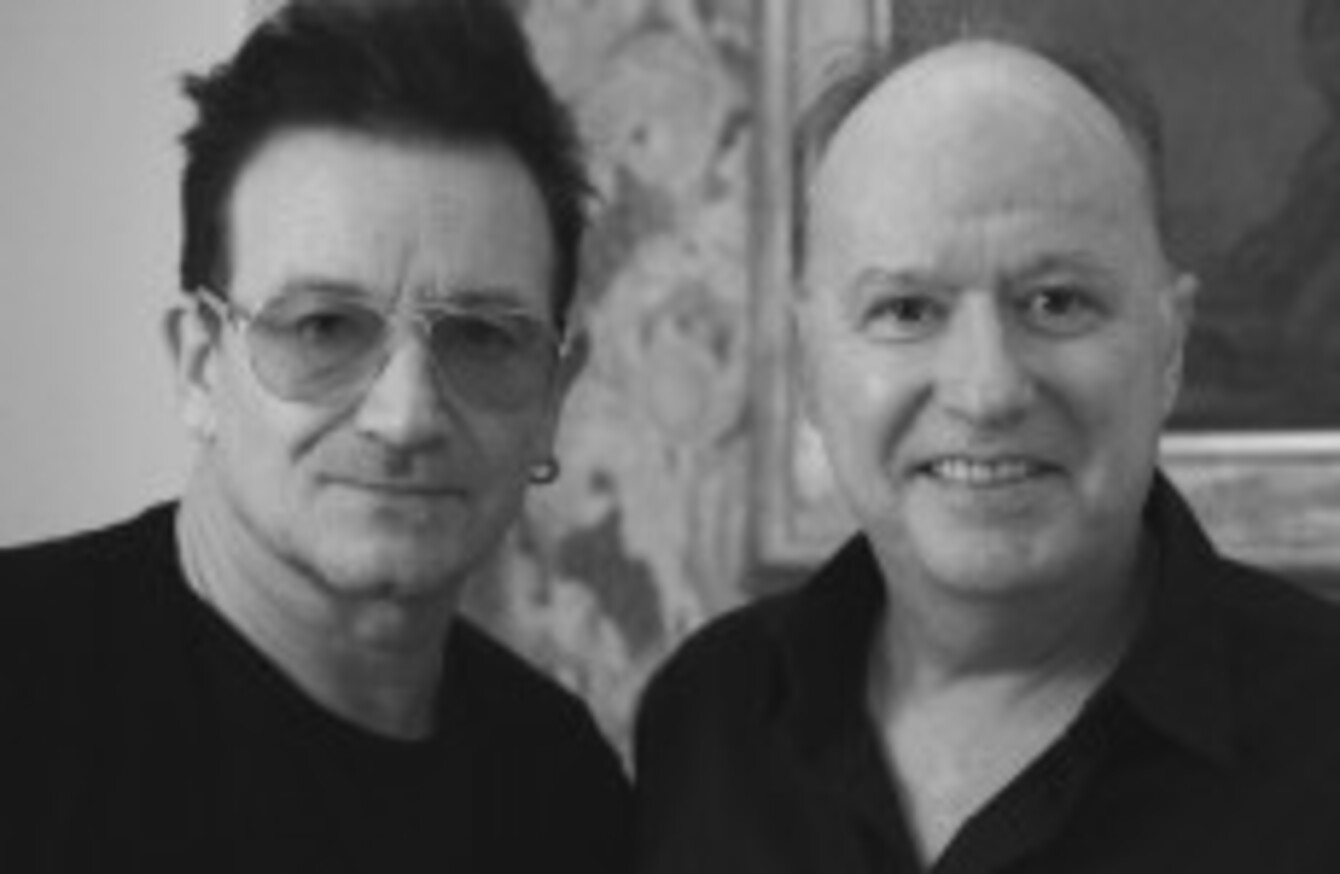 TONY FENTON'S LAST interview before his death was with Bono.
He had wanted to interview the U2 frontman for years and when the pair bumped into each other on a night out they agreed to make it happen when U2′s Songs of Innocence was released.
However, Fenton was in hospital being treated for cancer when the time came around so Bono asked Fenton to his Killiney home so they could talk there instead.
The interview starts with Bono saying, "I'm on painkillers so you wouldn't know what I'd be saying- but with you I guessed you'd be on painkillers too."
Tony and Bono grew up very close to each other on Dublin's northside. When Tony told Bono that he lived in Willow Park Grove in Glasnevin, Bono joked:
Those Willow Park people are not to be trusted. Ali we've let the grove in here.
Tony told Bono: "I used to walk to get the 19a into town and see you other side of road with a mullet and wearing all black and a long black coat. I remember thinking you looked really cool."
Speaking about his time living there, Fenton said: "I had a lot of fun there. I grew up in Finglas until I was 14. Willow Park Grove had a big garden and much more space.
I had lots of friends there and played football in the parks but before that we just stayed indoors and played out the back in Finglas. It wasn't a great place to grow up.
Bono said, "My experience of growing up is so different to yours, there was a war going on in my head.
It was a beautiful thing and a beautiful place to grow up but what was going on in my head wasn't so beautiful.
"There was violence and a lot of it…it would be behind closed doors, domestic violence. Friends of ours being beaten by their Dad's with shovels and starved."
"I'm a danger to myself"
The pair discussed all of the bands previous tours and Bono explained how they always aim to make the shows intimate.
Bono said he wants to write about being a performer infront of a huge audience. He said while people think it must be a huge boost to your ego "it also crushes it and I can't quite explain why".
Bono said it can take a long time to come down after being on stage "especially when it doesn't go well."
I have rage issues…I get so wound up. I'm a danger to myself and others. Sometimes I just have to go to a corner and calm down.
He explained how a girl whacked him with a hairdryer one night when he was acting 'like a wild animal' before he went out on stage. However, he added that "mostly it's joy".
When asked what keeps the band together, Bono said "unfinished business".
"I don't have any choice over writing. I wake up at night and I have to put something down because it puts my spirit at ease.
"I sing to save my life. I think I'm more volatile than is good for you and I write to douse the flames in a way."
'You've been our light' 
Bono didn't let the interview end without him telling Fenton how highly he thought of him:
"Well we're big fans of you and over the yours you've been a hell of a light and we needed it.
"I'm sure we embarrassed you and I'm sure we out you in some awkward situations but you always stood by our band and it has meant a great deal to us that you've been on the radio playing our tunes for a long time now.
You're more consistent than U2 as far as Irish people are concerned. You're there more and we absolutely appreciate it.
People loving hearing Tony's voice 
U2′s Songs of Innocence tour begins in Vanocuver in two weeks and sweeps across North America before reaching Europe in September.