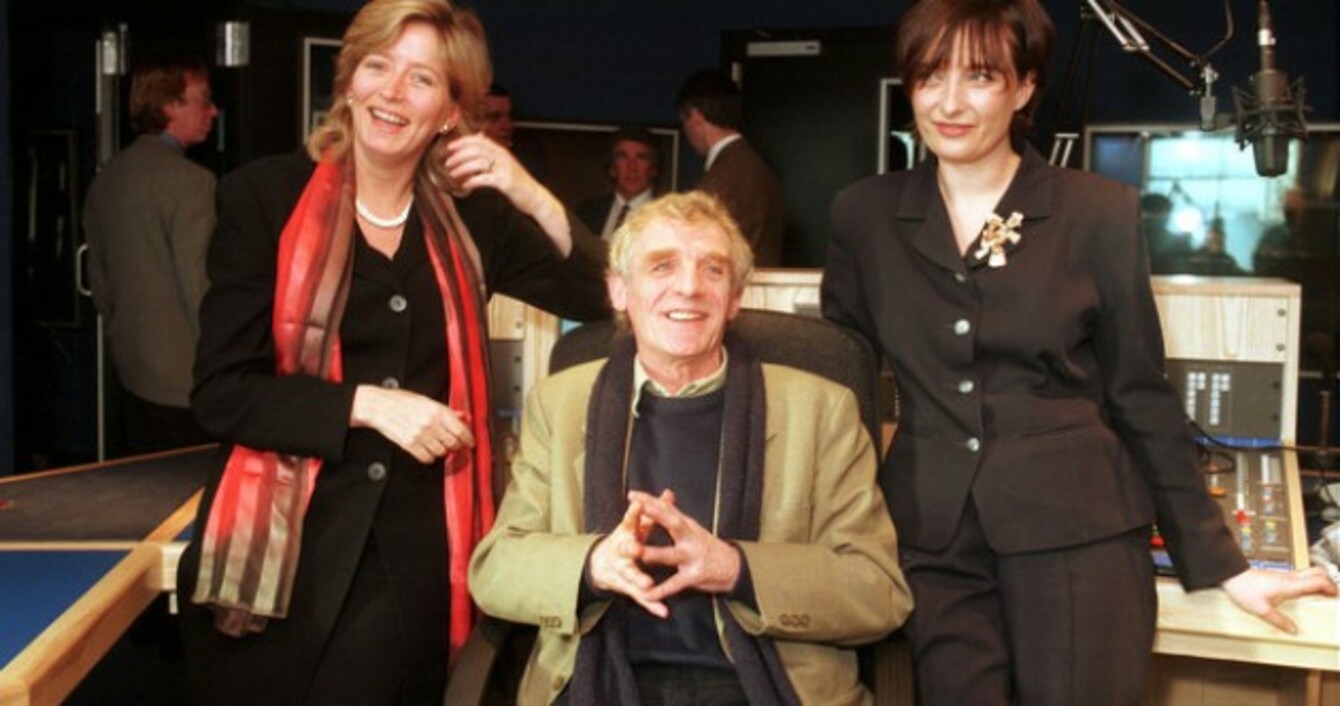 Eamon Dunphy with Ann Marie Hourihane (right) and Emily O Reilly at the launch of Radio Ireland's line up.
Image: Eamonn Farrell/Photocall Ireland
Eamon Dunphy with Ann Marie Hourihane (right) and Emily O Reilly at the launch of Radio Ireland's line up.
Image: Eamonn Farrell/Photocall Ireland
TODAY MARKS 20 years since Radio Ireland first went live across the country. The station rebranded to Today FM after just nine months following a dismal start.
Forged as a talk radio station, the original plan didn't quite work out with the first JNLR figures for the station revealing it had captured just 1% listenership.
It became known locally as 'Radio Direland' and scathing reviews meant advertisers didn't want anything to do with it.
For a time, Eamon Dunphy's The Last Word was the only show bringing in cash with 80% of the station's advertising coming from it. It was also to be the only slot that survived the rebrand.
The station launched with 150 staff on 17 March 1997 but the headcount was whittled down to just 50 three months later.
Fast forward to 1 January 1998 and Radio Ireland became Today FM.
The second iteration was, obviously, markedly more successful.
Twenty years on, we talk to Eamon Dunphy and Radio Ireland's then-sales manager, Eamon FitzPatrick, about those first nine months on air.
'Lots of razmataz'
"There was a big glitzy opening in Jervis Street shopping centre – there was a lot of razmataz," says Dunphy of the hype and expectation around the new station.
After his stint as sales manager at Radio Ireland, Fitzpatrick went on to become sales director and, later, commercial director.
"It wasn't a very-well thought out schedule," he admits now when reminiscing about Radio Ireland.
We were giving a lot of first timers their chance. Even [though] people who went on to be really successful (like Philip Boucher Hayes), there wasn't the programming knowledge or the background to make it work.
He cites Gavin Duffy and Emily O'Reilly's covering the morning schedule as an example.
"You would have thought on paper 'fantastic' but it didn't work, the chemistry just wasn't there.
"Our target was to wedge ourselves in between the older 2FM listener and the younger Radio 1 listener but they felt the way to do that was mimic RTÉ Radio 1 but it wasn't. What was needed was what became Today FM – intelligent, well produced, informative and a bit ballsy."
It was "very apparent" after just one month that Radio Ireland wasn't working, according to Fitzpatrick.
It was a commercial station so it was live or die by revenue and the revenue for the first couple of weeks was actually brilliant and then it went really poor because the critics slammed it.
"They put it up against Radio 1 and it didn't bode well. The music quality wasn't tight. Commercial radio is much tougher… you might have four producers for Marian Finucane – you'd have one for three hours on this. It was a tougher gig and because of that, the output wasn't as good as it should have been.
"We actually hit our targets at the time for the first month. March was actually a good month but public perception and the media actually killed any chance of what it had.
Everybody wanted to be on it at the start but when they saw the reaction to it, everybody bailed. The advertisers bailed very quickly.
"We needed to rebrand because there was such negative sentiment towards it. It was easier and cheaper to rebrand it than to relaunch it."
'Radio Direland' 
"What happened with Radio Ireland is that very quickly the press called it 'Radio Direland' and you couldn't shake it.
"Nobody was listening to it but everybody had heard about it. You couldn't shift perception.
I remember selling 25 ads for £1,000 and the person that we sold it to said, 'That really worked' and I said, 'Oh so do you want to do some more' and she said 'No, I don't really want to be associated with the brand … The people inside are giving me stick for being on it.' That is how hard it was.
"I collected the first JNLR book for Radio Ireland and the general manager called me and said, 'What's the story?' and I said, 'It's 1%.'
"That was every headline and that just killed revenue.
Things settled down but people actually started listening because there wasn't so many ads on it. Looking back it's funny, but jesus at the time.
"When we closed the doors of Radio Ireland, we knew we had about 9% listenership. It was gathering traction so when we launched Today FM we knew there was an audience there, but we needed a JNLR book."
You're fired
"It was brutal, brutal. It was brutal for everybody."
That's how Dunphy describes the atmosphere in Radio Ireland as shows began to fold.
You were going in and bodies were going out everyday and it wasn't just presenters, it was producers, researchers and everybody connected with a programme.
"So programmes were disappearing which meant producers and researchers and presenters were gone. So it was extremely volatile.
It was carnage and it was horrible.
Fitzgerald added, "It was horrendous, you could meet somebody in the morning and say we'll pick that up after lunch and have a meeting scheduled with them in the afternoon and after lunch they'd be gone.
"There were 120 people there in March and I'd say by June there was 50.
You literally just kept your head down and you did what you could. You'd try to sell everything you could literally to pay light bills and keep the place going.
"We could sell Eamon. Eamon was our saving grace. We could always sell ads for Eamon Dunphy."
'Nowhere else to go'
Describing how The Last Word became a success, Dunphy said it was down to the work of his producer Stuart Carolan, who went on to write Love/Hate, and his researcher Eimear Bradley, who is now Pat Kenny's producer in Newstalk.
"The producer is usually the boss but I said I'm going to be the boss because I had the most experience – I was 51. With no newsroom to resource us and no correspondents out in the field, we survived by desperation. We all wanted to work and had nowhere else to go.
We were hungry, we were hungry fighters. We were permanently scarred, we lived on the edge for about 18 months but we were the only show to survive.
"We did in-depth items and Stuart did comedy – and the comedy element in among the serious stuff was brilliant and I think people loved it.
"Harry Browne from the Irish Times gave the show a little bit of praise which convinced the bosses our show was worth sticking with.
We built up an audience extremely slowly … and then we kind of hit critical mass and the show was very successful. Everyone wanted to advertise on The Last Word and all that money was routed through the other programmes.
"So one programme saved that radio station.
"I think some people thought we were standoffish because we were in the office all day with the door closed. We were actually working. There's nobody less standoffish than me but when you're working, you're working."
#Open journalism No news is bad news Support The Journal

Your contributions will help us continue to deliver the stories that are important to you

Support us now
Dempsey to the rescue
Fitzpatrick said the people left in the station knew they could turn it around.
"We knew quite early we were going to relaunch it because it had to happen. We didn't know what Today FM was going to be but we knew it had to happen.
"So we were working behind the scenes on a rebrand, so there was no stage where you lost hope.
"That's what would have kept people going. We knew we had to negotiate with the BAI, we knew we had to do all those things. We knew it was coming and that's what kept people motivated and going.
"It was great fun even though it was stressful and tough."
While Dunphy salvaged what he could for Radio Ireland, Fitzpatrick puts Today FM's success down to another man – Ian Dempsey.
The reason Today FM became such a success was because Ian Dempsey joined. There's no doubt, the revenue trebled in a month.
"Up to the time Ian joined, Eamon was 80% of the revenue. When we got Ian – it allowed us treble the rates on Eamon and treble the rates we were getting for breakfast.
"We went into operational profit within a month of getting Ian.
You got Ian, you got Ray (D'Arcy), you got Tom Dunne, you got Tony Fenton. He led the whole thing not by going out and getting them but because people thought 'If he's there – I can go there.'
'Happiest years'
Dunphy said there was a lot of pressure for Today FM to work as a commercial station.
"It was the second commercial licence given and the first one, Century Radio, had gone 'whoops'. It was essential this work because it was the only competition to RTÉ.
Century crashed and burned after weeks and a couple of million was lost. So the imperative for Today FM to succeed was massive.
"It was a breakthrough for the commercial sector and our programme was the first credible news and current affairs programme produced in the commercial sector. We had no resources we just got good guests and that was down to Stuart and Eimear. We really had to work very hard to cultivate people, to do a new kind of broadcasting.
The significance of Today FM and The Last Word in particular was that it proved you could produce credible news and current affairs on resources much more limited than RTÉ had and that somebody other than a state monopoly could do it.
Dunphy added that while radio was very demanding work wise, it was very rewarding. "I love radio, I miss it hugely but it was really hard work.
I think it was the happiest years I ever spent. Radio is a fantastic medium because it's about the ideas and the substance of things. It's not about how you look, there's no tricks, you can detect from someone's voice when they're being genuine so I loved it, really loved it and regretted when we had to stop.
Fitzpatrick said, "We just loved it, even though it was tough … it was a year of madness but I look back at it with great fondness."