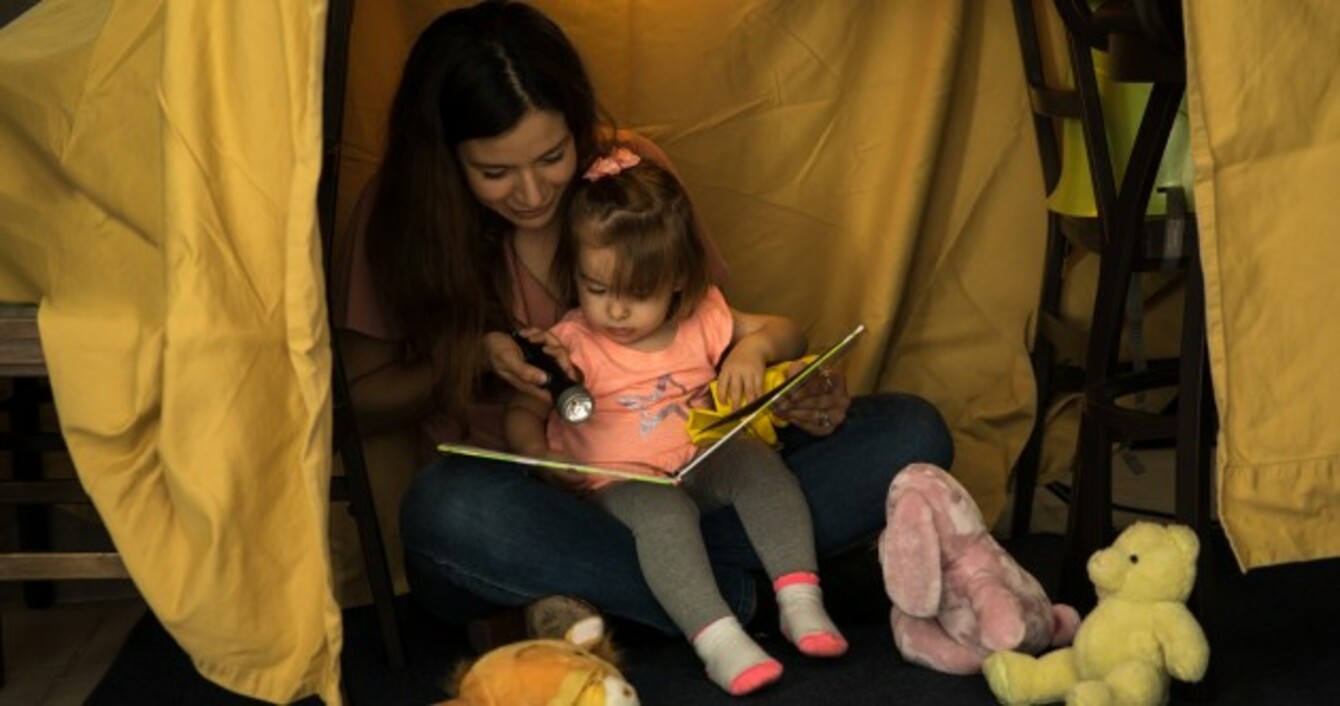 Image: Shutterstock/antoniodiaz
Image: Shutterstock/antoniodiaz
BY THE TIME your little one reaches toddler and preschool age, they're well able to tell you what they want. And that's where the trouble starts, from dealing with tantrums to navigating playdates. That's why it can be so helpful to hear how other parents are getting through it all.
Our Toddler and Preschool Parents Panel is made up of parents with little ones from 24 months up to age five.
This week, we asked parents to share their survival tips for the long winter evenings ahead – the activities their kids love and the tactics that keep whining to a minimum.
What are your tricks and tips for getting through darker afternoons and evenings with toddlers?
We treat these long dark evenings much the same as rainy days. We get cozy, we cook dinner together, bake together, make the bath time that bit longer and watch family movies together. This may all sound pretty calm and lovely, but it is of course mixed in with a lot of running around the house, tantrums and giddy kids/worn out parents.
- Kaisu Healy 
It's always back to some good old toys to break up the evenings. Play Doh is a firm fave, they have a box full of bits to play with it – rollers, cutters, small toy animals that they make footprints with, cover up and dig out. They could be at it for up to an hour, which is heaven! Lego and train sets keep them going for a good while, too.
Telly is the good old reliable, but it only lasts for a while, so it's always back to some good old toys to break up the evenings.
- Michelle O'Brien
I cycle through a slow rotation of activities with them (yes, including watching TV). I park the guilt about TV during the winter and let them watch it, within reason, once we have exhausted all the other indoor activities we have ignored over the summer months. 
We look to Play Doh, colouring, painting, arts and crafts, making Christmas cards, story-time, making forts, baking, indoor scooter time, puzzles, the game Articulate! (the two-year-old does not understand how to play yet), Lego and Magna tiles to pass the time. 
Obviously not all in one day – we do these on a slow rotation over the week, stretching out that play time as long as possible. And then it's earlier into the bath and earlier into the PJs – all brokered under the promise of TV time.  
- Emily Lewis
I must read about 20 stories a day. I'm trying to limit TV as I've noticed it affects my son's behaviour, but it's still a fallback when the weather is really bad. Lego and jigsaws are a big hit in the evenings lately.
#Open journalism No news is bad news Support The Journal

Your contributions will help us continue to deliver the stories that are important to you

Support us now
- Joanne Burke
My daughter's new favourite thing to do is "helping Mammy!" This is going to sound really boring, but she gets really excited helping me do the dishes or sorting the clean clothes and helping me put them away. We have turned it into a game and with a ten-month-old and a three-year-old to keep entertained, I'll take any help that I can get with the laundry! She hasn't quite gotten the concept of not scrunching up folded clothes and that technically jamming as many items of clothing into a drawer isn't really putting them away properly, but she's happy and life's too short to worry about a few creases! 
- Deirdre McCormack
We try and get a walk in when we can. Then we come home to cook dinner, bath time and into pyjamas for a movie at the weekends or a jigsaw during the week. It is a bit more challenging now that one is at school and has homework, so often the toddler gets "homework" as well to do at the same time. 
- Tracy Kilgallon
Water play is a big hit here. I fill the sink with water and bubbles and let my guy wash his trucks and get messy which can thankfully take ages!
A little gem of a trick that worked out better than expected so will be doing a lot this winter was creating a race track out of packing tape on the carpet. We made lots of lines in all different direction that his trucks can race around – then we start building lego bridges or buildings alongside it! The tape comes up easy and without a trace but gives plenty of imaginative play.