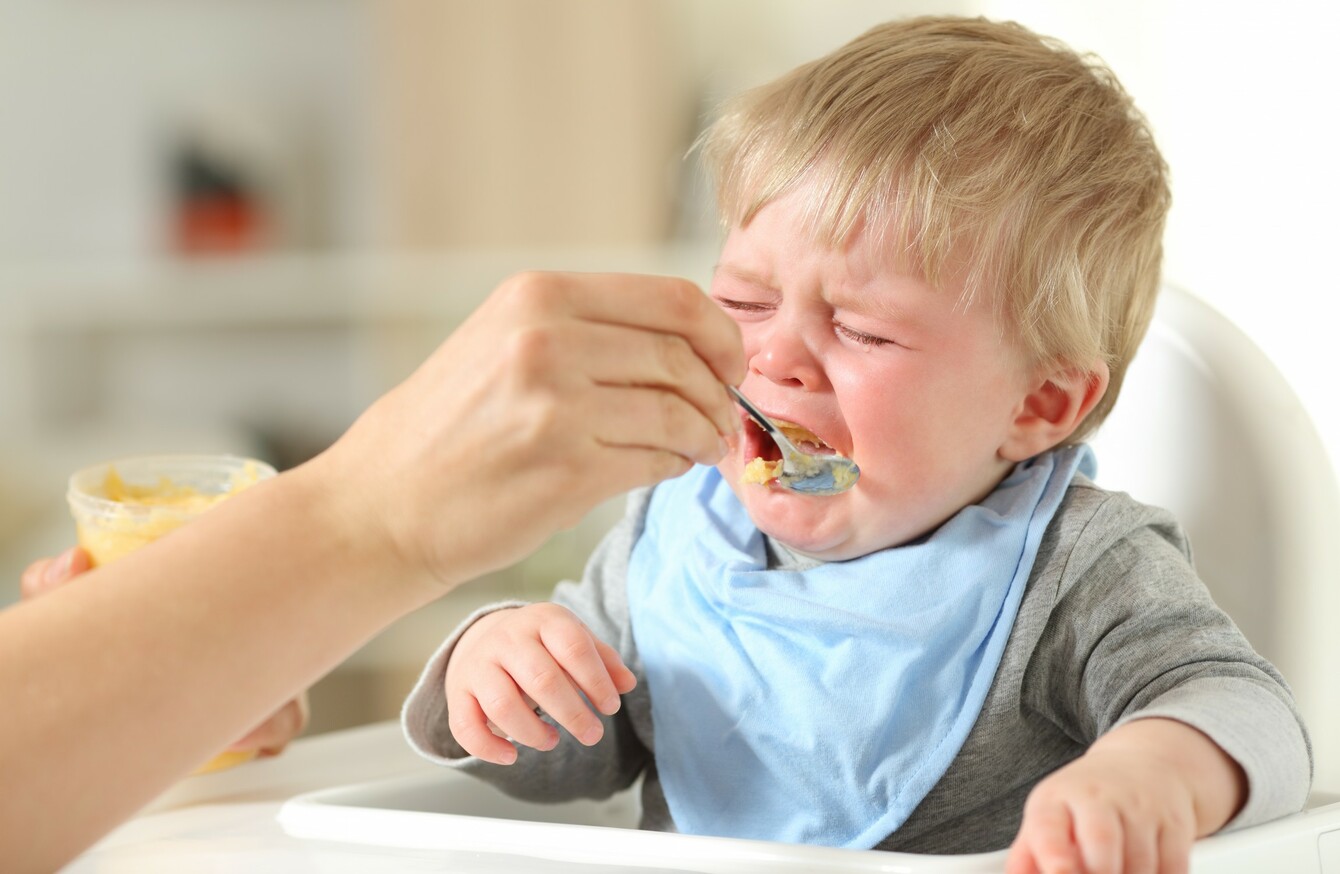 Image: Shutterstock
Image: Shutterstock
EACH WEEK, WE hear from a reader who can't figure out what to do about a tricky parenting situation. To get a balanced take on the dilemma, we ask four Irish parenting experts to weigh in.
We all know the importance of eating a balanced diet for people of all ages, but what's a parent to do when your toddler flat-out refuses to touch most foods on his plate?
This week, one parent is torn over whether she should accept her son's fussy eating habits (which mainly revolve around a hatred of veggies) – or to start being stricter at mealtimes before he gets any older.
Have a parenting dilemma you're struggling with? Let us know anonymously here and we'll share it with our panel of experts.
This week's dilemma
My two-year-old absolutely hates vegetables. I've blended them, made soups, sauces and purees but no matter what I do, he refuses to eat them. My other two children weren't fussy eaters at all, so I'm completely at a loss for what to do. I sit with him each day and encourage him to eat even one bite, but he just won't budge. Eventually I just end up giving him a couple of biscuits, bread or pasta because I want him to eat SOMETHING. Am I being unreasonable to give in?
What the experts have to say…
I don't think you are being unreasonable in wanting him to eat. As parents, we do everything we can to make sure our children are healthy and well and that includes making sure they are taking food on a daily basis. The other part to all of this is that every child is different. The majority of families will agree, whether it's to do with food, sleep, behaviour etc.
He is still very small and to him, he is exploring. Creating healthy eating habits is a long term process and takes a lot of patience, time and effort. Research shows that it can take up to 20 times before a child will accept a new food, this allows them experience the taste, texture and smell and if he does attempt a new food, lay on the praise!
 - Aoife Lee, Parent Coach at @parentsupport
You are not being unreasonable. I have two incredibly picky eaters so I feel your pain. Children can't be forced into eating certain things, but will usually meet their own dietary needs provided enough variety is offered.
So what can you do? 1. Look at taste: maybe try sweeter vegetables eg peas, baked sweet potatoes; 2. Look at autonomy: maybe offer vegetables he can feed himself with using his fingers so he's in charge and it's more fun; 3. Look at different textures or colours: eg dry vegetables (no sauce), or raw vegetables cut into different shapes; 4. Look at fruit options: eg melon or watermelon pieces, pineapple cubes, blueberries, grated apple, banana slices. 
Ultimately, I wouldn't be making a big deal about it with him, or bribing him to eat his veggies, as that can set up unhealthy emotional responses to eating. Whatever you do now, at 16 they'll all end up in fast food joints with their mates and at 18 they'll usually start eating salad!
 - Krysia Lynch, Maternity Care Expert at Krysia.ie.
Yes, you are being unreasonable. The more you give in the less likely he is even to try the vegetables. The question you need to ask is: is your son a fussy eater or is he just eating his preferred foods? Possible reasons as to why he is refusing to eat the vegetables might be that he is quickly learning that if he holds out he'll get his preferred food.
When you have a child refusing to eat it can be a stressful experience, however, try to remain calm and give other options instead of the biscuits, bread or pasta. My 21-month-old would eat bread all day if we let him and he can become very stubborn refusing to eat food we know he likes.
Distraction works but with books or toys, not screens if at all possible. The 'first/then' approach might work, eg eat the carrot first, then some pasta. Make his experience with vegetables fun, and maybe put on hold the need for him to eat the vegetables.
- Brian Purcell, Occupational Therapist.
So what's the final tally? Is this reader being unreasonable?
Yes – 1
No – 2
Tell us your thoughts in the comments!
Have a parenting question you want answered? Let us know anonymously in our survey here or email us on family@thejournal.ie and we'll put it to the experts.