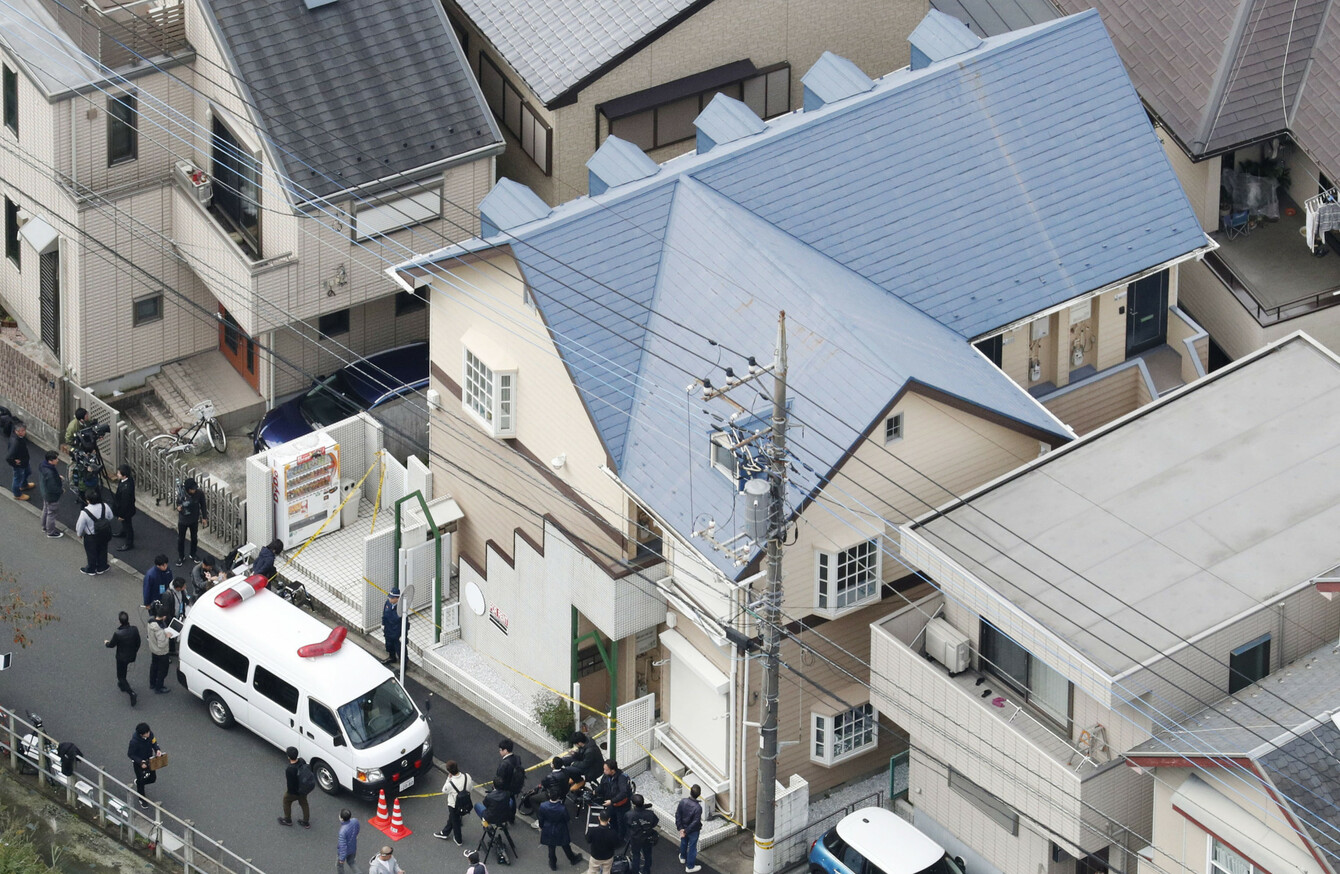 This aerial photo shows the apartment where police found dismembered bodies in coolers in Zama city,
Image: AP/PA Images
This aerial photo shows the apartment where police found dismembered bodies in coolers in Zama city,
Image: AP/PA Images
JAPANESE POLICE HAVE found nine bodies with their flesh stripped off and heads severed in containers in a suburban Tokyo flat.
Police confirmed to AFP they had arrested 27-year-old Takahiro Shiraishi, who lives in the apartment in the quiet residential neighbourhood of Zama.
Police originally found two heads inside a cool box at the entrance to the apartment before making the grisly discovery of the other body parts, according to Jiji Press.
"During the course of the investigation, the heads of nine bodies have been discovered inside various coolers and containers in the apartment", private TV network TBS said.
Police arrested Shiraishi on a charge that he dismembered one body and placed it inside a cooler, a charge that he was not contesting, according to a spokesman at Tokyo Metropolitan Police.
"He has said 'I dismembered a body and placed it inside a cooler and poured cat litter over it. It was meant to hide the body that I killed and to hide evidence'," the spokesman told AFP, declining to elaborate.
According to TBS, Shiraishi told police he "dumped cut flesh and organs in the trash".
'Smell of sewage'
The bodies were of eight women and one man.
Jiji Press said Shiraishi had told police he chopped up the bodies in a bathroom and a saw was found in his room.
The police spokesman could not immediately confirm these reports.
The Sankei Shimbun newspaper quoted a neighbour as saying he had "smelled an odour he had never smelled before".
"I thought it was the smell of sewage," he said.
TBS said the body parts had been stripped of flesh.
Teams of investigators swarmed over the apartment as dozens of journalists joined curious neighbours on the narrow street.
Police used blue tarps to block views inside the two-storey building, and covered windows of the second-floor room where the bodies were discovered.
'Die with me'
Authorities had been investigating the disappearance of a 23-year-old woman and discovered a connection between her and Shiraishi.
This woman had earlier tweeted: "I'm looking for someone to die with me."
Other media said Shiraishi and the woman had connected via a website featuring information about suicides.
A CCTV image showed Shiraishi and the 23-year-old woman walking together last Monday.
She had been missing since 21 September and her older brother reported her disappearance to police, according to the Asahi Shimbun.
Japan prides itself on a low crime rate but is no stranger to high-profile violent crimes.
In Japan's bloodiest crime for decades, Satoshi Uematsu faces charges of killing 19 people and attempting to kill or injure 24 others at a disability centre near Tokyo in July 2016.
In 1997, a 14-year-old schoolboy decapitated an 11-year-old acquaintance and placed the head at the gates of his school.