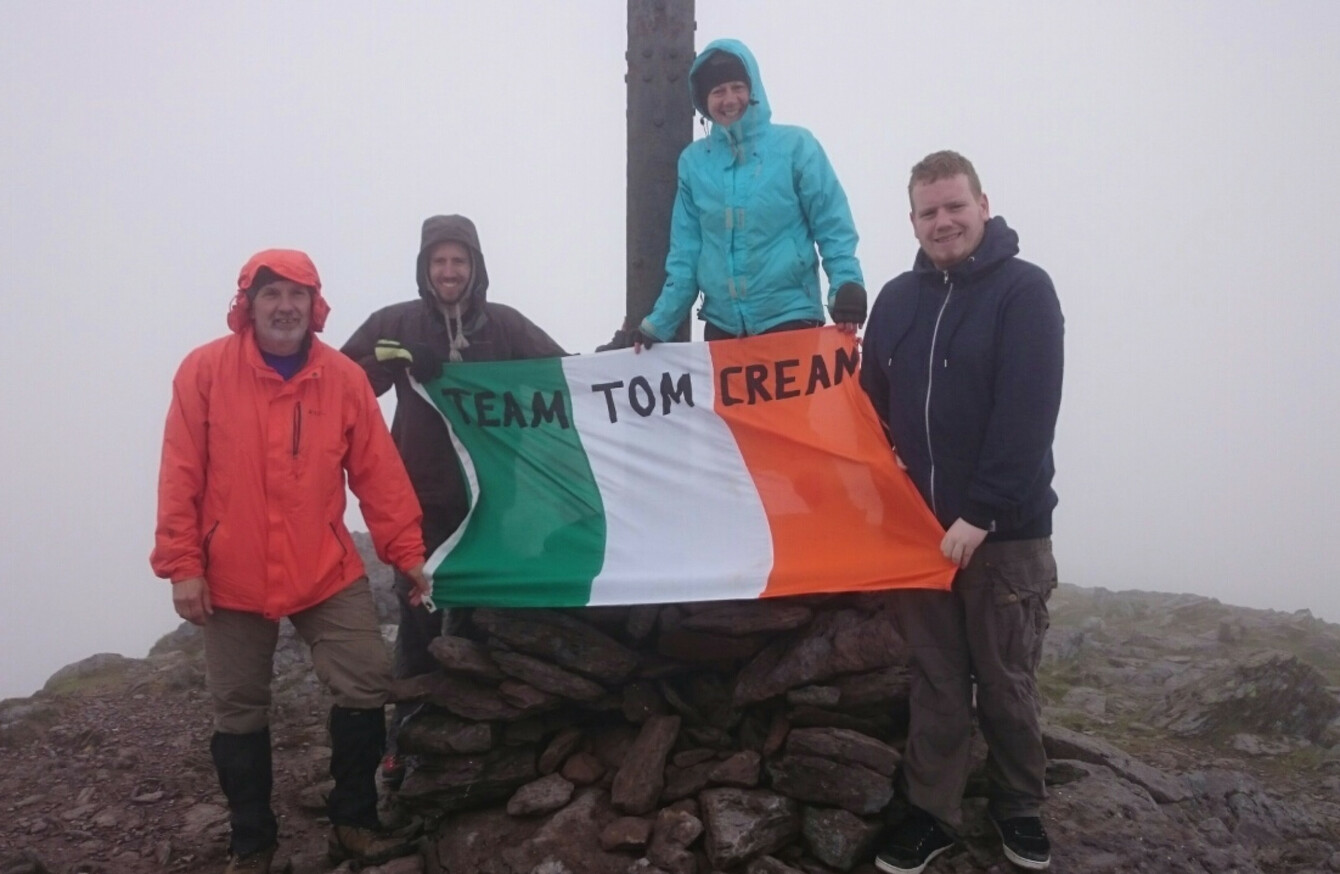 Image: Alan Meaney
Image: Alan Meaney
WHEN AILEEN CREAN-O'BRIEN set out to retrace the footsteps of her grandfather Tom Crean's trip to the sub-Antarctic island South Georgia, she had no idea of what lay ahead of her.
Last year Aileen, her two sons Cian and Morgan, and her partner Bill Sheppard decided to recreate the journey that Crean took in 1916, when he landed with Ernest Shackleton and four other crew-members on the island. (You can read about it in full here,)
But when Crean-O'Brien and family attempted to make the trip, they were faced with a huge obstacle after she broke her leg while descending to the Crean Glacier.
Now the intimate audio diaries recorded by Crean-O'Brien during the trip will be broadcast in a documentary on RTÉ Radio One on 5 and 6 August thanks to Galway-based independent radio producer Alan Meaney.
The documentary follows the family as they leave the Tom Crean Fish & Wine Restaurant in Kenmare, Co Kerry, to head to the Crean glacier, Crean Lake and Shackleton Waterfall.
Their trip involved a six-day sea crossing and four-day traverse of the island. Along the way, they had to haul their pulks (sleds) over rough terrain and ice with huge cracks in it.
Their journey at times mirrored that of Shackleton and his crew 100 years previously.
The men were on their Endurance expedition to the Antarctic in 1916 when the boat became trapped and sank. They had to sail on small lifeboats to the uninhabited Elephant Island, and from there had to navigate to South Georgia.
As we explained in our retelling of the epic journey:
Unfortunately for the exhausted men, the whaling station where they had been hoping to seek help was on the far side of the island. Leaving the others camped out with the boat, Shackleton, Crean and Worsley set out on foot to begin another never-before-attempted journey – traversing the island's mountainous interior.
Family pride
Aileen Crean-O'Brien grew up hearing the stories of her grandfather's famous journey, said Alan Meaney.
A friend of Meaney's put him in touch with Crean-O'Brien, and he gave her a recorder to take with her to capture her thoughts on the trip.
I just thought that this was a wonderful story, and having met Aileen I could see the determination and that idea of somebody going to such great lengths to follow him really, to stand where he stood.
"The story of the documentary is of a normal person – she runs a restaurant – trying to go on this extraordinary thing. For her, Tom Crean has always been a hero and she used to look at his medals when she was young in her grandparents' house," said Meaney. "She only knew her granny – she died when she was six. She always used to see his memorabilia around the house. She really wanted to go where he went."
"I think Tom Crean is a figure in Irish history who maybe doesn't get the credit he deserves," added Meaney.
#Open journalism No news is bad news Support The Journal

Your contributions will help us continue to deliver the stories that are important to you

Support us now
The diaries capture the group's reactions when they saw the island for the first time, and Crean-O'Brien trying to deal with her unfortunate injury.
"They had 80 recordings and I had to go through them all and log them all," said Meaney. "I had to listen to everything and write down what was in the recordings, and do interviews afterwards."
Some of them were emotional, she was obviously very upset. In the recordings she is crying, saying her world is shattered, so that was hard to listen to.
"It felt like I was going on the adventure with them and following them," he added. "It was step-by-step. When she had the accident it changed everything - they thought she was going to have to go back on the boat, back to the Falklands again with a broken leg. That could have been life-threatening. The weather was getting worse, the snow was coming in. It was quite dramatic."
The documentary details how things turned around, with a little twist of fate. But you'll have to listen in to hear about that.
"You can see their excitement but also their trepidation before they go," said Meaney. "I hope people will see their bravery because it was a very brave thing too. [You can] see they have some of [Tom Crean's] traits of endurance."
RTE Documentary On One: In Tom Crean's Footsteps will be broadcast at 1pm on Saturday 5 August on RTÉ Radio One with a repeat on Sunday 6 August at 2pm.