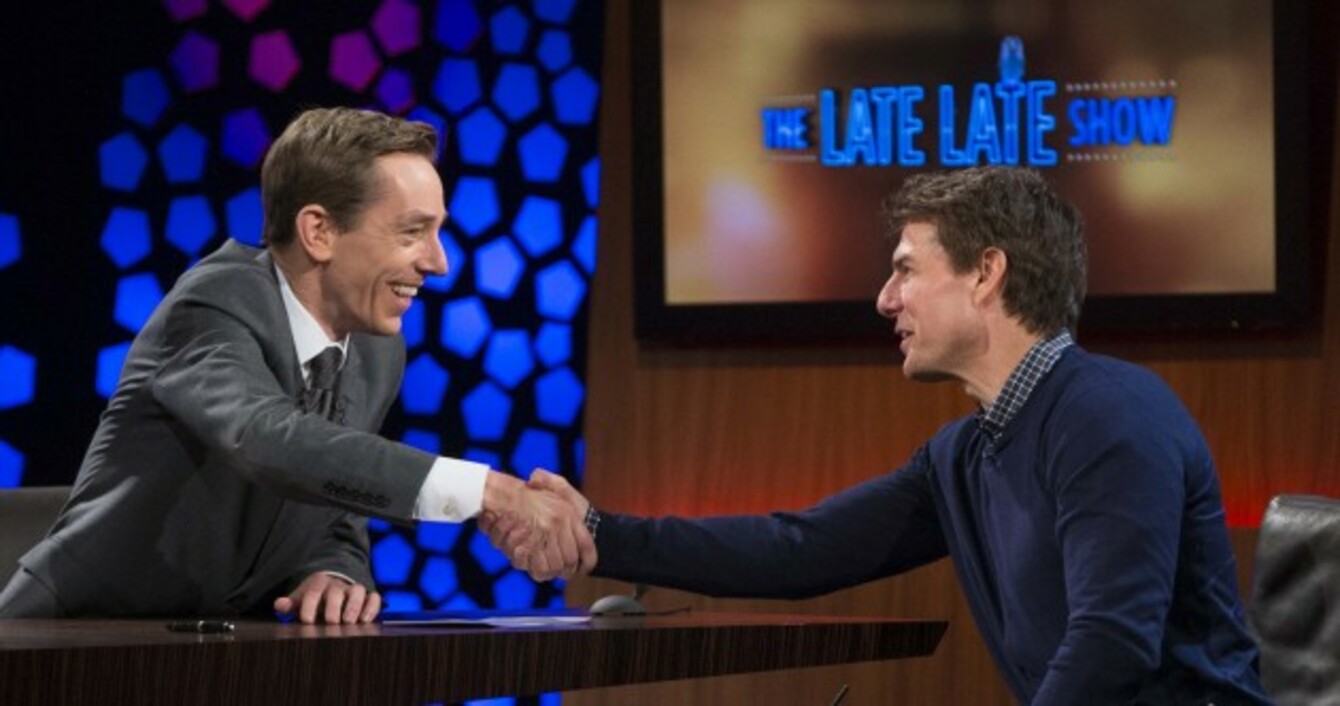 Ryan Tubridy meets Tom Cruise
Image: RTÉ
Ryan Tubridy meets Tom Cruise
Image: RTÉ
HE'S A PINT-sized action hero who's one of the most famous people in the world, but when Tom Cruise meets Ryan Tubridy on tonight's Late Late Show, he's all about our fair little isle.
The interview with the actor and his Oblivion co-star Olga Kurylenko goes out tonight at 9.35pm, but we have a sneak peek of what you can expect.
Famine hero:
If you wanted to know about Cruise's much-feted Irish connection, wonder no more – according to the actor:
I found out my family owed all this land and they were famine heroes. They originally came from Dublin.
We're not sure what exactly famine heroes are, but it's probably no surprise to hear that when it comes to Cruise, even his ancestors didn't do things by halves. And after just 24 hours spent gallivanting around Dublin, Cruise tells Tubridy that "It's great to be back …I'm home" when asked how is doing. Top of the morning to ya indeed.
Our Colin:
It wouldn't be an interview with a Hollywood star without a mention of Ireland's own Colin Farrell, who Cruise co-starred with in Minority Report, which leads on to Tubridy asking how Cruises's own Irish accent is.
Cruise's response? "It's fine, Ryan!" in his best Far And Away Oirish.
Christmas dinner:
What with Tubridy recently discovering he is related to Cruise, we're told the men "joke about having Christmas dinner together".
We suspect that this might take some serious negotiation, but won't rule out it happening.
Return visit:
Finally, if you felt a little lonely without Tom in Ireland now that has gone back to La La Land, don't stress – he tells Tubridy that he'd love to make another movie here.
And with Tubs telling him "your country needs you!", we reckon he'll do his best to make his "famine hero" ancestors proud.

(discoverireland/YouTube)
Catch the full interview with Tom Cruise and Olga Kurylenko on The Late Late Show tonight at 9:35pm on RTÉ One.