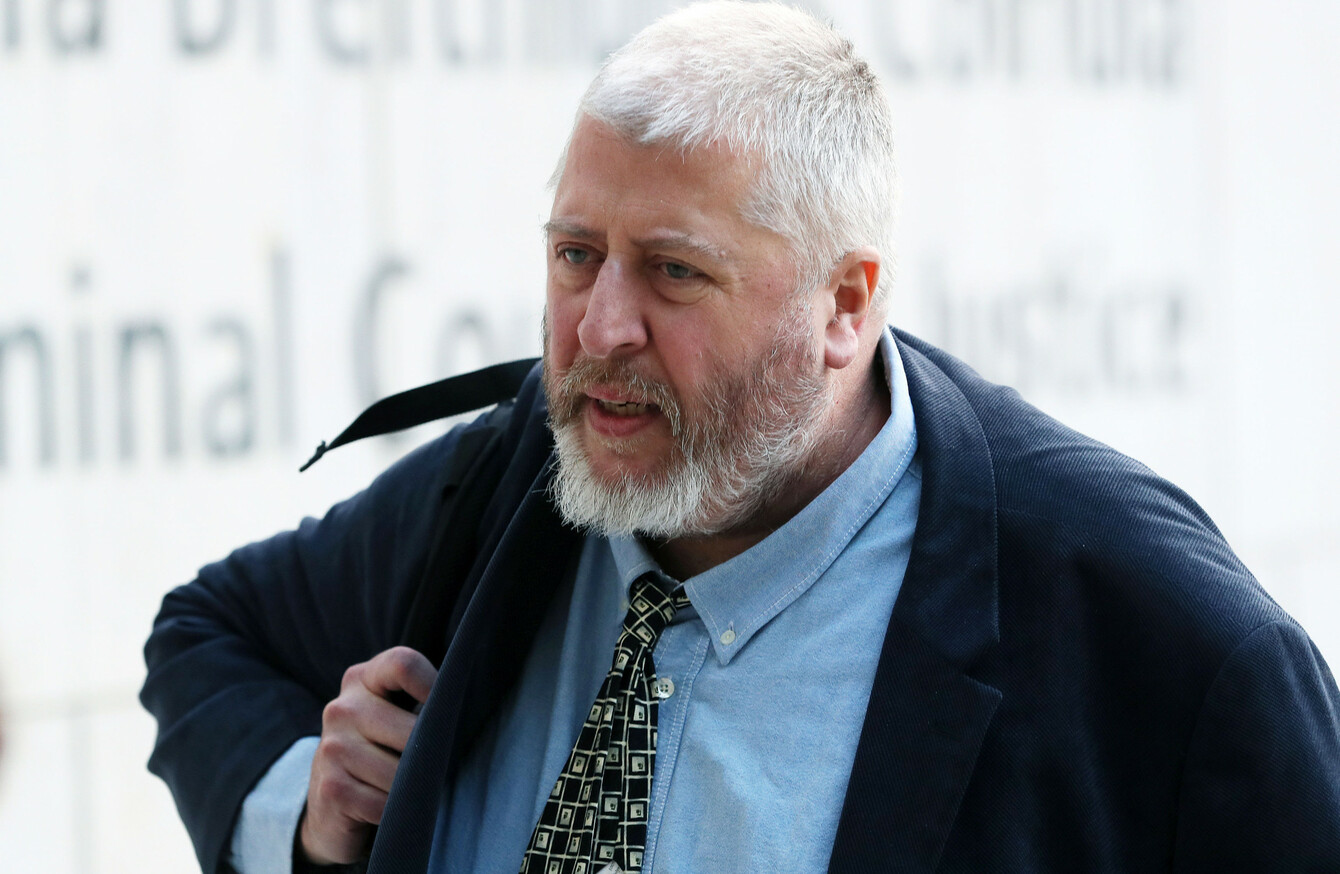 Humphries arriving at the Dublin Central Criminal Court yesterday.
Image: Brian Lawless/PA Images
Humphries arriving at the Dublin Central Criminal Court yesterday.
Image: Brian Lawless/PA Images
TOM HUMPHRIES WAS once perhaps Ireland's best-known sportswriter.
Yesterday, he sat with his left hand covering his mouth and eyes as graphic text messages between him and a teenage girl were read to a courtroom in which some of his former peers silently took notes.
Both they and the court also heard how Humphries picked the then 16-year-old up from her school on a Sunday and went to his apartment where he sexually abused her.
What preceded that was about two years of contact between the two that could be described as little else but grooming by Humphries.
Indeed, the 54-year-old earlier this year pleaded guilty to both the sexual exploitation and defilement of a child.
The first contact between the two was initiated by a text message from Humphries to the victim when she was 14. She did not know how he got her number but she assumed it was through her sports team.
Over two years of correspondence between the two followed and the persistence of that contact was outlined yesterday.
It was described by the State as "essentially daily contact" with Garda Jarlath Burke telling the court that gardaí could prove about 16,000 text messages over a three-month period alone.
In public
Humphries had pleaded guilty to a total of six offences and yesterday's sentencing hearing was the first time many of the details of the offences were aired publicly.
As Shane Costello SC outlined the – at times- graphic series of events, Humphries sat in the dock dressed in a navy jacket, blue shirt and a black and gold tie.
He was sat in a closed manner with his arms across his broad chest and his left hand frequently covering his mouth.
Occasionally, he rubbed his eyes with the thumb and index finger of his left hand and he rarely looked towards the public gallery.
The victim was in court for the hearing but declined to give evidence and decided that she did not want to see a letter of apology written by Humphries to her.
A powerful victim impact statement was read out on her behalf in which she outlined the devastating effect the events had on her.
The victim described how the events have made her "physically, emotionally and mentally ill" and caused her to "block out childhood memories" in an effort to also "block out all the abuse".
The statement also spoke about suffering from depression and about battling weight-loss and insomnia.
But in a moment of dignified selflessness that pierced the otherwise tragic proceedings, the victim spoke glowingly about the efforts of the Humphries' family who first brought the issue to the attention of gardaí.
They did so after one of Humphries' daughters discovered messages on a mobile phone that was to be discarded.
The victim said she would like to "sincerely thank" his family for what they did and expressed her hope that they too will get through what has happened.
"I am forever grateful to them for helping me," she said.
Humphries was remanded in custody at his own request and will be sentenced on 24 October.