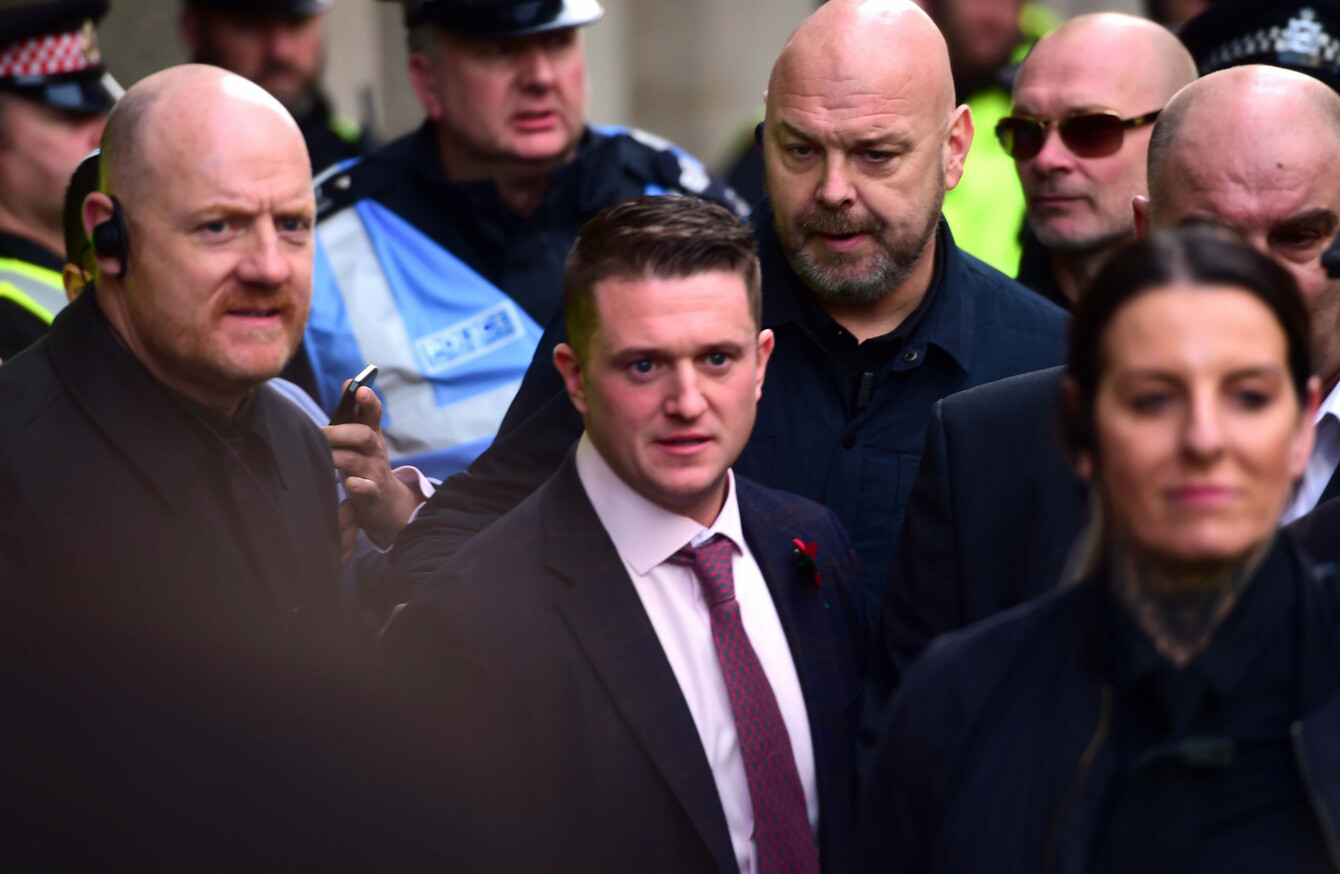 Image: David Mirzoeff/PA Images
Image: David Mirzoeff/PA Images
OVER A THOUSAND chanting Tommy Robinson supporters gathered outside the Old Bailey today ahead of his contempt of court hearing.
Flying Union Jack and English flags the followers sounded claxtons and shouted: 'We want Tommy out.'
Robinson was jailed for 10 months in May after filming four men in an ongoing trial, who were subsequently convicted of gang-raping a teenage girl and broadcasting the footage on social media.
It is claimed he could have caused the Huddersfield grooming trials to collapse and child rapists to go free. The EDL founder, 35, was released from HMP Onley in Rugby in August after an appeal judge ruled there had been a 'muddle' but did not quash the conviction.
Today, Robinson again appeared in court under his real name, Stephen Yaxley-Lennon. The case was referred to the Attorney General. 
During the hearing, the recorder of London, Judge Nicholas Hilliard, QC, said, "Yesterday Mr Yaxley-Lennon's solicitors forwarded to me a copy of a statement from Mr Yaxley-Lennon.
"There is no criticism as to the timing, those concerned have worked hard to progress matters. The nature and extent of the controversies to be considered emerged to my eye far more clearly from that statement than ever before.
I will only say that they are such as to be that the proper course is for the matter to referred to the Attorney General and I should not seek to conduct a hearing myself.
The judge said that "it may be necessary to look at quite a lot of the detail, of what Mr Yaxley-Lennon said in the broadcast".
Angus McCullough, QC, was sitting as advocate to the court – not instructed by the Attorney General – and was not able to deal with cross-examination or act as prosecutor.
The judge said "the evidence must be rigorously tested on both sides" and the hearing at the Old Bailey could not allow for that.
"On the 16 October I indicated that I was going to proceed to hearing two allegations of contempt of court against Mr Yaxley-Lennon," he said.
"I was satisfied that in the very special circumstances arising here that I had jurisdiction to hear two allegations – one alleging that a report of proceedings by Mr Yaxley-Lennon was in breach of an order under section 4.2 of the Contempt of Court Act 1981.
The other allegation that he broadcast he made carried with it a substantial risk of serious prejudice to a criminal trial that was ongoing in May of this year. Mr Yaxley-Lennon disputes both of these allegations.
Standing in the dock to answer to his official name, Stephen Yaxley-Lennon wore a blue suit with a poppy pinned to his lapel.
The case
Last week, 20 defendants from three Leeds trials were sentenced for being part of a grooming gang who raped and abused girls as young as 11 in Huddersfield.
The predators who plied the girls with drink and drugs, went by nicknames like 'Dracula', 'Beastie', 'Bully' and 'Nurse'.
#Open journalism No news is bad news Support The Journal

Your contributions will help us continue to deliver the stories that are important to you

Support us now
The same judge who locked up Robinson jailed the gang for more than 200 years, for 120 offences against 15 girls.
The men, all from Yorkshire, were convicted of more than 120 offences against 15 girls from 2004 to 2011.
Judge Geoffrey Marson, QC, told them: "The way you treated these girls defies understanding; this abuse was vile and wicked. As cases of sexual abuse with which the courts have to deal, this case comes top of the scale."
Robinson, of Luton, Bedfordshire, was released on bail today. In a statement, he said that it was never his intention to "interfere with the administration of justice".
Police surrounded the courthouse as a huge security operation swung into action this morning.
Some those who had travelled to see their idol cracked open cans of Stella lager as refreshment.
Comments are disabled as legal proceedings are ongoing.