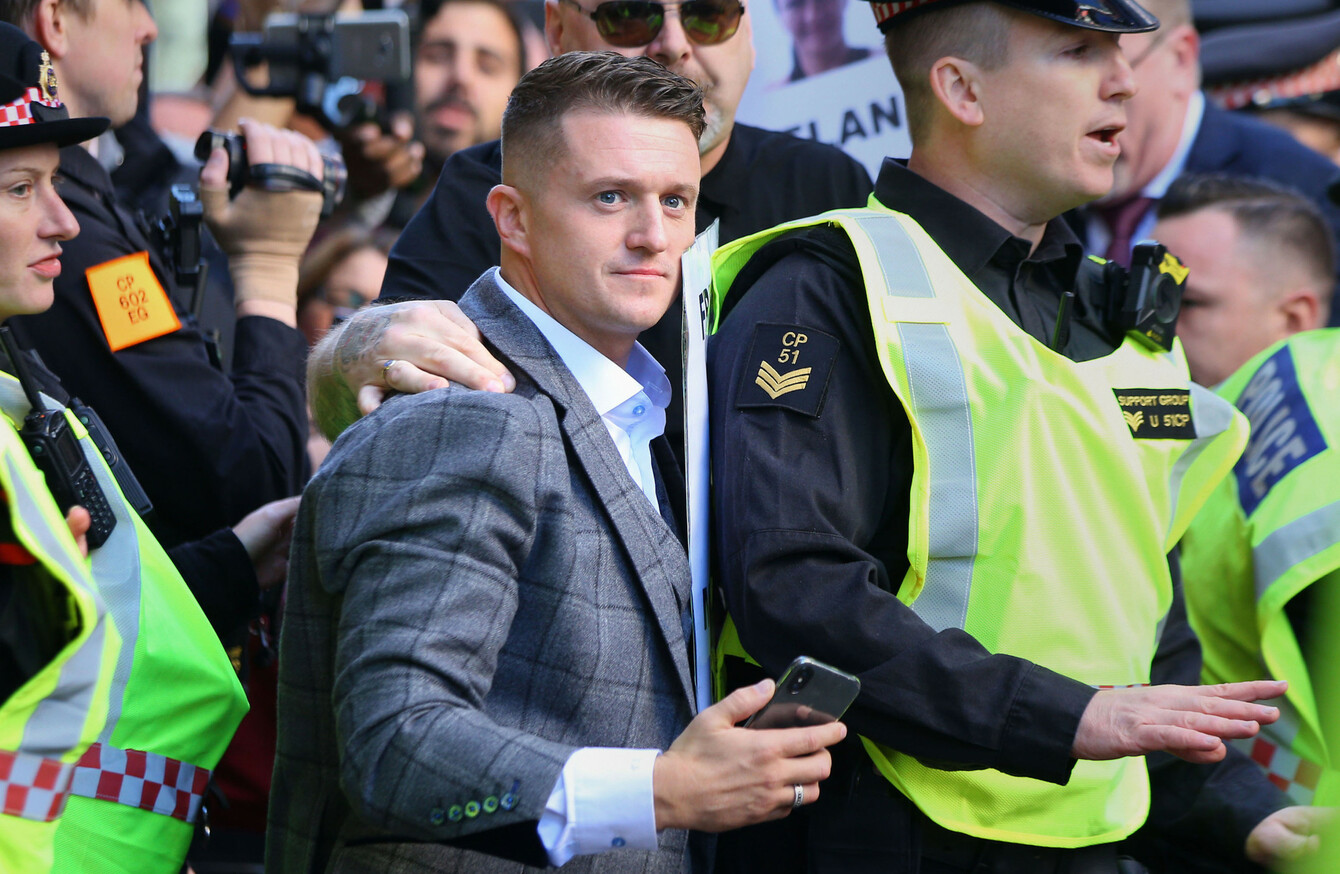 One of the rallies is backed by former English Defence League leader Tommy Robinson
Image: Yui Mok/PA Images
One of the rallies is backed by former English Defence League leader Tommy Robinson
Image: Yui Mok/PA Images
THE METROPOLITAN POLICE has imposed a number of restrictions in an attempt to prevent public disorder during pro-Brexit and anti-Brexit rallies set to take place this weekend.
While the right to peaceful protest must be respected, people are entitled to "go about their day without fear of violence, disorder or disruption," police said.
The "Brexit Betrayal" will see protestors marching in a demonstration backed by controversial far-right activist Tommy Robinson and organised by UKIP.
Over 1,000 people have signed up to a Facebook event for the march, which says the protest will express "the strength of feeling amongst leavers despite the torrent of anti-Brexit propaganda we have been exposed to for almost two-and-a-half years".
A counter march and rally planned by "Oppose Tommy Robinson in London" and "United Against Fascism and Racism" is also set to take place on Sunday. 
Conditions have been imposed on both sets of rallies, with participants set to be confined to certain streets depending on which march they're part of.
All members of the "Brexit Betrayal" rally are only allowed assembly in Parliament Street to the south of police barriers, the Met said.
The opposing marchers, meanwhile, must only assemble in Whitehall, north of police barriers.
Deputy Assistant Commissioner Laurence Taylor said: "Experience has shown us that when groups with conflicting views come together it can create tension and disorder, not just on the day itself but in the longer term. 
If you want to protest on Sunday we ask that you do so peacefully, no matter what your view. We will adopt a robust arrest policy on anyone who attends and is intent on violence and disorder, or is in breach of these conditions