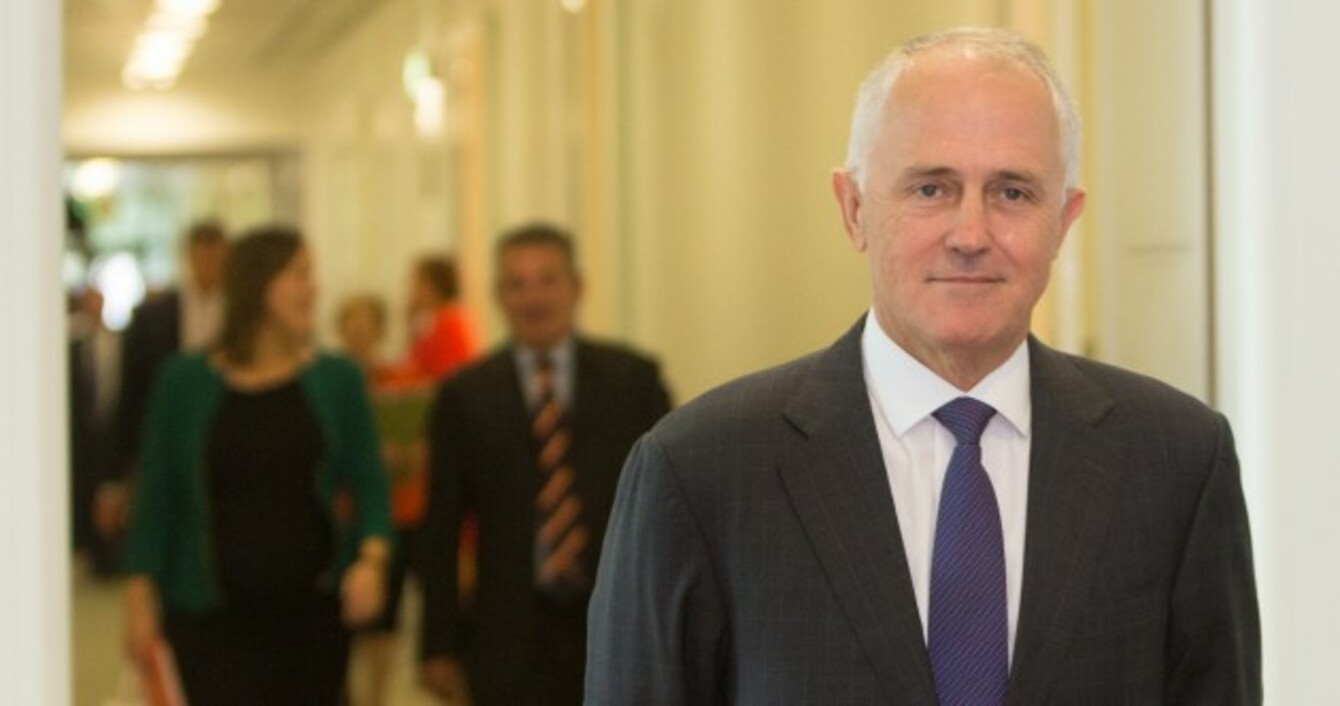 Malcolm Turnbull
Image: Associated Press
Malcolm Turnbull
Image: Associated Press
Updated 1.08pm
AUSTRALIA WILL HAVE a new prime minister after Tony Abbott was ousted by his party in a backroom vote.
Malcolm Turnbull, the communications minister in the conservative-led government, will replace him as head of the Liberal Party and is now due to take up the country's top political post.
The multimillionaire lawyer and investment banker turned politician won an internal poll to decide the party leadership by 54 votes to 44 after months of Abbott's increasingly toxic ratings in the opinion polls.
The vote took place among sitting members of the Liberal Party party in the current federal parliament, but under Australian political rules the ballot winner will also be installed as prime minister.
Speaking after the vote, prime minister-designate Turnbull said the government he led would focus on "freedom, the individual and the market".
He also appeared to rule out calling a snap election, adding he expected the current parliament to run a full term.
Abbott led his centre-right party to victory in a 2013 election, but since then has suffered a slide in public opinion amid a stalling economy and rising unemployment.
He has also coming under fire for a series of gaffes and misplaced 'captain's calls', like the decision to hand British Prince Philip a knighthood.
Abbott, a staunch Catholic, has also been viewed as increasingly out of touch with the Australian public on issues like gay marriage, which a recent poll showed was supported by more than three-quarters of the electorate.
A progressive choice
In contrast, Turnbull is seen as a more progressive choice, a so-called "small 'l' liberal", whose views have differed from those of his rival on many key issues.
He supports same-sex marriage and previously backed the carbon tax Abbott successfully campaigned to axe. He was also the leader of the Australian Republic Movement, while the current prime minister is an avowed monarchist.
The next federal election has to be held by mid-January, but current opinion polls indicate the opposition Labor Party would romp to victory.
Earlier today Turnbull told reporters: "If we continue with Mr Abbott as prime minister, it is clear enough what will happen.
He will cease to be prime minister and he'll be succeeded by (Labor opposition leader) Mr Shorten."
He said Australia needed a style of leadership "that respects the people's intelligence, that explains these complex issues and then sets out the course of action we believe we should take".
However many within the Liberal Party accused him of being disloyal and self-serving with the move to topple his leader.
Dissatisfaction
An opinion poll last week found 63% of voters were dissatisfied with Abbott's performance.
Abbott's replacement as leader marks the third change of a sitting prime minister in the country within just over five years of often-brutal party politics.
Abbott survived an earlier leadership spill in February following a harsh budget, wining the contest by 61 votes to 39 after no direct challenger emerged.
- With AFP
- First published 10.29am