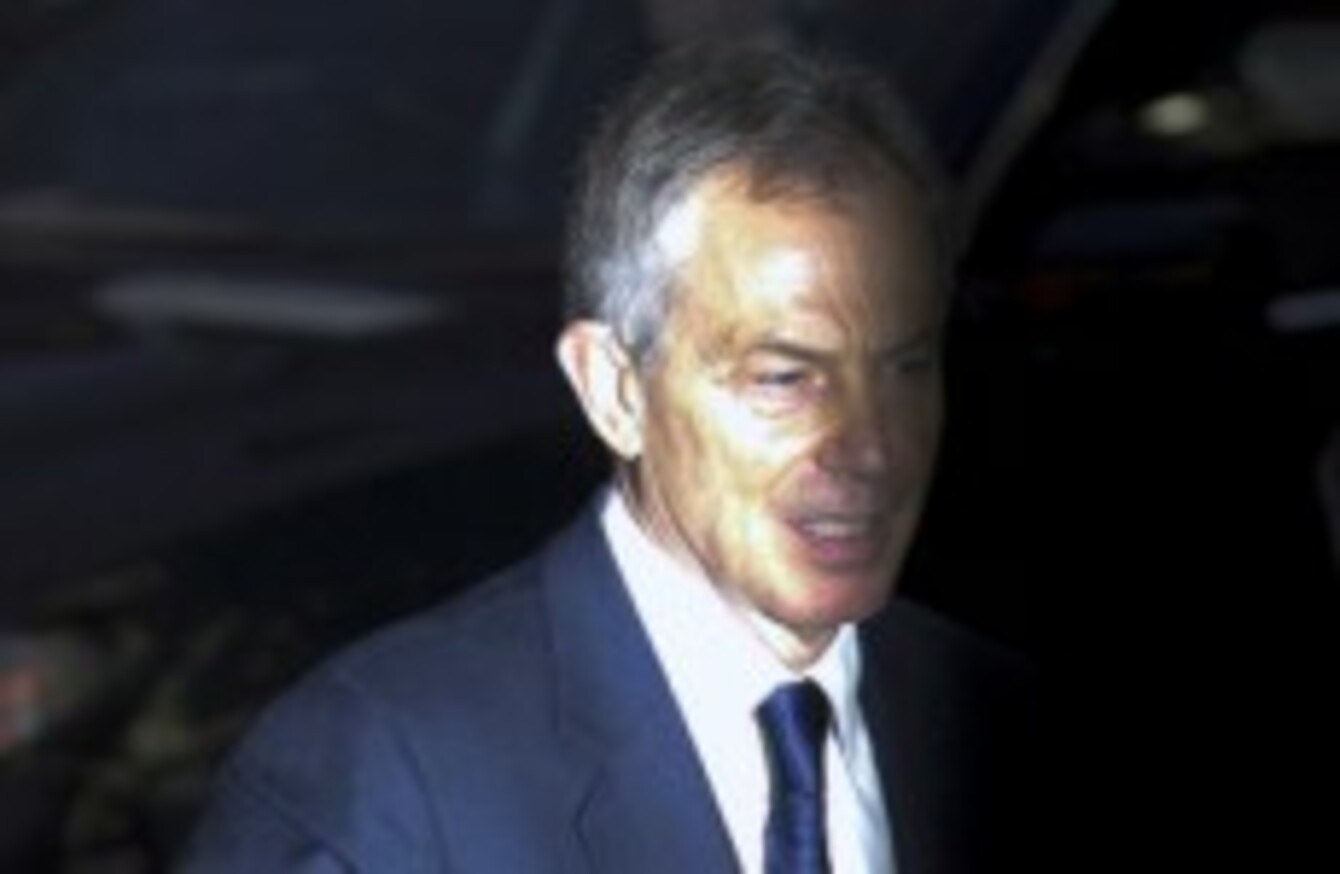 Former British PM Tony Blair arrives at the QEII Conference centre in London this morning to give his evidence in the Chilcot Iraq Inquiry.
Image: Jeff Moore/Jeff Moore/Empics Entertainment
Former British PM Tony Blair arrives at the QEII Conference centre in London this morning to give his evidence in the Chilcot Iraq Inquiry.
Image: Jeff Moore/Jeff Moore/Empics Entertainment
FORMER BRITISH PRIME Minister Tony Blair has appeared for the second time at an inquiry into the Iraq war today to answer questions about his role in the decision to invade the country in 2003.
Blair was recalled by the inquiry panel in light of damaging and conflicting evidence that came to light following his original appearance as a witness in January 2010, according to The Guardian.
'Provisional' advice
Speaking at the Chilcot Inquiry, Blair said that he had disregarded top legal advice, which indicated the invasion of Iraq without reinforced UN backing would be illegal under international law, because the advice was "provisional", The Guardian reports. Documents presented to the Chilcot panel in June showed that the then-attorney general, Lord Goldsmith, had warned Blair of the consequences of invading Iraq without fresh UN authority – just one day before Blair gave assurances to US president George W Bush that the UK would join the invasion.
Today, Blair said that he was entitled to ignore the attorney general's advice and explained that he had expected Goldsmith to with him once he had been made aware "of the British – but most of all the US – negotiating history".
Blair's argument centred on the UN security council resolution 1441: he said that this resolution meant that Saddam had a final opportunity to comply, and that his failure to do so was a "material breach" that effectively authorised the use of force.
The 'war on terror'
During the six-hour questioning, Blair said that a reanalysis of the 'terror threat' has been needed following the 9/11 attack on the US because the "calculus of risk" has changed.
He said that "terrorism and extremism based on an ideological perversion of the faith of Islam" was the "single most difficult thing we have to face today".
He said:
Although this is a time where many people think this extremism can be managed, I personally don't think that is true. I think it has to be confronted and changed.
Blair noted that it was for this reason he believed that western powers needed to steadfast when dealing the alleged Iranian nuclear threat.
Previously, Blair had defended his decision to invade Iraq – saying that Saddam Hussein was a "monster" and that his regime was "a brutal, oppressive military dictatorship" which posed a danger to international security. He reiterated that sentiment today, saying he did not regret going to war.
However, Blair added: "I regret deeply and profoundly the loss of life, whether from our own armed forces, those of other nations, the civilians who helped people in Iraq or the Iraqis themselves."
Saddam Hussein and Al Qaeda
Previous witnesses have told the Chilcot Inquiry that no evidence existed of relationship between Saddam Hussein and the 9/11 terrorist attacks. The former head of MI5, Dame Eliza Manningham-Buller, testified at the Chilcot inquiry that British intelligence had no concerns "in either the short term or medium term" that supported Blair's assertion that he had acted to prevent terrorists obtaining weapons from the Iraqi regime.
In a letter to the permanent secretary at the Home Office John Grieve, Manningham-Buller outlined that the Iraqi dictator's regime was not a threat to the UK – saying that if Hussein wished to attack Britain it would most likely do so by targeting British interests in Middle Eastern countries.
Manningham-Buller also said that, along with other senior officials, she had expressed concerns that the Iraq war would increase the risk of terrorist threat in the UK.
#Open journalism No news is bad news Support The Journal

Your contributions will help us continue to deliver the stories that are important to you

Support us now
Today, Blair denied that the suggestion that his cabinet had been kept in the dark in relation to the discussions about invasion: "This was a perpetual conversation going on in depth," he said, "All of this was being discussed pretty broadly and pretty deeply."
"I cannot believe a single cabinet minister did not know what the position was. It was being articulated by me weekly, occasionally daily," he added.
Relatives
Some relations of people who died while serving in Iraq attended the inquiry today, and reportedly grew restless when Blair expressed regret for the loss of life during the conflict, according to the Press Association.
"Your lies killed my son," shouted cried Rose Gentle, the mother of 19-year-old Fusilier Gordon Gentle, who died in Basra in 2004: "I hope you can live with it."
Speaking ahead of today's hearing, Reg Keys, whose son Tom Keys was killed in Iraq, told the New York Times that he planned to be present at the inquiry. His son was among six British military officers that were killed by a crowd of civilians in southern Iraq in June 2003.
"Had he been killed by weapons of mass destruction — had Iraq possessed them — I would accept that," Keys said: "But I will not accept that a prime minister in the 21st century can mislead Parliament and get away with it."
Key points from Blair's testimony:
The US and UK were trying to get a second UN resolution to support the invasion; Chile and Mexico wished to support their efforts but France threatened to veto – leading to "very scratchy" relations between France and the US
France claimed that Saddam Hussein had been fully complying with weapons inspectors; the US denied this, saying Saddam had threatened to kill the families of those who complied
Blair said that, in retrospect, he wished he had allowed Lord Goldsmith greater involvement in the discussions and more access to US legal advice
Blair said he convinced Bush to got to speak with the UN – against the advice of the US administration
Blair said that the UK's objective was to remove WDMs from Iraq – while the US "agenda" was to topple the regime
He denied that the aftermath of the invasion was left to to the US to deal with
Blair said he regretted his previous comparison of Saddam Hussein's Iraq to Nazi Germany