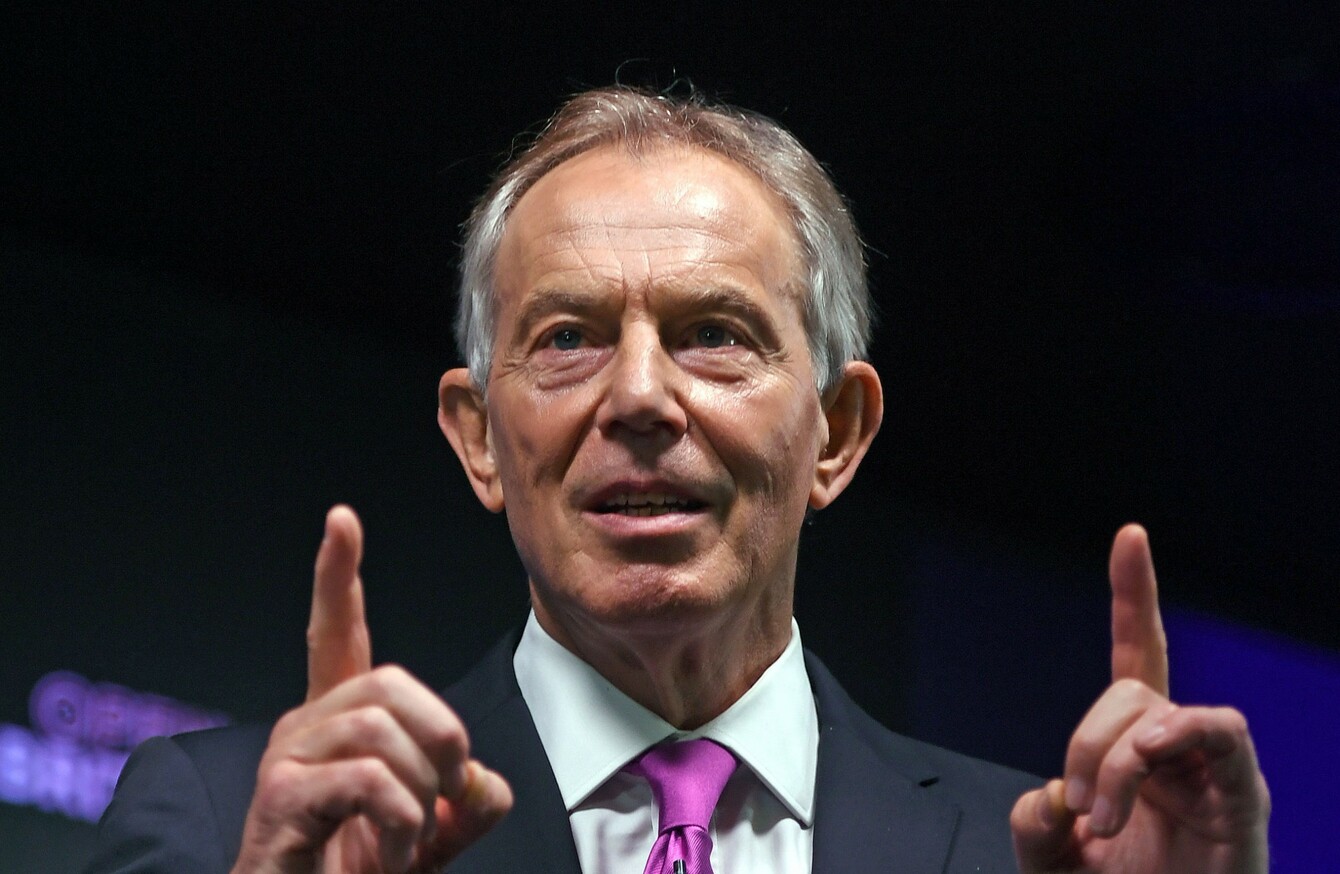 Former Prime Minister Tony Blair during his speech on Brexit at an Open Britain event in central London.
Image: PA Wire/PA Images
Former Prime Minister Tony Blair during his speech on Brexit at an Open Britain event in central London.
Image: PA Wire/PA Images
Updated 12.50pm
FORMER BRITISH PRIME Minister Tony Blair has urged Britons who support the European Union to "rise up" and persuade Brexit voters to change their mind about leaving the bloc in a high-profile speech.
"This is not the time for retreat, indifference or despair but the time to rise up in defence of what we believe," he said at an event organised by Open Britain, a campaign group lobbying for Britain to retain close ties with the EU.
"I don't know if we can succeed. But I do know we will suffer a rancorous verdict from future generations if we do not try," he said.
"We have to build a movement that will stretch across party lines," he said, announcing that he was creating an institute that would also develop arguments against Brexit and keep ties with the EU.
Britain voted to leave the European Union last year and Prime Minister Theresa May has said she will trigger Article 50 of the EU's Lisbon Treaty by the end of March, starting a two-year exit process.
Change of mind
Experts are divided on whether the government could change its mind about leaving the EU at some point in the future, even after invoking Article 50.
Blair came to power in 1997 at the head of the moderate leftist "New Labour" movement and won three general elections but his role in leading Britain into the Iraq War has badly damaged his legacy.
Brexit supporters quickly criticised Blair's comments.
"The EU referendum was democratic, fair and free and the British people voted for Brexit," said Richard Tice, co-chair of the Leave Means Leave group.
"Tony Blair is now trying to do everything he can to halt Brexit," he said.
Former Conservative minister Iain Duncan Smith said the speech was "arrogant" and "undemocratic".
'Yesterday's man'
Nigel Farage, former head of the UK Independence Party, tweeted: "Tony Blair is yesterday's man".
In the speech, which was shown live in full on BBC and Sky News, Blair launched a stinging attack on government policy saying the EU departure process was being led by proponents of hard Brexit.
"Our challenge is to expose relentlessly the actual cost, to show how this decision was based on imperfect knowledge," he said, adding: "How hideously, in this debate, is the mantle of patriotism abused".
Blair also warned that Scotland, which voted overwhelmingly to stay in the EU, now had a "much more credible" case for independence.
He said Brexit could have a "destabilising impact" on Northern Ireland, which also voted to stay.
Blair made the speech at the offices of Bloomberg news agency, the same place where former prime minister David Cameron announced in January 2013 that Britain would hold an EU membership referendum.
The British government is still waiting for the upper house of parliament, the House of Lords, to pass the bill giving Prime Minister Theresa May the authority to trigger the exit from EU.
The lower house of parliament did that on 9 February.