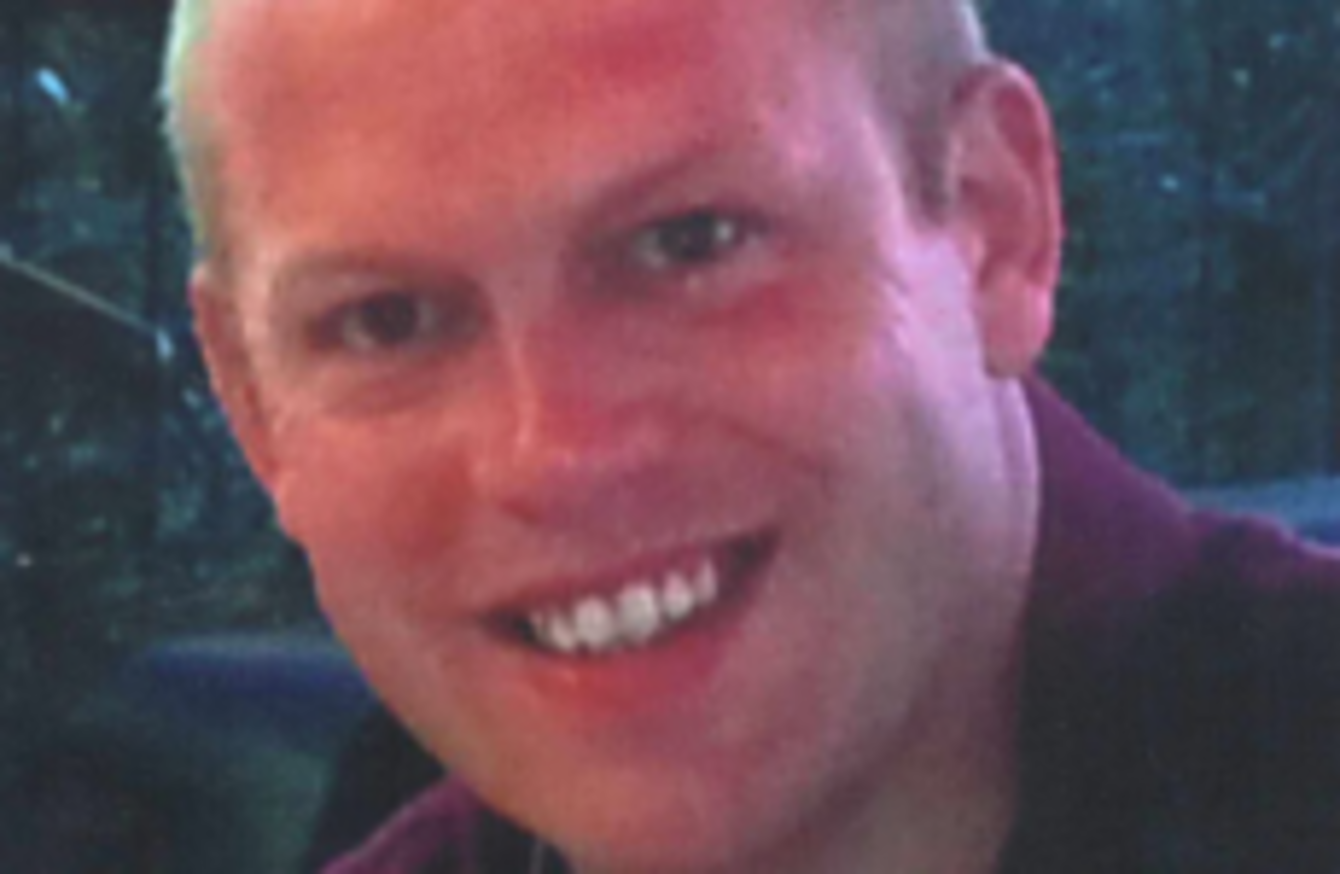 Updated 1.30pm
AS THOUSANDS OF uniformed members of An Garda Síochána gathered in Blackrock for the State funeral of their colleague, Tony Golden was remembered as a husband, father and friend.
A GAA jersey from his native Ballina Stephenites was brought to the altar with a family photograph, symbols of his two true loves. A "big gentle giant", he was also remembered as a man who could take a time out – symbolised in the remote control, can of Coke, Drifter bar of chocolate and a bag of Hunky Dorys.
Father Keenan acknowledged the pain and heartbreak of Tony's wife Nicola and their children Lucy, Alex and Andrew.
"Tony quietly let his light shine in so many ways through his life in a very humble way," he told the congregation in the small, rural church.
Amidst our sadness may we be thankful for the charisma of his beautiful but too short life.
The 36-year-old father of three young children was shot and killed on Sunday evening at a house in Omeath as he accompanied a domestic violence victim to her home to collect her belongings.
24-year-old Adrian Crevan Mackin, who shot the garda, also seriously wounded his girlfriend Siobhan Phillips before turning the gun on himself and taking his own life.
During his homily, Fr Keenan noted how a beautiful still Sunday evening – during which the nation shared in a momentous sporting event at the Rugby World Cup – was shattered by tragic events in the picturesque village.
"The magnitude of what took place brings to mind all those who have been affected in so many ways. Tragically it resulted in the cold blooded murder of Garda Tony Golden in the line of duty.
Murder is evil, murder has no place in our society.  Murder must stop.  All forms of violence must stop.
He also mentioned a prayer for Siobhan, who remains in a critical condition in hospital, and Garda Adrian O'Donohue who was shot dead three years ago while on duty in Lordship, not far from Omeath.
"Too many hearts have been broken, and lives shattered," he continued.
I say on this day, from the depths of my heart – and I am sure I speak for all people of goodwill – when I say that there is no place for violence in our society, violence is wrong, always wrong.
Killed in the line of duty, Tony Golden was also remembered as "our garda" in Omeath.
"Tony Golden was a much-loved role model in our community," Fr Keenan told the church.
"That same sentiment – being proud – was echoed by Nicola, his heartbroken wife, when the body of her husband was brought to the family home on Tuesday afternoon. As a husband, father, son, brother, family member and friend, each and every one of his family circle expressed such love and pride for Tony.
"Tony was one of life's gentlemen. As Patrick his brother said to me, 'A big gentle giant', a lovely man. He had a charisma that was calm, gentle and polite, as reflected in our second reading. Tony showed us a way to love that is better than anything else in life.
Tony with Nicola believed in life, a life that gave them hope in the spirit of love. Tony made his time on this earth beautiful in so many ways, and in one's brokenness, they will be the memories to be always treasured and cherished forever.
"There was still much to be fulfilled, especially watching and guiding Lucy, Alex and Andrew through their life's story, but we trust that his spirit will be with each of you as you continue to walk this earth. Tony's light shone on this earth in so many ways, may his heavenly light guide all of you that your light will continue to shine in the present and in the future."
Thousands of current and former gardaí attended the funeral, with the Garda Representative Organisation (GRA) arranging buses to transport colleagues of Garda Golden so they can pay their respects. President Michael D Higgins, Taoiseach Enda Kenny and representatives of all political parties also attended.
Speaking to Newstalk Breakfast this morning, John Tigh, a childhood friend of the garda described him as "a really nice guy", kind and sincere.
I knew him through the hurling and he was just a great team player and I suppose from that then, you know, his participation in sport and that maybe led him to the guards after that. He was just a real dependable guy.
Tigh said he was not surprised that his friend had died while helping a young woman as that was his nature – "he was very selfless".
He'd always answer anyone's call of need.
A large crowd of people from Garda Golden's home town of Ballina were expected at the funeral today. As the church only fits 300, screens were erected outside to allow the thousands-strong crowd to hear what was being said inside.
With reporting from Michelle Hennessy in Louth