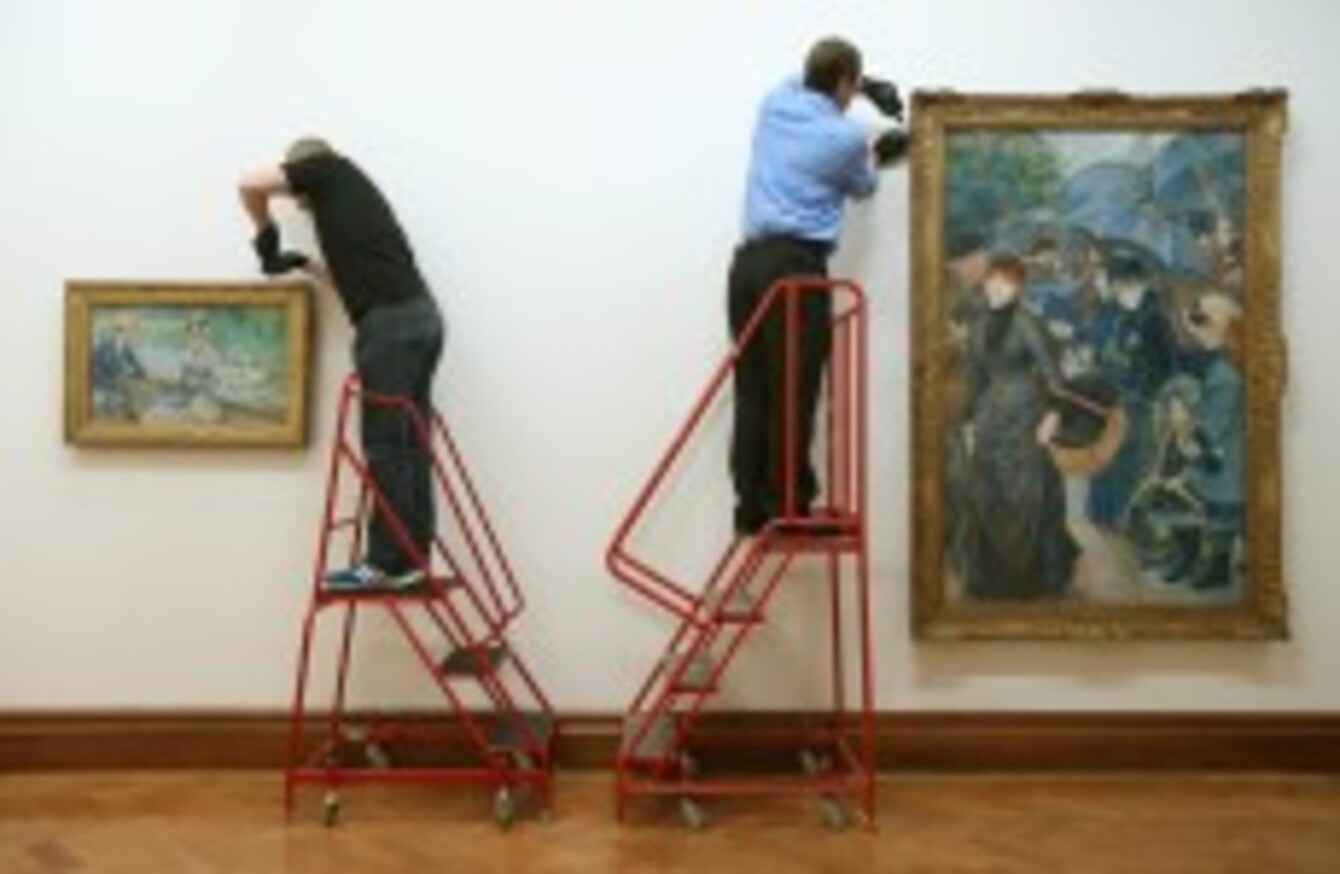 Art handlers hang Manet's Jour d'été and Renoir's Les Parapluies in the Hugh Lane Gallery in Dublin this week
Image: Niall Carson/PA Wire
Art handlers hang Manet's Jour d'été and Renoir's Les Parapluies in the Hugh Lane Gallery in Dublin this week
Image: Niall Carson/PA Wire
EVERY SATURDAY MORNING we take a look at all the best comments left on the site by you lot over the past week.
This week there was a lot of talk about the killing of a British soldier in broad daylight on a London street, the hearings on abortion legislation, Alan Shatter's various run-ins, the new Xbox console, property tax protests, and people trapped in a glass case of emotion.
So here, in no particular order, are the standout comments from the week that was.
The top 5 articles which received the most comments this week.
1. Column: Changing the law on abortion is dangerous and unjust (344 comments)
2. As they happened: Day 2 of the Oireachtas hearings on planned abortion laws (255 comments)
3. Property tax protesters chain themselves to chairs, radiator in Revenue office (229 comments)
4. Column: No woman has an abortion on a whim (192 comments)
5. Watch: Irish MEP rips up property tax form in European Parliament (172 comments)
Some of the best comments left on the site this week
J1 students (Photo: J1 Summer 2013 GMIT/Facebook)
Anyone who had an Irish childhood learned the difference between fancy biscuits (for visitors) and regular biscuits (for everyday eating). Here, Marilyn Maroney explains on this article about biscuits how she learned the difference:
First time I came to Ireland I went shopping for junk food not knowing that digestives where the same as cookies, I thought they were a special cookies for people with stomach problems. Needless to say I discovered Mr Kipling cakes which I buy tons of when in Ireland to "export" home
On the article about passive aggressive notes people have received from their neighbours, John Geoffrey Newman had this story about the time that he became that person who leaves notes for other people:
I put up a note in the lift of an apartment block a few years back attached to a lost glove. I was slightly drunk writing the note so I decided to write it from the perspective of the glove being alone and scared of the big bad world. About two days later I noticed that there were two more notes attached, one person saying I was sad for writing the note and another thinking I was a child and for the first person to shut up.
On the same article, this comment by Jason Bourne only just missed out on a place in the top 5 most popular comments this week with more than 1,020 thumbs up – but it's an interesting one so we'll include it here.
Years ago while in college, me and a few mates rented a semi-detached. Our neighbours were like rabbits virtually every 2nd night (fair play to them), but their headboard used to rattle off the far side of our doubleroom's wall. We laughed it off until a few weeks went by and we had enough. Decided to turn on the hifi to dampen the noise. A few days later, both called around to the door to complain about the music.

I answered the door and as they were giving out I stopped the guy and said "Tell me, whats the secret to your stamina"?

He said "what!!!" I was about to explain, but then his wife suddenly grabs him by the arm and said "come on, leave it"

I found out later that he worked nights……
Do you leave things to the last minute? Judging by the comments on this article, a LOT of you do. Shane Carroll related his approach to one particularly mundane household task:
Cutting the grass.

Day 1: "The grass could do with a cut. It's a nice day so i may as well do it. Ooh look, funny video on the internet. The grass can wait until tomorrow".

Day 2: "Really must cut the grass. Might rain though. I'll see what the weather is like later. Oh, a movie I've seen 46 times is on. The grass will wait".

Day 4: "I'll cut it today. I'll just go out to the shed and get the law mower". 5 mins later it starts lashing rain.

Day 7: "I can't see my dog anymore".

Day 9: Finally cuts grass. Takes ages due to the height and the fact that a scissors has more power than my crappy electric lawn mower.
When it comes to ridiculous place names, Niall Mullins knew of one place with a particularly novel solution to people stealing signs from the town:
Best one here in Sweden was a place called Grovare. Translated to English it means "rougher". The number six is spelled "sex" here. The most stolen sign for years was "Grovare 6″. They couldn't change the name of the village so it just became 1km closer. The sign now reads: Grovare 5. :)

I shit you not people. Google it.
There were a lot of suggestions from readers for things that they remember from their J1 experience.  Johnno Thegreat made a list which seemed to sum it up for a lot of people:
Having a fridge stocked exclusively with beer
Falling asleep on the train & waking up being the only white person in the carriage
Sharing a shoebox room with 4 or 5 others
Air mattresses
Keg stands
Getting fired for late/no shows
Parties with a 99% Irish attendance & the few Americans there trying to keep up
Ending up in the same cheap bars rammed with other J1ers in GAA jerseys on weeknights
Calling home & asking what the weathers like
Squeezing as many as humanly possible into a taxi
Getting strange looks when you asked for a fag
Telling Americans leprechauns exist
The 5 most popular comments on the site this week
(Nick Ansell/PA Wire)
1. The most popular comment this week comes from Wednesday's article about soldier Lee Digby who was killed in broad daylight in an attack on a London street. Ollie O Sullivan got 2,544 thumbs up (and no thumbs down) for this comment:
Honestly folks unless ye have something decent to say on a matter as serious as this say nothing at all, the world has turned into a place full of hatred and people looking for attention posting serious sh#t just to get a few likes and dislike
2. Next up was this comment from Neil Richardson which got 2,273 thumbs up beneath the article about the driver who tweeted about hitting a cyclist – and ended up getting a response from police after other Twitter users were angered by her actions:
Going 100mph isn't bad enough, you have to get your mobile out to take a pic and then tweet about it. Hopefully she'll be getting up extra early to catch a bus when she's banned from driving.
3. For only the second time ever, one person managed to get two comments into the top 5 most popular on the site. Here's Ollie O Sullivan again, this time getting 1,494 thumbs up for this comment on a major report into suicide in Ireland:
Its a very touchy subject but as a country, government , community, schools, teachers, parents ,we should start to do more to to help on the subject of suicide , it has effective every town and village in ireland , I think young donal walsh from tralee has really helped raise awareness on this subject, lets hooe from now on we can help raise awareness and help those who need helps
4. Nocturnal paramedic had the 4th most popular comment this week, also on the article about suicide in Ireland:
Not enough is done in this country regarding suicide. Also it's a harsh criticising a young Garda for breaking down following a suicide. I can't even put into words how difficult it is to deal with attending a suicide scene. Especially a young person/child!
5. Rounding out the top 5 this week is this comment by David Clav, also on the article about the driver who tweeted about hitting a cyclist, which received 1,067 thumbs up:
She's damn right. People who don't pay income tax should be left to die outside hospitals also. And all those people who claim back VAT on purchases, they shouldn't be allowed vote. Anyone who hasn't paid estate taxes should be rounded up and killed so that they end up paying their estate taxes.

She deserves the full force of the law, not only for her total disregard for human life, but her hideous high horse view that she is superior to another human being only because she propels a lump of steel

How has morality got so very lost?
Spot any good comments? Let us know: Email christine@thejournal.ie with suggestions for next week's comments of the week.