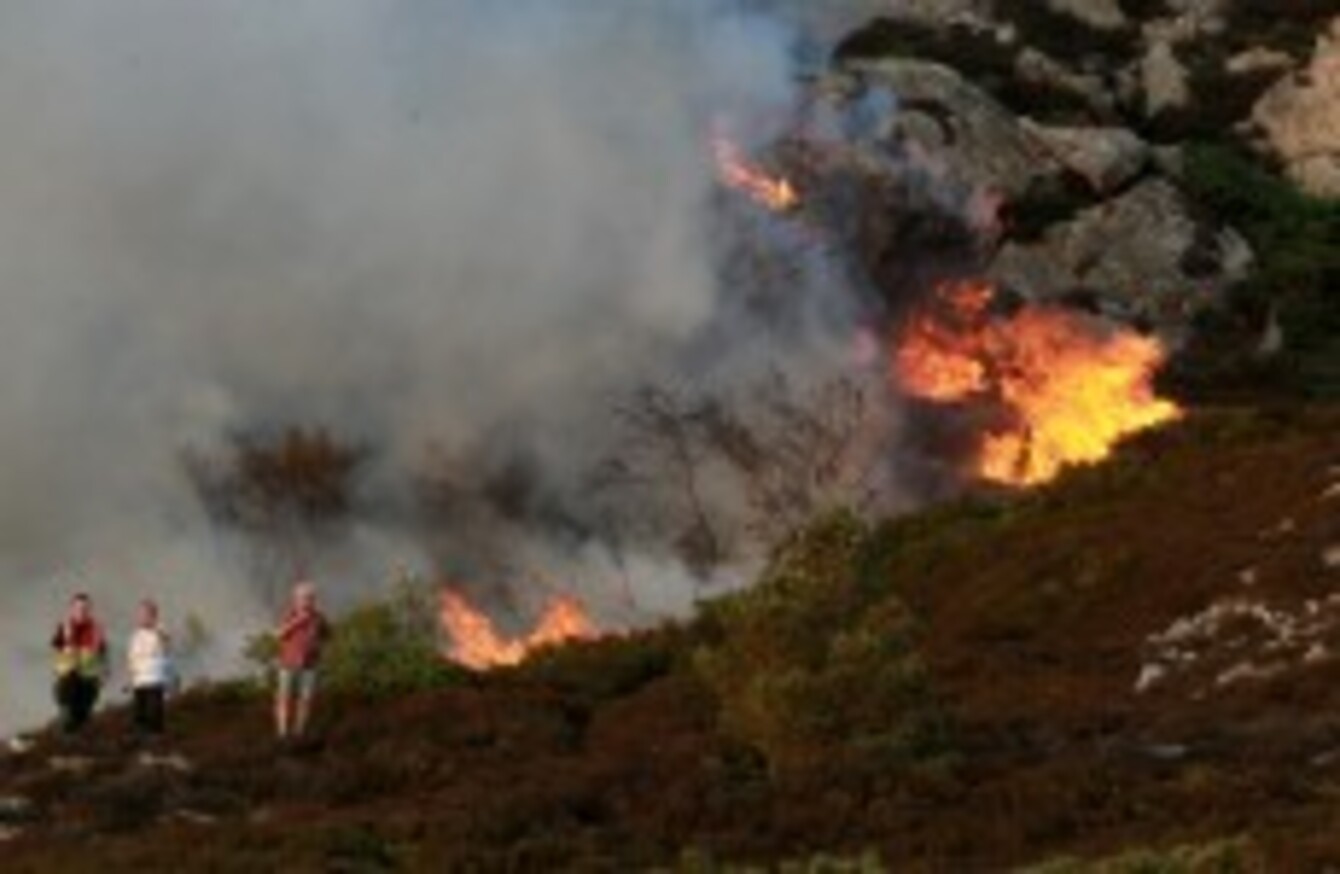 A gorse fire in Howth in Dublin during the week
Image: Sam Boal/Photocall Ireland
A gorse fire in Howth in Dublin during the week
Image: Sam Boal/Photocall Ireland
EVERY SATURDAY MORNING we take a look at all the best comments left on the site by our readers over the past week.
This week there was a lot of talk about unparliamentary language in the Seanad (and in a Dublin nightclub), same-sex marriage, cyclists getting fined, the final stages of the abortion legislation and an unexpected court case.
So here, in no particular order, are the standout comments from the week that was.
The top 5 articles which received the most comments this week
1. Poll: How will you vote on gay marriage? (441 comments)
2. Senator Jim Walsh criticised for abortion description (345 comments)
3. Poll: Should cyclists be fined for breaking the rules of the road? (320 comments)
4. Win a round of golf and overnight stay for 2 in TheScore.ie's Open competition (307 comments)
5. Poll: Should the government take a position on same-sex marriage? (292 comments)
Some of the best comments left on the site this week
(Jimi's Barber Shop/Facebook)
Ahead of Bruce Springsteen playing in Cork, we thought it would be a good idea to give him some tips for some words that come in useful when he communicates with Lee-siders – however Rachel O'Meara was one step ahead of us:
C'mere lah, story? Dem jifs pure daycent, specially da one on da two tone bears, I'm in nots here like! Am ragen I'm not goin, would pure love to see the boss tonight, out on the lash getting guzz eyed listenin to his pure daycent tunes! Can I just say as well Tanorah is well tastey, it's me dazzah 'specially on a roaster like today, god I'd give my right arm for a sup now I'm well parched and this wan ain't in Cork no more, no boss and no tanorah, I'm absolutely pure gutted here like!!!
Heartwarming moment of the week, courtesy of Jed I. Knight:
Aw that's just magic. Who could refuse?
Many, many years ago I happened to be in on a paediatric ward with one of my own children, there was another child who was there for quite a while and had gone of his food so the staff arranged to have a chef come up to the ward to him and he'd cook whatever the wee boy wanted. As far as I remember the wee lad asked for lasagne, the chef wrote everything down and then asked what he'd like for desert. Black forest gateaux, the wee lad replied. I always remember the look on the chef's face. He asked if the lad wouldn't like baked Alaska or some other fancy deserts but no, the lad had a hankering for black forest gateaux, the chef nearly cried but a few hours later he came back with a big black forest gateaux. The lad had a small slice from it and that was it. Amazing what that chef did for that wee lad. Nice cake too… I'd say.
Some commenters were critical of the west Limerick coroner who said that recording the number of suicides 'serves nobody'. Matt Connolly was one of the people who disagreed:
Coroners need to be emotionally removed from the cases& whether it's asphyxiation due to a ligature around the neck, drowning, gunshot to right temple etc…the exact medical reason for cessation of life needs to be recorded as cause of death. I don't think it actually affects the statistics on suicide. (at least I hope not – if it does, then this is scandalous practice) Perhaps acknowledgement that wounds etc..were considered to be self-inflicted. But ultimately discretion on this should be left with the families left behind. The psychological fallout must be immense.
Anyone who has ever learned to drive will know the sheer panic that accompanies it. WanderArch had this advice…:
Too fast, too fast, slow down, turn the wheel. Mind the lights. The sheep. The cows. The dog. The cat. The rat. The hat."
Never let your mother into the car or anywhere near it when learning to drive.
NEVER.
… while wellyd shared his own story of mortification:
My dad taught me how to drive last year. It was going really well until one day we drove to the local tax office because I needed to renew my provisional licence. The tax office was this new glassy building and had a one way system so I drove into it and dad told me it was one way. But my problem was I didn't know which one way to go. It resulted in my driving up on a new path and wrecking a very fancy flower bed. When I eventually did manage to park up and go inside the man at the desk burst into hysterical laughter and informed me of probably need a third and fourth provisional licence at the rate I was going. He seen the whole thing through the window. Fcuking taken.
#Open journalism No news is bad news Support The Journal

Your contributions will help us continue to deliver the stories that are important to you

Support us now
The 5 most popular comments on the site this week
1. First up this week is this comment from Cian O'Mahony about the controversial (or not, depending on how you look at it) stamp received by patrons at a Dublin student night – which didn't impress some of their parents. Cian got 1,802 thumbs up and this week's top place for this observation about one such parent:
If her daughter is old enough to go to a nightclub, then she is old enough to make her own decisions in life.
2. Next up, this comment by Matt on the poll about same-sex marriage got 1,419 thumbs up:
I would vote YES. But i think it should not come to a vote. Why should i have a say if 2 people can get married.
3. Paul Anthony Ward is in third place this week with 1,062 thumbs up for this comment about David Norris and the whole fannygate incident:
Ya have to admit, "The Regina Monologues" is quite clever
4. This comment from Kay Tighe about the Dáil bar proved popular with 967 thumbs up:
Just get rid of the feckin bar full stop
5. And finally, also on the Dáil bar, John O'Neill got 882 thumbs up for this post:
If there was a suspicion in a court that a juror had even one drink they'd be immediately dismissed and possibly held in contempt of court also.
Yet our TDs can go into the national parliament with alcohol on board to discuss and vote on issues as important as human life?? Unbelievable.
Spot any good comments that you think deserve to be highlighted? Drop us a line: mail christine@thejournal.ie with any suggestions for next week's comments of the week.