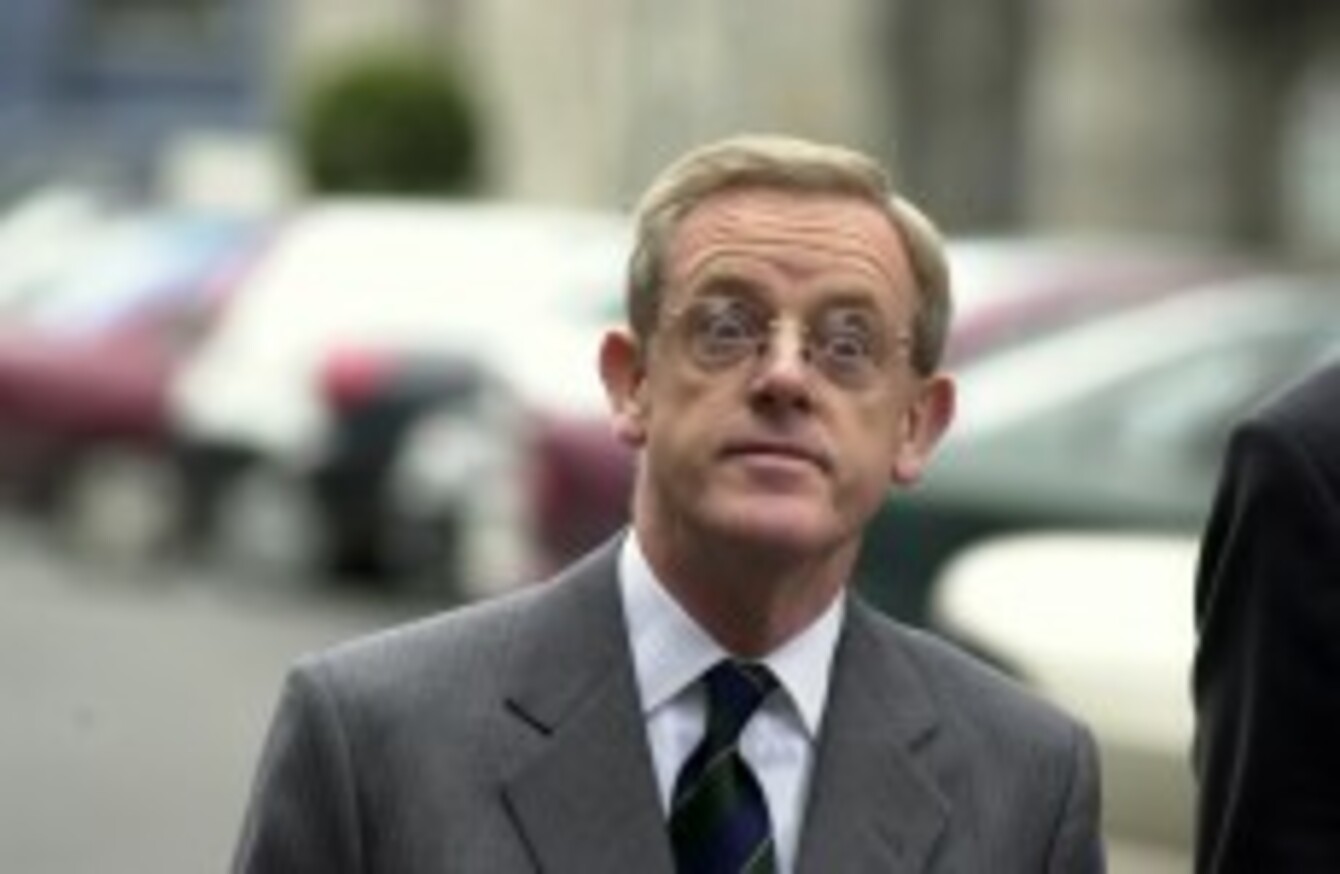 Frank Dunlop, one of the key witnesses at the Mahon Tribunal, which published its final chapter this week
Image: Eamonn Farrell/Photocall Ireland
Frank Dunlop, one of the key witnesses at the Mahon Tribunal, which published its final chapter this week
Image: Eamonn Farrell/Photocall Ireland
EVERY SATURDAY MORNING we take a look at all the best comments left on the site by our readers over the past seven days.
This week there was a lot of talk about the killing of Eoghan and Ruairi Chada, tornado warnings, the cost of sending children back to school, the final chapter of the Mahon Tribunal report, and silly string.
So here, in no particular order, are the standout comments from the week that was.
The top 5 articles which received the most comments this week
1. President signs Protection of Life During Pregnancy Bill into law (406 comments)
2. What would you do to improve Ireland? (348 comments)
3. Column: My son was cremated alone, in a different country, because he had a fatal foetal abnormality (320 comments)
4. HSE to pay student nurses and midwives €6.49 an hour (295 comments)
5. Column: Why it's time to get rid of Ireland's blasphemy laws (267 comments)
Some of the best comments left on the site this week
This week we asked people about the first gig they ever went to. There were a lot of memorable er, memories (and some dodgy ones) but Kevin Kennedy wins for the sheer randomness:
Oasis @ The Tivoli. September 1994. What a gig that was. Met the band outside afterwards and got my Definitely Maybe vinyl signed. Evan Dando was hanging around as well,  wearing Kurt Cobain's trenchcoat. It was all very surreal..
On the article about signs you may be a coffee addict, Capt. Adebayo Flynn had a suggestion for how to amuse yourself when ordering coffee:
Tell them your name is Dad. Seeing a hip Barista shouting out DAD! in a crowded starbucks never gets old to me.
The vast majority of people in Ireland have never had a sexual health test. The comments beneath the article was mainly people talking about why they do – or don't – get tested, but Emma Fitz had a different perspective:
I'm one of the lucky few who has the pleasure of testing all the swabs, bloods, urines etc. Always very busy this time of year! This and Christmas, all the office do's! Not the nicest of jobs, but at least they are getting tested and treated when necessary. I shudder to think of those silently infected, or ignoring symptoms whilst still having it away every weekend!
A study this week looked at how much it costs to send a child to school in Ireland, and a lot of parents compared their stories in the comments. Andrea Rock Massey pointed out just how expensive it can be:
The cost of sending children to school is extortionate here and completely out of line with our struggling economy and cash strapped families. My daughter's uniform has fist me almost 600 Euro and her books well over the 500 mark. School got 250 to re enrol them in May and I can assure to that there is not a month goes by without the school asking for money for something or other. I have another child going into 3rd year,I have his uniform to buy still,no books this year but I have to pay for his junior cert,his mock exams and because he is doing wood work,there is another fee for that. There is no such thing as free education in Ireland.
A journalist from Cork this week wrote a tongue-in-cheek piece about all the things that are wrong with Dublin. People took it in the spirit it was intended, but some readers also took the time to explain what they (genuinely) like about Dublin. Jed I. Knight offered this suggestion:
I'm not a Dub, but I happened to be in Dublin walking around the city center a couple of weeks ago in the company of an older friend from the city who was kind enough to accompany me and point out items of historic interest. It was a glorious sunny day and while everywhere looks nicer in weather like that we couldn't help but notice just how beautiful our own capital is. Sure, there's part's of it that you probably wouldn't want to walk alone in at night, or maybe in the day either, but there's incredible beauty too and a wealth of history. The same could probably be said of any other European capital, Rome, Paris, Lisbon, etc. they have their industry and rough areas too but we don't run them down.

Take the time to walk around Dublin, look at the buildings and the fantastic architecture, don't be worried about what King or Queen had them built, just enjoy them. They're ours now. We have literally thousands of years of history in our country that others would kill for.

Ok, you may not like The Spire, the Parisians hated the Eiffel Tower too for quite a while. Maybe it'll grow on you in time, who knows?
We ran a column this week from a woman who has 'butterfly skin' – Epidermolysis Bullosa – who described how it affects her life. Sean C empathised with what she went through:
I remember seeing the documentary 'The boy whose skin fell off', and honestly, it was the most heartbreaking documentary one could ever see. It followed the late Jonny Kennedy, a guy who had EB, and how he struggled with it. The documentary was tragic, since he was almost 40, but looked and sounded like a child. (The flesh on his throat gradually deteriorating being the reason.) Jonny was dying, not from EB but another condition. Yet he had a remarkable humour towards the end. One of his requests was to have a 'Heinz baked beans' sticker stuck to his coffin, so that anyone who attended his funeral, would look at the coffin, see the sticker and be like 'Wth? Why is there a Heinz baked beans sticker on the coffin?'
He had a tremendous faith and spirituality that was remarkable due to his condition. I mean, whatever one's opinion towards religion and spirituality, to see the suffering this guy went through, and how unshakeable his faith was, it was astounding, in my eyes at least.
The 5 most popular comments on the site this week
(Image of Dusty the Dolphin: George Karbas Photography)
1. First up this week is this comment from John Everyman which got 1,952 thumbs up beneath the column by a man writing about what he and his wife went through when they found out she was carrying a baby with a fatal foetal abnormality:
Exceptionally brave man, my deepest sympathies to both him and his wife.

This is why the 8th amendment must be repealed.
2. Piotrek Król got 1,546 thumbs up for this comment on the article about how swimmers in Clare are being warned about a dolphin in the area. The piece featured a video showing people in the sea near the agitated dolphin:
There are fears that authorities may be forced to remove or destroy the mammal if there's another serious injury, or a fatality."

I think the three bathers in the video should have been removed and destroyed…starting with the complete imbecile that is holding a child, and the other two blibbering morons in no particular order.
3. Katy got 1,538 thumbs up for this comment beneath the story about the tragic deaths of Eoghan and Ruairi Chada:
Those little boys deserve the best beds in heaven. X
4. A total of 1,412 people agreed with Cian O'Mahony's succinct comment beneath the poll on whether there should be a levy on off-licence sales to raise money to bridge the gap created by the loss of alcohol companies' sponsorship of sports:
Yes, and let's have Xtravision put a levy on Netflix in order to raise funds for the Arts.
5. Last but not least, in fifth place with 1,330 thumbs up is Therese Gallagher with this comment which was also on the column about fatal foetal abnormalities:
Funny how parents have a say when their child is on a life support machine with no chance at life, but no say if you are the life support machine. I dont understand why there is a difference. Nothing would be more horrific for me – to be carrying my dying child around in me and having to deal with daily well wishes, knowing that my baby will never breath air. Very sad that we as a country turn out back on people in their darkest hour.