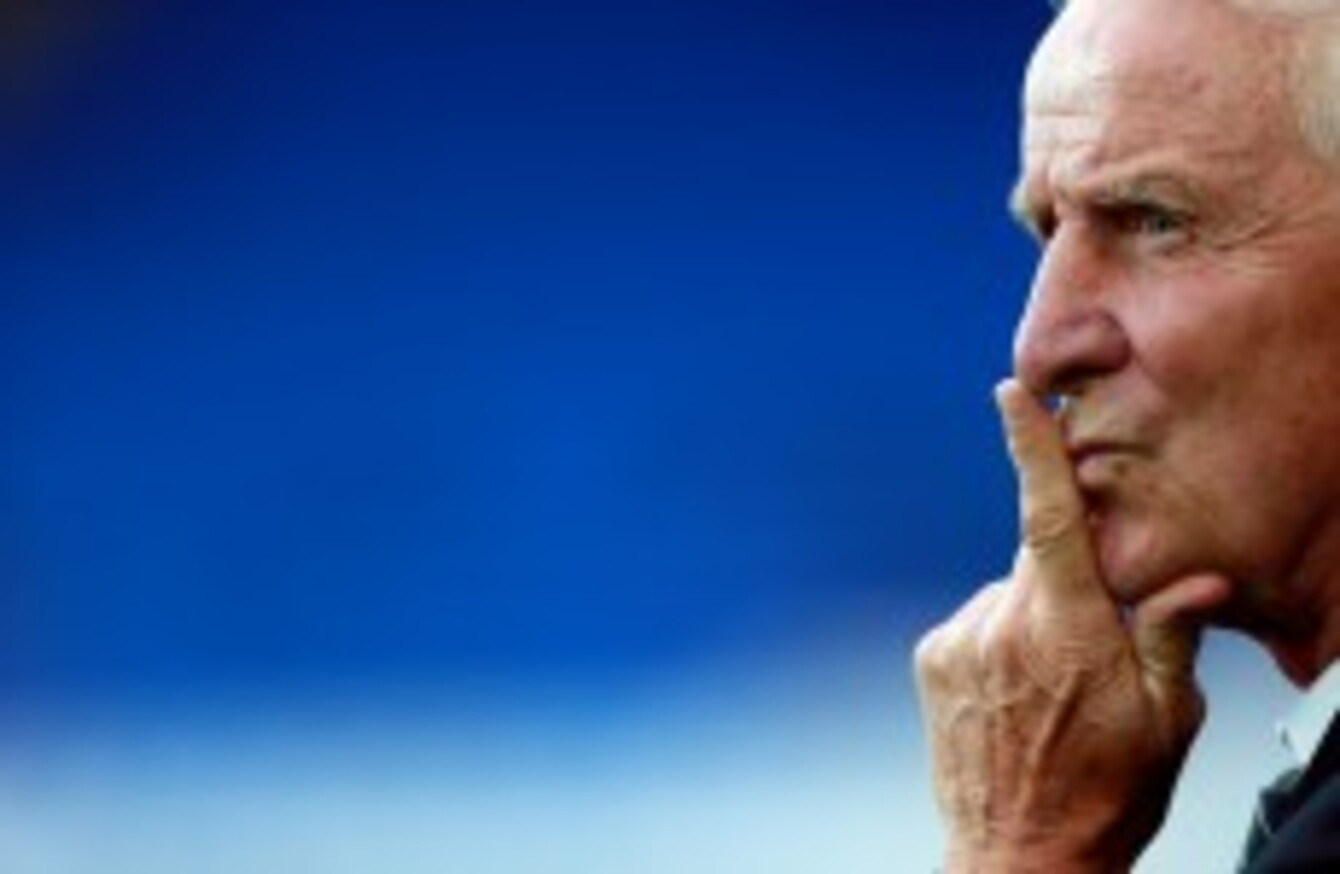 Republic of Ireland football manager Giovanni Trapattoni, who stepped down during the week.
Image: David Davies/PA Wire
Republic of Ireland football manager Giovanni Trapattoni, who stepped down during the week.
Image: David Davies/PA Wire
EVERY SATURDAY MORNING we take a look at all the best comments left on the site by our readers over the past seven days.
This week there was a lot of talk about Giovanni Trapattoni, Priory Hall, Michael Le Vell, a DNA database, Syria, Apple, and Dublin Bus.
So here, in no particular order, are the standout comments from the week that was.
The top 5 articles which received the most comments this week
1. Poll: Should the Catholic Church remove clerical celibacy requirement? (368 comments)
2. Pictures: Huge garda presence for Alan Ryan anniversary march (293 comments)
3. Coronation Street actor Michael Le Vell cleared of all charges (282 comments)
4. Inmates poured boiling water and sugar down throat of Melanie killer (248 comments)
5. KBC Bank will not pursue Priory Hall's Stephanie Meehan for mortgage (219 comments)
Some of the best comments left on the site this week
(Pic: NASA Wallops Flight Facility/Chris Perry)
This lucky – or unlucky? – frog managed to photobomb the launch of a NASA rocket as it was blasted into space. Needless to say, the puns came thick and fast. As Dave Murray pointed out:
There are worse ways to croak it.
A lot of people were surprised by this list of famous people who ended up homeless. Sean Buckley had an addition to the list though:
Poor old Bosco he ended up living in a box too. Ufasach ar fad
There were a lot of properly lovely comments on the poll about whether or not you're happy. Here's a couple of our favourites from Gráinne Ó Fathaigh, Michelle McLoughney and Joanne Joyce.
I'm broke and stressed out with bills and debts like most people but I have a beautiful healthy son, a great boyfriend and family that give me huge support, I have a roof over my head, clothes on my body, food in the fridge, freedom to walk outside and live in peace, live in a beautiful country and I'm able to get an education. We don't know the full meaning of unhappiness things could be alot worse!!
Happy. I have a job, a great family and a fantastic set of friends. I found my birth family last November after 20 years of searching and have inherited a lovely new family, including 5 new siblings. Ups and downs, emotional roller coaster but I would consider myself happy.
Yes i am happy; i worked my ass off to get what i want. I was a single parent at 21, i worked part time and went to college and completed a degree. I have just finished a year long internship and it has all paid off. I am starting my new job tomorrow :-)

I have a beautiful son and partner and a loving family.

There is a downside though, i cannot afford to live in Dublin so i am moving 200miles away, but i am doing that so i can afford to put a roof over our heads and have a few extra bob to enjoy life.
Is it a good idea to bring older teenagers to the pub? A vintners group advocated that this week, saying it would help to stop binge drinking. There was a lot of debate on both sides: here's one comment from Margaret:
I see nothing wrong with it. Years ago, pubs were places where we had lengthy conversations, met people at random and engaged with each other. Kids today knock back naggins, go out clubbing and crawl home. It would be good for them to rediscover the charm of the pub, relax over a pint, instead of frantically downing it, and reconnect and engage with their parents and the wider intergenerational world.
Understandably, there was a whole lot of discussion about Giovanni Trapattoni and his departure as the Ireland football manager this week. It's hard to choose just one good comment from all of the ones that were left, but this one from Liam O'Sullivan was popular:
I've been following the whole new boss story on The Score since it broke, and have heard some good suggestions from various articles in the comments sections. My synopsis of it would be: bring in O Neill. Good track record, probably the safest bet even with a blip at sunderland. Its an international job. ie. He'll work with the team for about a month or two a year. In other time, attend games, and promote the game to youngsters. Imagine if McCarthy showed up at your summer camp in 2003? Or Trap in March before euros? Get kids enthusiastic. On the note of development, bring in Liam Brady to the youth development program, doesn't have to be manager, but we could do with churning out youngsters like they do at Arsenal. And let Delaney go to greener pastures, and bring in someone who doesn't constantly look like he forgot to turn of the immersion…
Thirty-six years after it left Earth, NASA's Voyager probe this week left the solar system – more than 13 billion kilometres beyond all the planets in our system – for deep space. Conor Buggy was inspired…:
Wooooo! Keep on going Voyager! The amazing photos it took of the planets along with its sister Voyager 2 inspired a new generation of astronomers and scientists!

Today is a great day for humanity. A man made object has left the womb of our solar system and moved on into the galaxy. Hopefully someday we will be able to send people out there to retrieve the Voyagers and bring them back to Earth to show future generations amazing pieces of history!
… while Oliver Walker was practical:
Imagine if it realised it left the immersion on…
The 5 most popular comments this week
(Leon Farrell/Photocall Ireland)
1. A lot of serious topics made the list of the most popular comments this week. First up was The Cynic who got 2,348 thumbs up for this comment on the article about the attack in Mountjoy Prison on the man jailed for the killing of teenager Melanie McCarthy McNamara:
Two wrongs?

What on earth is wrong with the commenters here? This guy is a drug addict and gang member, who killed another drug gang member. All involved known to gardai. She was due to marry the intended victim (another drug gang member) in a few days, and was sitting in his car with him. While she wasn't the intended victim that day, she was not exactly walking past with no links to this criminal whatsoever.

And now someone else in a drug gang has paid to kill this man in prison.

Neither the girl, nor this guy should be dead. It is not improving matters to keep killing, one after another. What happens next, this guys family take out a hit on whoever murders him, perhaps in his daughters name? And yet another bystander gets hurt.

I fail to see how perpetuating this kind of barbarism helps our crime problem in this country.
2. Next up, Sexy Taoiseach got 2,110 thumbs up for this comment on the photo gallery from the anniversary march for Alan Ryan:
The man was reportedly a cold killer and bigtime into illegal activities and used republicanism as a front.

He had zero interest in Republicanism
3. On the same subject, Eoghan Kelly got 1,817 thumbs up for this comment:
I really and truly do not understand why these people are revering him as some sort of hero? What exactly did he do for Ireland??

These so called Republican groups couldn't care less about Ireland or their fellow Irish men. They have a knowledge of Irish history and politics that would fit comfortably on the back of a playing card. Their sole interest is money. Just money.

It's bizzare….some people will support any behavior if you slap a tri-color on it.
4. In fourth place was David Murphy with 1,440 thumbs up on this article about how Norway uses its money from oil to protect its welfare state:
It must be great to have a government that thinks things through and looks after the interests of the country and its people
5. Last but not least, back to the Alan Ryan commemoration and rotund jocularity got 1,368 thumbs up for their response to Sexy Taoiseach:
And the stupid job repellant face tattoo