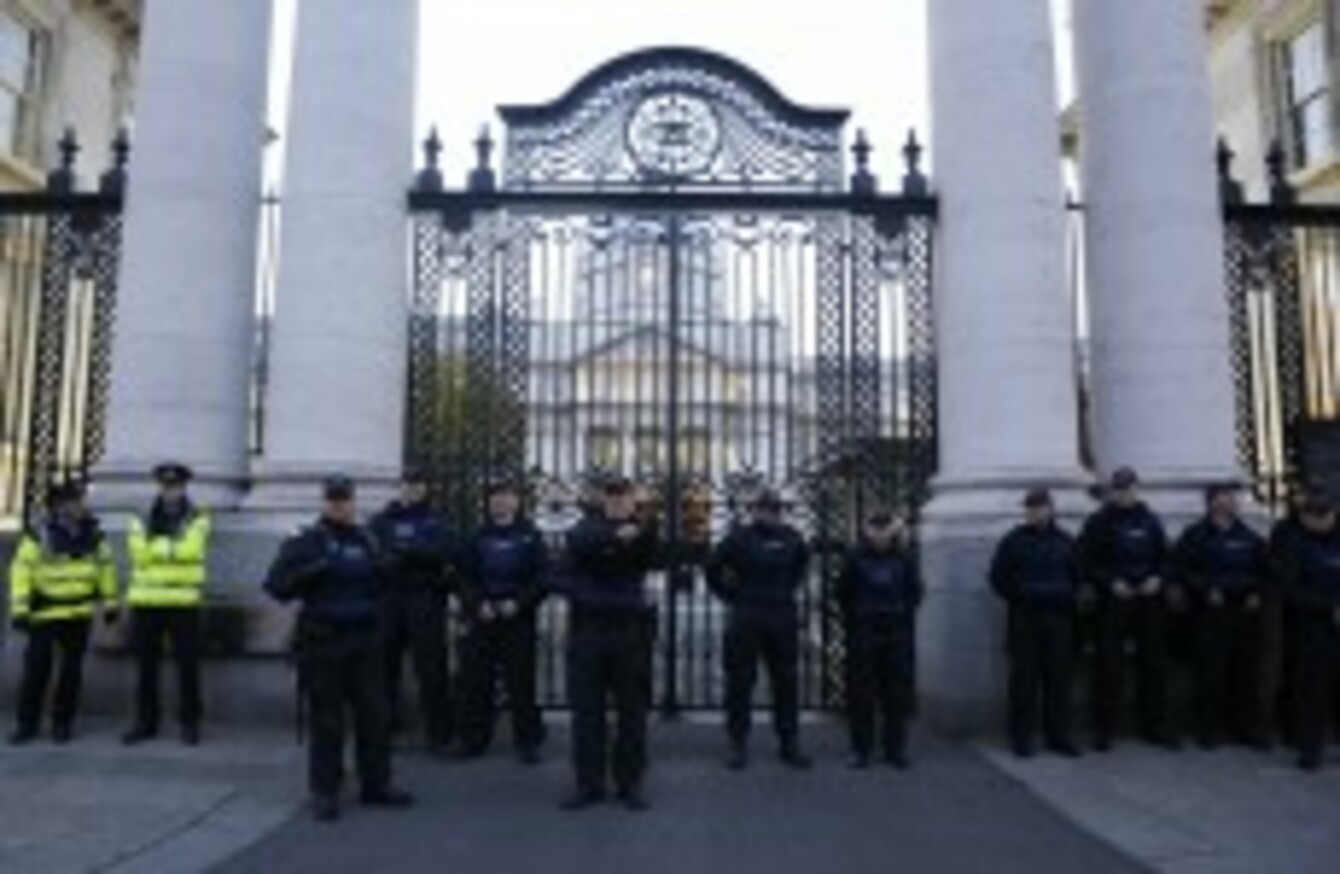 Gardaí outside Government Buildings on Budget Day on Tuesday.
Image: Sam Boal/Photocall Ireland
Gardaí outside Government Buildings on Budget Day on Tuesday.
Image: Sam Boal/Photocall Ireland
EVERY SATURDAY MORNING we take a look at all the best comments left on the site by our readers over the past seven days.
This week there was a lot of talk about Budget 2014, Love/Hate, Madeleine McCann, crime in Dublin, and, as always, the weather.
So here, in no particular order, are the standout comments from the week that was.
The top 5 articles which received the most comments this week
1. Poll: Should dole payments for those under 26 be reduced? (384 comments)
2. Social welfare garda checks must not involve racial profiling – ICI (362 comments)
3. Budget 2014: the key things to know from today's announcement (298 comments)
4. 22 things Irish people hate (243 comments)
5. Madeleine McCann timeline has changed significantly (233 comments)
Some of the best comments left on the site this week
First up, new dad Patrick McCarry shared the craziness of his first week as a parent, and commenter Tony Skillington shared his own experiences:
I wish you and your wife every joy and happiness. The period of your lives that ye are entering is the most fulfilling, enriching and rewarding that ye will ever have experienced. From the first time she grabs your finger to the first hug she meaningly give you, your world has gone from me to us to her.
Cherish every moment with her because in a blink of an eye she'll be a teenager.. You'll be relegated to chief money supplier, taxi driver, uncoolest yoke on the planet and killer of spiders in her bedroom…but sure do we as dads mind? Not at all..she's the making of you both. She'll always be your little girl…the one you'll kill for to defend. Every step she takes you'll be there to watch over her…again many congratulations.
This is on an article from earlier in the year but a) the comment was only left during the week and b) it's excellent, so we've included it. Asked to share memorable experiences from their J1, Cillian Bracken had this to say:
We managed to convince a group of Canadians that we didn't have Kanye West in Ireland and that although we were aware of his existence, the State had yet to sanction the release of his music.
Pun of the week: James Doorley was quick off the mark with this uplifting (sorry) comment after half of the members of the Cabinet got stuck in a lift, minutes before the Budget was announced on Tuesday:
Door on lift were stuck, they couldn't "budge it"
Ahead of all the doom and gloom that comes with the Budget, we asked readers one simple question: what makes you happy. You can see a lot of the best responses here, but some of our favourites included these from Alan Grouse, Maggie Cullagh and Roxy Blue.
A well ironed shirt. Lightly toasted batch bread with butter and jam. My wife's touch. A good pint of guinness. The sound of a sports car's engine. The buzz of being in an airport before a trip. A good film. The combination of popcorn and minstrels. The rush in having a fish bite. The pump and endorphin rush of a good workout. Dealing with polite people. The sound, smell and spectacle of a thunder and lighting storm and candles. Symmetry. A newly stringed guitar. The sound of waves. A glass of midleton whiskey. The spontaneously hearing of a song you love. The minions. Clydesdales galloping.
booking flights for a trip and countdown to that trip when youve worked hard all year ! .exciting .
The smell of cold in the air knowing that Christmas is close, wrapping up warm to go for a walk, strolling around Dublin city with no particular destination just people watching and discovering new places, drinking hot chocolate/mulled wine/hot whiskey on a freezing day while warming your hands on the cup, spending time with friends and family, the smell of stew when you walk into a house, real hearth fires, hugs from people you love, hugs from anyone really…. We may have no money but look at what we do have, that kind of stuff is priceless to me
Irish people shop online far less than the average EU internet user, according to a report this week. Ian explained why he bucks the trend:
Pretty much every purchase I make is done online. Mobile phone? Samsung Galaxy Mega, bought from Hong Kong (no VAT to pay and sold at wholesale prices). Weekly shop? Tesco or Superquinn online. Magazine subscriptions? Buy them digital or send them to Parcel Motel and it's still cheaper. Prescription drugs and vitamin supplements? Buy them on Amazon or at Boots online and send them to Parcel Motel (example, Buscopan is prescription-only in Ireland. In Boots it's £3 a pack or 3 for £5!).

It's too expensive to 'shop local' in Ireland. Until it changes and we get a fair deal instead of being ripped, I continue to spend my income elsewhere. The future is digital, not bricks and mortar.
Silverharp Harp had this popular addition to the thread about things to remind you that people are actually generous:
Thanks to the Dublin Taxi driver and nice people in the park who brought my 4 year old son and Mother in Law to St. Vincents hospital (without charge) when she broke her wrist in the park. We were not in Dublin that afternoon and only got a txt message via a family member abroad…restored my faith in the civic attitude of Dubs.
#Open journalism No news is bad news Support The Journal

Your contributions will help us continue to deliver the stories that are important to you

Support us now
The 5 most popular comments this week
1. First up this week is Matt, who got 2,076 thumbs up for his comment on the article about a 5-year-old Wexford girl with cerebral palsy whose wheelchair and specially-adapted car seat were taken when the family  car was stolen from outside their home.
Return the wheelchair to the child.
2. Next up with 1,663 green thumbs is Helen Bobey, who was unimpressed with Welsh police who were forced to apologise for naming a dog poo issue "Operation Irish".
I'm Irish and I live in cardiff. I would love to know what exactly they meant by that
3. In third place is Michale Coghlan with 1,239 thumbs up on the article about the man in the US who confessed to a rape and murder as he was about to be put to death in Florida, and whose execution did not go smoothly:
I'm sure his last 15 minutes were less agonizing than hers…
4. In fourth place with 1,227 green thumbs is Nessa Mooney for her comment about the cut in dole money for people aged 24 and under which was announced in Tuesday's Budget:
I am wondering seeing as its ok to pay less social welfare to under 25′s is there a reduced tax rate for that age group also, or should we be expected to pay the same tax rate but if we lose our jobs were not entitled to the same social welfare rate as those over 25.
5. Last but not least, in fifth place is Fergal McDonagh with 1,137 thumbs up on the article about how a news website in New Zealand reported on an increase in STIs among Irish people involved in post-earthquake rebuilding:
How's about 'new Zealand women spreading STDs to Irish men' being their headline. Ffs.