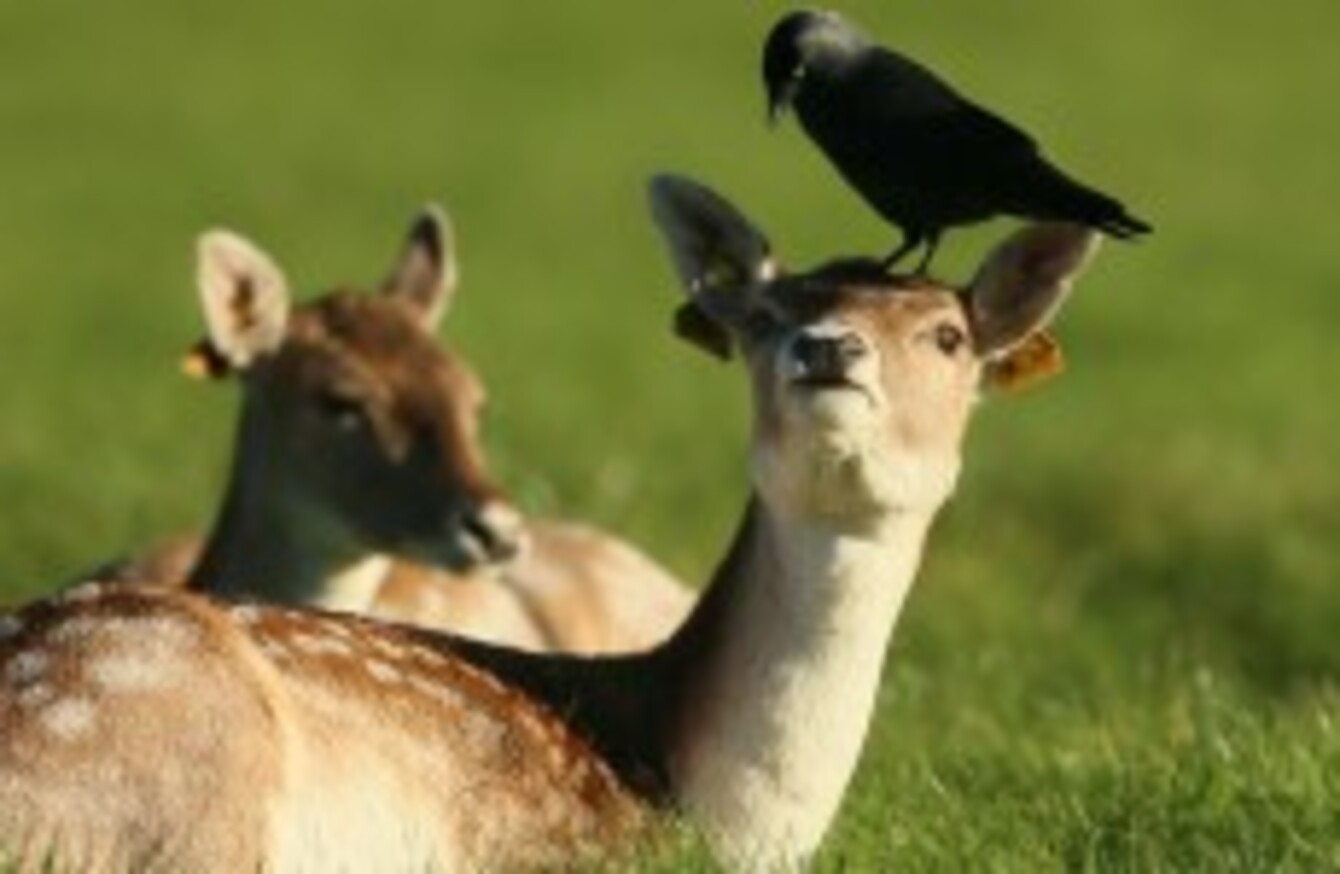 A crow on the head of a deer in the Phoenix Park during the week.
Image: Niall Carson/PA Wire
A crow on the head of a deer in the Phoenix Park during the week.
Image: Niall Carson/PA Wire
EVERY SATURDAY MORNING we take a look at all the best comments left on the site by our readers over the past seven days.
This week there was a lot of talk about water restrictions, property prices, driving licences, same-sex marriage, school holidays and Labour woes.
So here, in no particular order, are the standout comments from the week that was.
The top 5 articles which received the most comments this week
1. Poll: How would you vote if there was a referendum on same-sex marriage today? (782 comments)
2. Irish man considers joining British army to pull family out of poverty (253 comments)
3. Complex politics or simple geography: Is Ireland part of the British Isles? (243 comments)
4. Gilmore:  'Same-sex marriage referendum will be held before the end of the lifetime of this government' (218 comments)
5. Column: Reducing school holidays would help students, parents and the economy (203 comments)
Some of the best comments left on the site this week
(AP/Press Association Images)
The venomous false widow spider has been causing a few problems across the water, so readers helpfully sent in their photos of possible sightings in Ireland. Stephen Doyle had some questions he wanted answered:
How do these foreign spiders just waltz through immigration without a passport and get free homes from the social welfare. Sure I seen one driving a taxi the other night, hadn't a clue were she was going
(We also liked this response from Celia Murphy and Stephen again):
Steven' how on earth do you know it was a "she"? :)
Says she's a widow
Does heartbreak cause real, actual pain? Yes, replied commenters, in a rare example of almost everyone agreeing with each other on a thread. From robby rottenest:
I've broken bones. Had dislocations.
None can be remembered so vividly as the pain of a broken heart nearly 30 years ago.
It's real. You do get over it.
Terrible joke of the week (blame Fran Heavey for this). Context: This comment was in response to someone who said Pope Francis seems like a very nice pope:
You might even say…….he's very pope-ular……..hahahahahahahahahahahahahahahahahahahahahahahahahahahahahahah….sorry………i'm just gonna red thumb myself now……….and then my comment as well
Readers were divided over whether the president of the TCD Students' Union deserves to be voted out of his job after acknowledging publicly that he cheated in an exam when he had depression. Two interesting viewpoints on this one – first up, Ignoreland:
Those supporting him saying "it's not a capital offence" or "give him a break" need to look at this case and then at the standards Irish people get from their politicians in general. We're so tolerant of corruption or people acting like "cute hoors". If we want the best leaders we have to hold them to account when they fall short. He's attempted to cheat the system that he's now supposed to have input into: that's wrong. He should have resigned rather than face impeachment and in that way try and show some respect for the office he was elected to.
And on the other side of the argument, Moe Moran:
There are, on this thread, so many rational ideas of what should and shouldn't have been done by this young man in May, it's truly inspiring. Unfortunately, Mr Lenihan suffers from severe depression, something he made clear while campaigning, and did not have the faculties to execute such rational thought at the time. Indeed an argument could be made that he should not have been sitting exams in those conditions seeing as the authorities were aware of his illness. He did not invent the illness on the radio as some sort of get-out clause, it was the central plank of his campaign for office. He campaigned on the promise to try to raise awareness and understanding of mental health issues and you advocate removing him simply because you have a poor understanding of mental health issues. How very Irish. With these attitudes, it's no wonder people like Niall Donoghue and countless other young males "who have nothing to be depressed about" have been losing the battle. Grow up and see the bigger picture. This isn't a debate on morals, it's a debate on what ability non-sufferers have to empathise with sufferers; and it's a debate on how much non-sufferers really want to.
Long comment but a good one. A number of famous Irish people have given interviews talking about what it like to have depression. Paul Kealy explained what it was like for him, and how things are slowly changing:
Iv'e battled with depression and anxiety throughout my life, still do. There is an ignorance about mental health issues that continues to exist throughout the world. In a 21st century world, with continuously increasing tolerance for human differences, most taboos have become today's facts of life. As a society we have strived to knock down prejudices and Issues about everything from racism to sexual identity, we have come so far. Yet, there still remains one of biggest taboos in the world today 'depression'. Unfortunately a lot of people equate it with feeling sorry for yourself or being moody. By contrast what sufferers of depression go through in physical and mental pain on a scale of suffering can be much more intense than any physical illness, few illnesses are as traumatic or devastating as depression. Few other illnesses can leave a person so helpless, because many do not seek the help they need out of fear. It's very encouraging to see so many people discussing depression and anxiety in the media recently, it has no doubt saved many from suffering alone. We all play a part in advancing public awareness of mental health issues, we all need to help eliminate the stigma of depression and other mental disorders. 'The Journal' too has done wonderful work in highlighting depression and mental health to a massive online community, hats off guys! The human spirit can survive so much, especially if we can see there is an end in sight. But depression can be so relentless, sometimes it seems impossible to ever see the end. But, there is always an answer, there is always light at the end of the tunnel, there is always hope, help, a future and better days ahead. If you are one of the hundreds of millions in the world who is suffering from depression, hiding it from others, feeling alone and afraid please talk to someone, anyone! You are not alone and you don't need to be, and for anyone who wants to have a chat in complete confidence with s stranger, please feel free to pm me.
Children are great, according to parents. Readers shared their stories and signs that you live with little monsters/angels on this article – including this one from Grumpee Oldman:
When you do manage to have 5 minutes sitting at the kitchen table without the children, you get enjoyment scraping all the dried in weetabix off it and make the table all nice and smooth again. (Or maybe that's just me!!)
Finally, a lot of people were angry, sad and fearful – delete as appropriate –  about the news that there could be a global shortage of wine. Oh dear. From Joey JoeJoe Shabadoo:
I picked a bad week to stop sniffing glue.
The 5 most popular comments this week
(Image: Hugh O'Connell/Oireachtas.ie)
1. First up, Petr Tarasov got 1,882 thumbs up for his comment on the article about 27-year-old Ricki Savage who died after collapsing at the finish line of the Dublin Marathon:
The poor man. May he rest in peace.
2. John Kavanagh got 1,593 thumbs up for his approach to same-sex marriage on an article asking for readers' opinions on it:
been having the same sex in my marriage for yrs…nothin wrong with it at all!!
3. Next up, John was unimpressed with Mick Wallace's explanation for why he wore an Italian football jersey in the Dail. He got 1,357 green thumbs for this:
What a muppet he is, when will we ever learn?……he owes a fortune in VAT and heads to Torino for football games. If he gets re elected, shame on his constituency.
4. Chopstix got 1,1318 thumbs up on the subject of same sex marriage:
At the end of the day if you have time to think about what goes on in a strangers bedroom
You need a life & a job
5. Last but not least, Patrick Moran got 1,298 thumbs up for his pragmatic comment on the article about whether Ireland is a part of the British Isles:
It's a term that will always get Irish backs up. Look just in the interests of harmony and putting the issue to bed, lets refer to the whole lot as the Irish Isles.