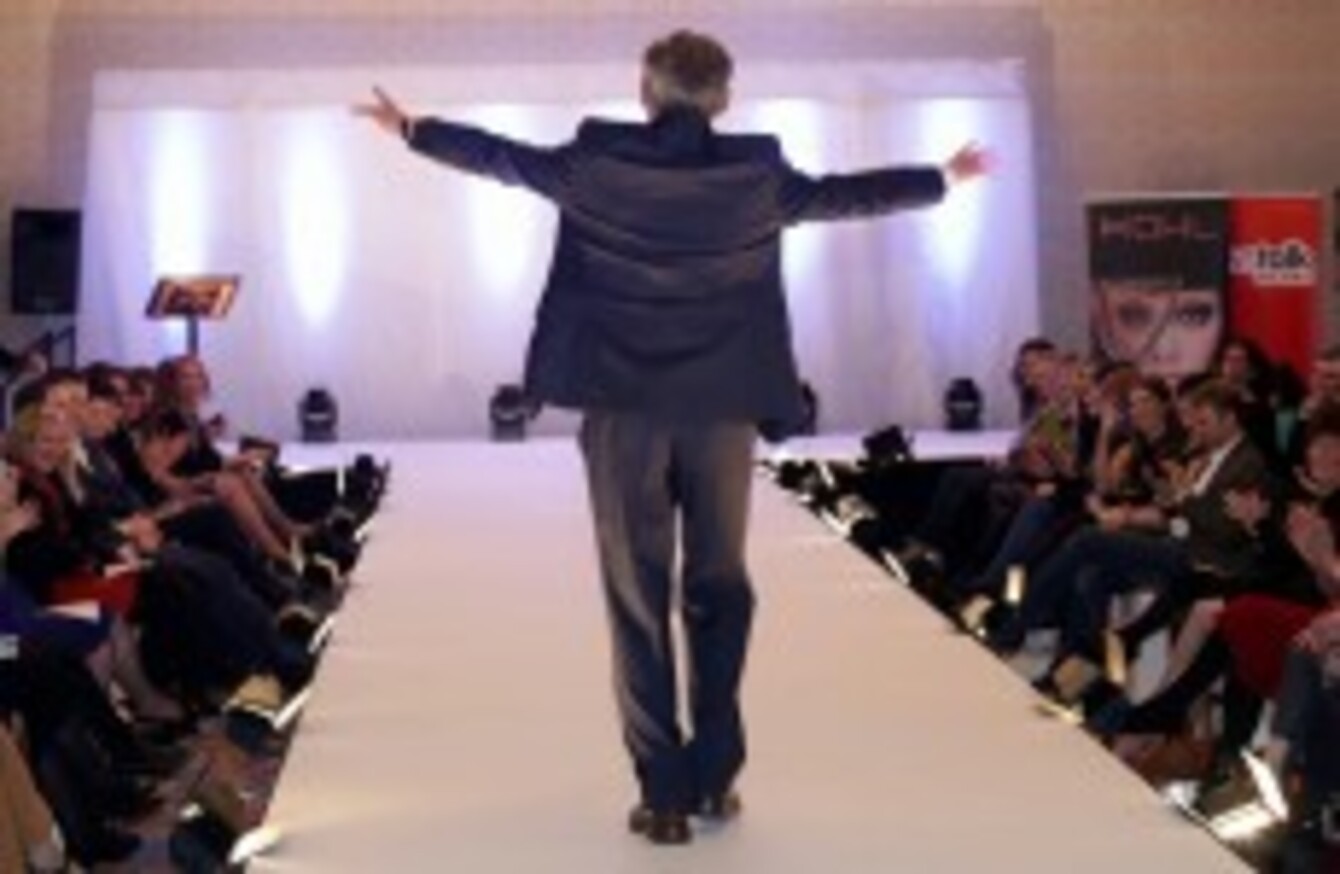 Richard Bruton at the charity fashion show involving members of the Oireachtas during the week.
Image: Laura Hutton/Photocall Ireland
Richard Bruton at the charity fashion show involving members of the Oireachtas during the week.
Image: Laura Hutton/Photocall Ireland
EVERY SATURDAY MORNING we take a look at all the best comments left on the site by our readers over the past seven days.
This week there was a lot of talk about the typhoon in the Philippines, data theft, expensive paintings, racist graffiti, poppies, Bertie Ahern, medical terminations and health insurance.
So here, in no particular order, are the standout comments from the week that was.
The top 5 articles which received the most comments this week
1. Poll: Should Ireland allow terminations in cases of fatal foetal abnormalities? (582 comments)
2. Poll: Should Irish people wear poppies to honour the war dead? (459 comments)
3. Women who travelled to UK for terminations to bring case to United Nations (411 comments)
4. Bertie Ahen assaulted by man with a crutch in Dublin pub (347 comments)
5. Parents to be asked if they want their children to wear school uniforms (288 comments)
Some of the best comments left on the site this week
(Lynne Cameron/PA Wire)
Things we learned
A lot of people had suggestions for things they used to hide from their parents – but it works both ways. Katie Does got almost one thousand thumbs up from readers on things that she likes to hide from her kids…
I am an Irish Mammy in my early 50s, 5 kids, ranging from 10 to late teens. Fairly typical I'd say, except we are athiest so mass was obviously never an issue.

I'm guessing that a lot of people here are much younger than me. Here are some of the things we don't tell our kids. I urge you to think of your own parents as you read, because despite what you think much of it probably applies. Keeping things secret in families is a two way street.

We still have regular sex and it's sometimes really filthy.
That time you came home early from school and we were in the kitchen, red faced and disheveled? We hadn't been digging the garden and the dog hadn't knocked all the stuff off the table.
We own several sex toys.
I have a tattoo you know nothing about.
I slept with more than 10 other men before I met your dad. His score is higher.

There's more, but that'll do for now.
You're looking at your parents in a whole different light now, aren't you? On the same thread, someone asked about whether athiests say 'Oh my God' (it made sense in the context). Anthony O'Shea gave this comprehensive answer:
Yep, I say stuff like that all the time and I'm an atheist. Its just words in the English language used in a certain context.

Think about it, whenever you say "Oh my god" you aren't actually referring to some type of supernatural universe creating entity you are just expressing surprise.

When you stub your toe on a coffee table and say something like "Jesus F@%*NG Christ Allmighty that stupid F@%*NG hoor's abortion of Ba£t!4D table AAAGGHH!! " you are also more likely to be annoyed with the position of a table than referring to an ancient historical figure from the middle east approx 2000 years ago who some people think had magic powers.

As for sex, I tend to shout my own name – since I'm that awesome.
Short but succinct
More than 100 people turned out to attend the funeral of a 99-year-old war veteran who died without friends or close family. From David Gannon:
Faith in humanity: Restored
Shameful admission of the week comes from Aisling King on the article about TDs and Senators taking part in a fashion show:
Is it *gulp* ok; deep breath – is it wrong that my first reaction is to slightly fancy Richard Bruton?!
Yes. Yes it is.
Good story, bro
Moving on. Cool story of the week: Angela Lansbury apparently isn't too happy about the possibility of a Murder She Wrote remake. Luke Sullivan met the lady herself down in Cork:
Met Angela Lansbury twice at her home near Ballycotton in Cork. Lovely lady. 5 mins of pleasant small talk each time, but very nice to me as a self conscious spotty teenager at the time.

Years later I found out just how big a start she was back in the 40′s, 50′s, and 60′s. Knocked about with, and acted with, all the heavyweights of her time from Sinatra to Elvis.

So many people of my generation only know her from Murder She Wrote, but the lady has a back catalogue of work worthy of any.
Nice story of the week: larry lamb got a lot of thumbs up for this good deed:
When i was at college i found a wallet with £100 in it. I left it in the local police station. 4 days later a woman called to my hovel student flat with a load of homemade cakes and goodies. It was her sons wallet. He was a student. She said they had little money and were struggling to keep him at college. She travelled 4 miles on a pushbike.
She cried when she saw the mould on our walls! Id like to think if i lost my wallet someone might return it intact too.. maybe
Computer says no
Google's new ads can now feature details about its users (i.e. you), including profile name and photo. Dee4 raised some concerns:
Terminator: Google begins to learn at a geometric rate. It becomes self-aware at 2:14 a.m. Eastern time, August 29th. In a panic, they try to pull the plug.

Sarah Connor: Google fights back?……
Makes you think
Chef Derry Clarke this week urged young people to talk about their problems in the wake of his son's suicide – but as Jenster pointed out, this isn't always as straightforward as it seems:
I heard a woman recently talking on one of the morning radio shows. This woman had tried to commit suicide and failed. She went onto say the very same friends and family who, had she succeeded, would have asked at her funeral 'oh why didn't she talk to me', then blanked her. Like her attempt was somehow contagious. People fear mental illness, in all it's shapes and forms and no more so than in this country. We have more deaths from suicide than road deaths. Ask yourselves if you were in the position where someone came to you because they needed help and were considering suicide, what would you do or what difference would you try to make? I think we all need to educate ourselves on this. I lost a cousin to suicide. Yet I'm not sure how I'd answer that question if he'd come to me first. That's what's scary. There still is such a stigma….
A number of Irish women have spoken about how they had to travel to the UK to terminate a pregnancy after finding out that that it was non-viable. One woman, Arlette Lyons, explained to commenters what she had been through:
Just to repeat our situation Eimear, Our campaign has noting to do with Down Syndrome or any other special needs…. I gave birth to my beautiful little daughter Freya 4 months ago, she is the light of our lives. We were told at the 12 week scan that she may have down syndrome or some other complications. I asked was it fatal and they said they did'nt think so. I proceeded with my pregnancy knowing that we could possible have a baby with Down syndrome this was ok with us. Freya was born weighing 5lb 4 , She has Pierre Robin syndrome, chrosome abnormailty 4q-35 deletion, a small hole in her heart, a cleft palate, hip dysplasia and a cyst on her brain….She has alot of medical needs but she is not in pain and hopefully she can led a fulfilled life. She is my little hero and loved by her big brothers me my husband and all our family. The pregnancy that I ended well she had zero chance of survival she had Patau's along with other issues. I remember reading a story of a little boy who had pataus and died 89 days old ..some may think he was givn a chance but in reailty he spent all his 89 days in hospital going through painful treatment .. there was only one way his story was going to end and that was death. For me for my baby I could not let that happen. I could not watch my baby be born to only have to struggle for my own solace..I was the life support machine to MY baby and I made the descision to switch the machine off…I will never forget Skye and she will always be part of our family. And as for Freya she is our little hero with her special needs or not.
The 5 most popular comments this week
(Eamonn Farrell/Photocall Ireland)
1.There wasn't exactly a lot of sympathy for former Taoiseach Bertie Ahern who was allegedly assaulted by a man with a crutch in a Dublin pub. Liam had the most popular comment this week with 2,834 for this stinger :
Is the crutch okay?
2. Many people were angry – but not surprised – about an attack on Dublin's O'Connell Street in which a woman's face was slashed. Sacha Mahady got 1,882 thumbs up for this:
If you keep letting skum away with all kinds of crime they really have nothing to fear anymore. Even if they are caught. What is the worst that will happen to them. Not blaming the gardai. Just the whole legal system that's cant wait to throw pensioners into jail for no tv license but bends over back words to keep real skum on the streets. I hope the woman involved does not bear the scar of this attack for the rest of her life.
3. On a similar theme, many people expressed their anger after racist graffiti was scrawled on the walls of a halal shop in Dublin. Dee4 got 1,792 thumbs up for this:
we really do have some home grown vermin in this country. Why am I forced to feed and house these skangers.
4. This invisible bike helmet is being seen as a great invention for cyclists. Stephen Barry had questions though (and got 1,613 thumbs up for this):
I bought one of those invisible helmets, put it down somewhere and can't find the bloody thing.
5. How posh are you? No, seriously. This quiz put it up to readers during the week. Mike Clinton got 1,377 thumbs up:
Not sure what I have scored.
I'll ask the Butler, he filled it out for me.