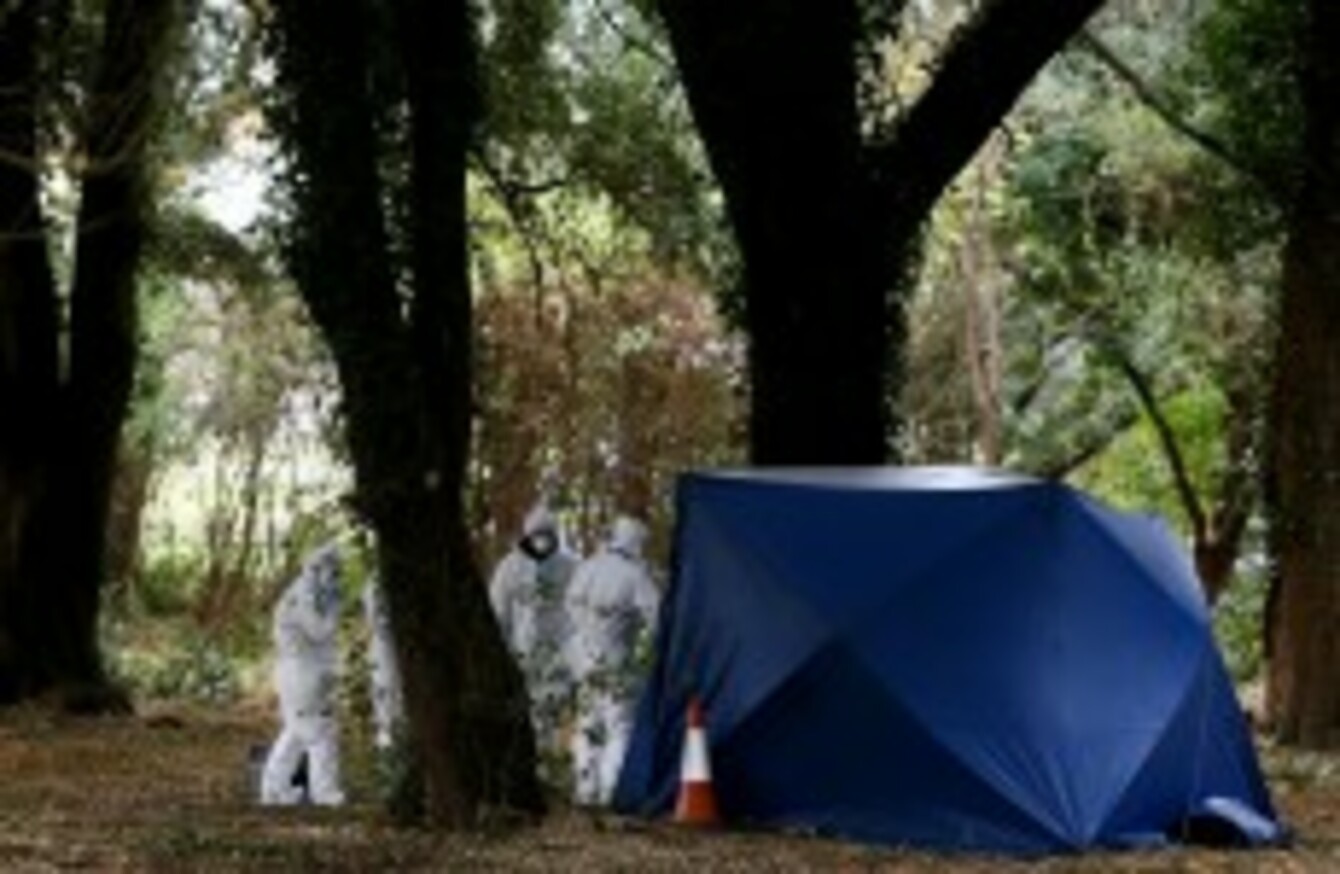 Gardaí at the scene in the Phoenix Park where the body of a homeless man was found.
Image: Brian Lawless/PA Wire
Gardaí at the scene in the Phoenix Park where the body of a homeless man was found.
Image: Brian Lawless/PA Wire
EVERY SATURDAY MORNING we take a look at all the best comments left on the site by our readers over the past seven days.
This week there was a lot of talk about job losses, animal cruelty, Bryan Dobson, Ireland's most popular tourism towns, racism, insolvency and last night's Toy Show.
So here, in no particular order, are the standout comments from the week that was.
The top 5 articles which received the most comments this week
1. Shatter condemns hate mail sent to Muslim Community, says gardaí will take 'appropriate action' (610 comments)
2. Horse dies after being doused with petrol and set alight (351 comments)
3. Sexton penalty miss proves crucial as Ireland are denied at the death (291 comments)
4. Bryan Dobson 'never meant to cause offence' when he called protesters 'idiots' (287 comments)
5. More pressure for Adams as documentary puts issue of IRA membership back in spotlight (235 comments)
Some of the best comments left on the site this week
(Pic: Defence Forces)
First up this week is Patrick Moran on this pic (above) of Minister for Justice Alan Shatter playing table tennis with Irish troops in Lebanon. [NB: When reading this comment, you may need to bear in mind the Minister's previous career as a novel-writer...]:
His inexperienced hands touched his bat so tentatively that every muscle in his body ached for fulfilment.
Ahem.
Moving on: A lot of people were furious about the revelations that charitable donations were used to top-up staff salaries at the Central Remedial Clinic. Emma Fitz got a lot of thumbs up from other readers for this:
This 'top up' fiasco is making Ireland look the most corrupt country in the world. It absolutely defies belief that this was allowed to happen, the selfless work ordinary people do to fundraise, people giving what little they have to help others. I do not know how any of those peoples who accepted the money can sleep knowing where that money originated.
Why can't that money be given back to the CRC and other places?
This list of misnomers – Buffalo wings which aren't actually made of buffalo, guinea pigs which aren't pigs, koala bears which aren't actually bears – had people making their own suggestions. Stephen O'Connor was rightly hung up on the final entry though:
The last one isn't a bear!!?

But he has all the Koala-fications!
Gardaí are investigating the discovery of the body of a man in Dublin's Phoenix Park on Friday morning. Barry Healy questioned what led to the man sleeping rough in a park:
The OPW have just been clearing the undergrowth from that area this week. Odds are there were plenty of bits of debris and woodchips etc lying around still. Plenty of stuff to light a small fire to keep yourself warm hunkered down under that nice big tree in the photo for shelter. Couple of beers or whatever to drive out the cold/help you evade the fear of being outside and sleep/quiet the dark thoughts in your head and a stray leg or popping branch catches the flame. Could be a simple accident for the poor creature but at the end of the day why was this poor man sleeping under a tree in a park? Reflects badly on us all as a city, a society and a nation that people still find themselves living like this. Please remember the homeless charities support groups this christmas.
People don't always realise just how tough it can be to fight with – sorry, pacify a baby, but Catherine Sims knows. She described the battlescars:
I dunno…. Trying to put our almost 6 month old to sleep last night and I'm sorry but she kicked my ass. My glasses are in bits and I don't just mean cute tiny baby finger prints I mean they are mangled. Then as she is teething she attacked my chin like some vicious gummy baby zombie. Seriously those gums are rock hard and they hurt. Those heels are also like freaking knives digging into my thighs as she totally refused to bend her Knees and sit the feck down. Battered and bruised I surrendered.
Dublin's four local authorities have launched a helpline to get people to report neighbours who don't pick up after their dogs. Cecily J Lovegood had a lot of questions:
A question about that number: what actually happens when you ring it? Do they send someone out with a machine to clean the streets? Is it someone on empathy duty, going "I know! Isn't it disgraceful all the same?!" Is it a supergrass hotline where I can report Bernie from number 5 for not picking up after her two Jack Russells? If it's *that* option, what kind of proof do I need to supply? A photo from my mobile? A doggy stool sample?

In all seriousness, I really wish the various local authorities would actually *do* something about this, would actually *empower* people – whether the ordinary citizen or designated officers – to take people to task. As it is, you risk a battering if you have the temerity to tell anyone to pick up after their mutt. I think it's part of a wider law-and-order issue. We Irish people pay lip service to the notion but actually get quite narky when it starts to affect us personally.
The 5 most popular comments this week
(Sam Boal/Photocall Ireland)
1. First up this week, Paul Burch had the most popular comment of the week with 2,202 thumbs up for this comment on the article about the tragic death of a horse in Tallaght which died after being doused with petrol and set alight:
Its sickening to think that people can do this to an animal
2. Next up, a lot of people weren't happy about Xtra-Vision not honouring pre-orders for the new XBox One unless customers bought an additional game (the store later reversed its policy). Joe Delaney got 1,904 thumbs up:
Any they wonder why they went into receivership before?!?
3. In third place this week was Max Rockatansky with 1,805 thumbs up on the whole Bryan Dobson thing:
Dobson actually said something interesting and controversial. This is good news
4. Rodrigo Detriano got 1,713 thumbs up for this comment which was also on the article about the horse killed in Tallaght:
Evil bastards need to be burnt at the stake!
5. Last but not least, Claire Ryan got 1,573 for her suggestion of an appalling trend you will ALWAYS see in an Irish nightclub:
Some GAA clothing for sure..