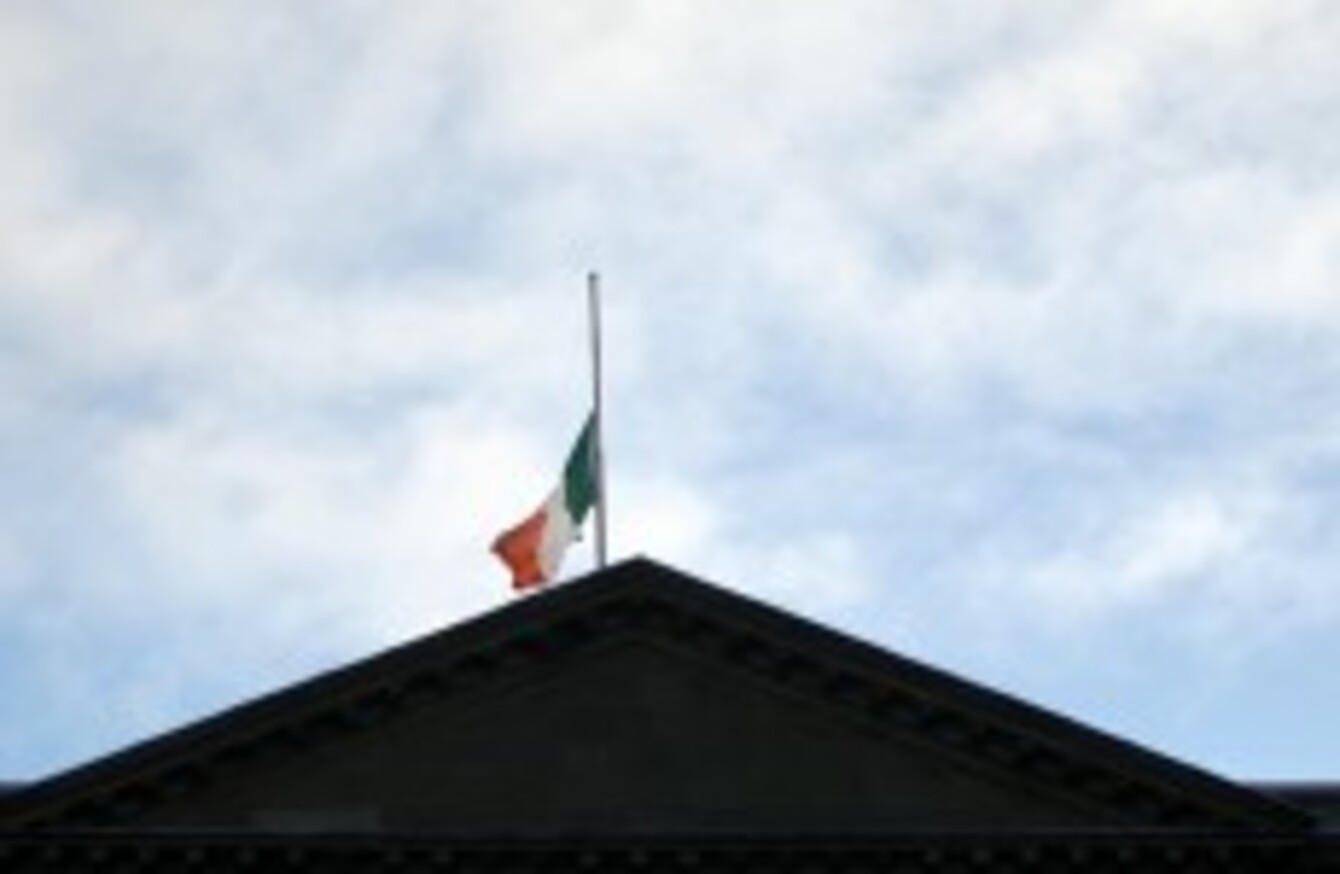 The flag over Leinster House flies at half-mast on Friday for Nelson Mandela.
Image: Sam Boal/Photocall Ireland
The flag over Leinster House flies at half-mast on Friday for Nelson Mandela.
Image: Sam Boal/Photocall Ireland
EVERY SATURDAY MORNING we take a look at all the best comments left on the site by our readers over the past seven days.
The news this week was understandably dominated by the death of Nelson Mandela. Other stories which hit the headlines were the strikes at ESB and Marks and Spencer, the Smithwick Tribunal report, Gerry Adams, the Irish Language Commissioner, and the countdown to Christmas.
So here, in no particular order, are the standout comments from the week that was.
The top 5 articles which received the most comments this week
1. Meet the Congolese native who is running for Sinn Féin in next year's election (360  comments)
2. Language Commissioner quits, tells TDs Irish is being marginalised (335 comments)
3. ESB workers announce 'all-out' strike as unions meet with mediators (331 comments)
4. 21 pubs in Ireland you must visit before you die (329 comments)
. Galway university society disbanded for homophobic message (323 comments)
Some of the best comments left on the site this week
(Niall Carson/PA Wire)
Many readers paid tribute in their own way to Nelson Mandela this week. From Catherine Sims…:
I really wanted him to live forever but he was tired and he deserves his rest . RIP Madiba
… and Dave Fingleton:
Has ever a man been more universally respected throughout the world? Proud to remember going to Dublin as a chap to support the dunnes stores workers when they refused to handle apartheid goods. To think a man so far away could inspire such action in a 10 year old boy in rural Ireland, I'm sure that was repeated globally..one of the greatest humans ever to draw breath .
Warning: Christmas comment alert. The appropriately named Merry Christmas had this warning for the young folk when buying presents for their parents:
Dear young people of Ireland.

Please remember that mammy and daddy were once young, just like you. And like you they also bought sh!te pressies for their mammies and daddies. Foot spas, socks and biscuits don't cut it!I am the wrong side of 50, I was a punk in me day. I do not want Michael Wazzisface CDs, I do not want chick flick DVDs or romantic feckin' books. Leave my Curly Wurly alone, don't sneak the choc bikkies from the second layer and eat your bloody sprouts!

I will accept cash, book tokens and alcohol. My Rage Against The Machine DVD is knackered, I need a new one to shout along with when I do the ironing.

That felt good :)
Ireland topped Forbes magazine's list of the best countries in the world for business this week. Readers weren't too impressed though. Here's Mark Ryan and Ricky Spanish:
Haha, we finally top a list that does not involve alcohol!
Pints to celebrate?
In the comments beneath the article about a US couple who died hours apart after spending 65 years together, a lot of readers had similar stories. This one from Caoimhghín Ó Tuama was very moving:
Something like this happened my grandparents in Cork about 10 years ago.

Both were sick with a while. Grandfather died that morning in hospital, and was brought out that evening to the church in the village to be woke. The family house was right across from the church and my grandmother was bed ridden at that point.

We had a mass for my grandfather at 7 that evening, went back across the road to the family house and within an hour my grandmother had past on too. They were married a good 50 years at least I think, and gone in the same day.

T'was sad but nice.
The Smithwick Tribunal report this week found that at least one member of An Garda Síochána probably passed information to the IRA in the murder of two senior RUC officers in 1989. From Paddy Chambers:
Much blood on many hands. Not many involved from any side can have a totally clear conscience. The tit for tat comments on here remind me of the tit for tat killings that tore this country asunder for best part of my childhood. Regardless of how bad this rescission has been nothing compares to the horror of that period of Irish history. May we never go back.
Random comment on the article about the increase in children being named Arya and Skylar thanks to the popularity of shows like Game of Thrones and Breaking Bad – from Daniel Rea:
My nieces' name is Meg- short for Megatron
Finally General Loveshank was not too impressed with Colm Keaveney joining Fianna Fáil:
Getting rescued from a desert island by the Titanic.
The 6 most popular comments this week
(Eamonn Farrell/Photocall Ireland)
1. First up this week is Andrea Rock Massey, who got 2,661 thumbs up for this comment on the attempted hit on John Gilligan:
I think this was just an attempt by Gilligan to have Garda protection awarded to him. Never before has the gunman walked into a pub shouting the name of the person they were there to shoot. They typically seem to know exactly where the intended "victim" is sitting. Never mind going into a completely different pub for God's sake! This has set up written all over it.
2. Next up, Foxys van got 1,900 thumbs up for this comment on the article about a pet dog who died after being attacked by a pack of hunt hounds:
The family should see a solicitor over this I know I would.
3. Declan Byrne got 1,832 thumbs up on the poll about whether people would consider reporting a drink-driver to the gardaí in exchange for money:
I would report for no money . No excuse for drink driving.
4. The article was about overbooking on Irish Rail trains, but Sheena Ní Mhurchú raised a different issue, and got 1,699 thumbs up:
Not really the issue above but on a side note, I'm sickened by the number of people who sit in pre-booked seats on the train, and then look at you like you're pure evil when you (politely) point out that they are in your seat. Really grinds my gears.
5. In fifth place was robby rottenest who got 1,529 green thumbs on this article about Olympic medallist Tom Daley, who said this week that he is dating a man:
Of course the other type of diving now off the menu.
6. Last but not least, Helen Clifford got 1,490 thumbs up on the article about the parents of Domhnall, the Toy Show star who met Robbie Keane, and how proud they are of their son:
Stupid dust getting in m'eye.