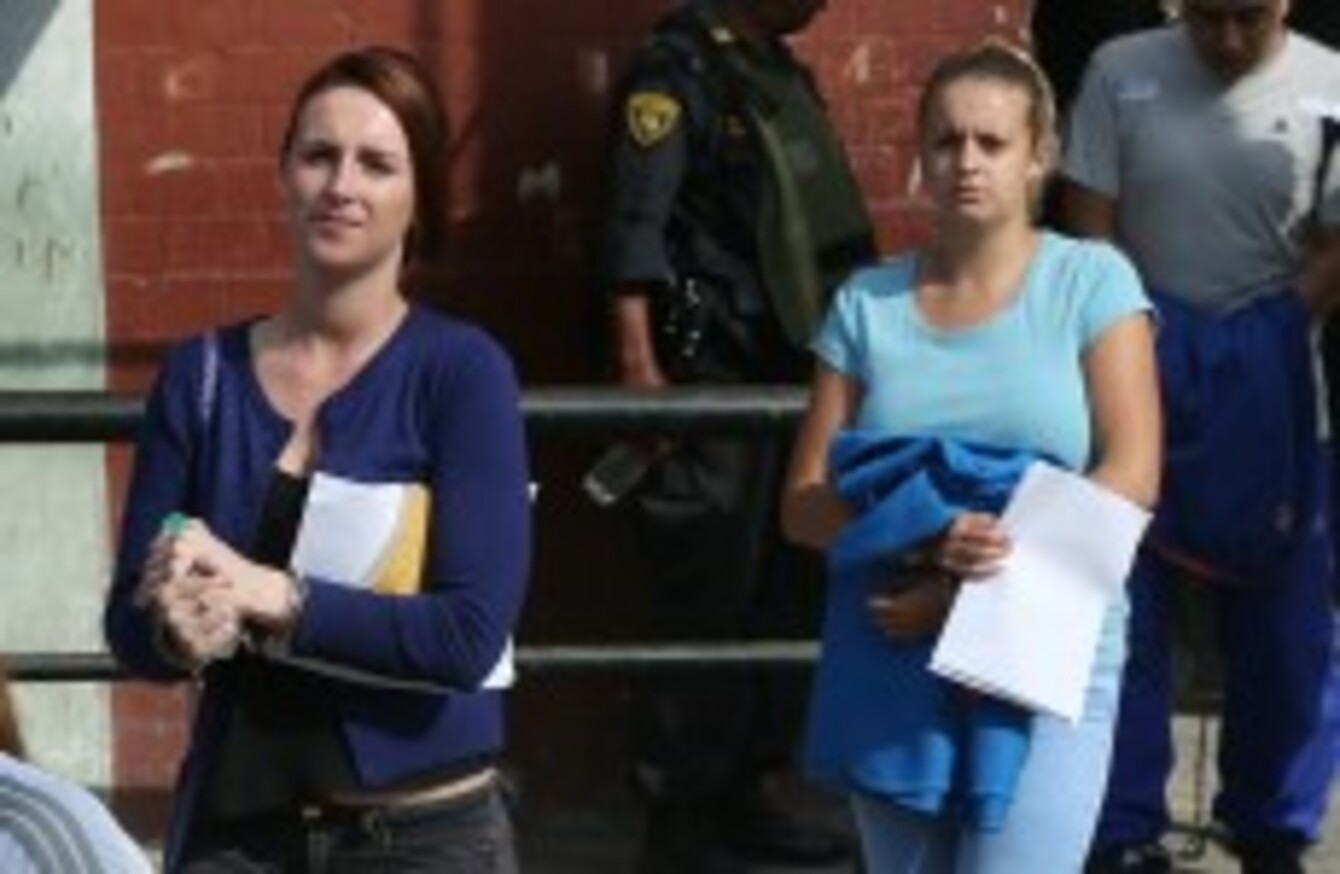 Michaella McCollum and Melissa Reid leave court in Peru after being sentenced to six years and eight months in prison each.
Image: AP Photo/Martin Mejia
Michaella McCollum and Melissa Reid leave court in Peru after being sentenced to six years and eight months in prison each.
Image: AP Photo/Martin Mejia
EVERY SATURDAY MORNING we take a look at all the best comments left on the site by our readers over the past seven days.
This week there was a lot of talk about the Peru Two being sentenced to prison, former bankers charged with fraud, Enda Kenny's State of the Nation address, same-sex marriage, the HSE budget, Hector leaving 2FM and, of course, Christmas.
So here, in no particular order, are the standout comments from the week that was .
The top 5 articles which received the most comments this week
1. Video: Here's what Enda Kenny had to say in his State of the Nation address (381 comments)
2. Watch: Ming Flanagan challenges Minister to drink glass of 'glorified piss' (water) (370 comments)
3. Gerry Adams picked for guard of honour for Mandela (356 comments)
4. Alan Shatter: Same-sex marriage referendum is not a vote about parenting (347 comments
5. A Definitive Ranking of Ireland's Shopping Centres from Worst to Best (254 comments)
The 5 most popular comments this week
(Pic: @MerrionStreet/Twitter)
1. There was a common theme in some of the most popular comments this week. First up is Murph11, who got 2,737 thumbs up for this comment about the jailing of Michaella McCollum Connolly and Melissa Reid in Callao:
The term Peru 2 suggests a miscarriage of justice. Can we just call them the 2 Peru drug suppliers who were caught
2. Peace for All had the second most popular comment this week with 2,224 thumbs up on the same article:
Innocent until Peruvian guilty…..
3. Arthur Pewty got 1,844 green thumbs on the article about the 23-year-old woman who died after a tree fell on her car in Mullingar:
my condolences to her family and friends. such tragic news so close to Christmas. :(
4. Unusually, Peace for All also had the fourth most popular comment – again on the article about the Peru Two – with 1,744 green thumbs for this:
The Peru 2 who didn't get through
5. Last but not least, Ciarán Ó Maolchraoibhe got 1,522 thumbs up for this comment on the article about Gerry Adams being in the guard of honour for Nelson Mandela:
I'm not an Adams fan by any stretch of the imagination. But I'm sure Enda Kenny's face this morning must have looked like someone shat in his cornflakes.
Some of the best comments left on the site this week
(Laura Hutton/Photocall Ireland)
There wasn't a whole lot of sympathy for the woman who accidentally walked off a pier in Melbourne while checking Facebook on her phone. From Merry Christmas:
Status update: Drowning!
Is the economy starting to pick up? The ESRI thinks so. Commenters were divided. Here's what Helen Farrell had to say:
It genuinely has picked up in the last year.

Houses and land On the market for years, have sold in 2013.

Increase in house prices in some areas.

Higher passenger # on Dublin Bus.

Tax returns slightly higher than forecast.

I see some new start-ups doing well nearby.

Some long-term unemployed people that I know have secured fairly decent jobs in 2013.

But I suspect another (just one more?) austerity budget will knock this shaky start back down again.
Sharon Obrien wasn't convinced:
Helen of course new start ups are doing well.Most of them managed to get good deals on rents, service charge ect (fairplay to them) but small retailers that started up 8/10 years ago are being hammerd by crazy rents that landlords will not negotiate with .They have struggled for the past 2 or 3 years , for many of them its to late.
Twelve pubs: harmless bit of fun at Christmas or exacerbating Ireland's problem with drinking? Paul Burch, who works in a pub, gave his 2 cents:
I work in a pub in the city centre. Watching these groups of people coming in is painful. The main problem we find is, some people can handle their drink. Its the people that don't drink on a regular basis are the ones who are trying to keep up with the "drinkers". These are the ones who fall about the place. Get sick. Bump into other customers. Drop drinks. Drink at your own pace. Not others please
A report published this week looked at ways to encourage kids not to drop out of sport. Lots of readers had suggestions – including this one from Conor McKenna, which looked at the adults involved:
The competitive attitude of coaches often sees the less able players cast aside in their search for glory. Was coaching an under 10 team a few years ago, every player got at least a half, went from being a mile ahead to losing in one game, no big deal, but the coach of the other team tells me I was " stone mad bringin on some a them lads" and that we d "go no where with that idea". I think if you make everyone feel valued instead of a liability the enjoyment and player retention will increase.
Enda Kenny and David Cameron made the unusual step of jointly visiting the graves of British and Irish soldiers who died in World War I this week, in what was described as another step forward for Anglo-Irish relations. Annette Kelly described how moving it was to visit:
having visited these places a number of times, inc once in secondary school, in late 80′s and again in when i was back in college in 2005, I would highly recommend a visit, it was for me, both a humbling experience and an eye opener. Forget current politics and see what our citizens went thru. The Tower has the names of every Irish solider whom died in this war. When we visited in 2005 as part of our degree we were the 1st Irish university to lay a wreath at the Menin Gate in Ypres. Although I had no ancestors killed in this war, that i know of, it was a very moving experience.
A lot of people liked David Linehan's comment about Pope Francis, who this week invited four homeless people to breakfast with him on his 77th birthday:
The chap refuses to stay in the papal apartments, seems like an all round decent guy, not that religious at all but his morales / principles alone are enough to respect the man. Long may it be the way. He's exactly what the Catholic church need.
Alan Kennedy is flying home to Ireland on Monday and is already anticipating the Arrivals hall:
I will admit I got a little weepy. I'll be home on the 23rd and I'm very much looking forward to it, but knowing my parents my mother will be waiting in the wrong Terminal and my dad will have parked in Malahide to avoid airport car park charges! :D
December weather really hit this week with insanely heavy winds and strong rain. Commenters had different ways of approaching it. From David Walsh…:
I'm off to Woodies to get some hatches so I can batten them down !!!
… and Eamonn Boyle:
Whiskey, lemon, cloves, candles. Sorted.