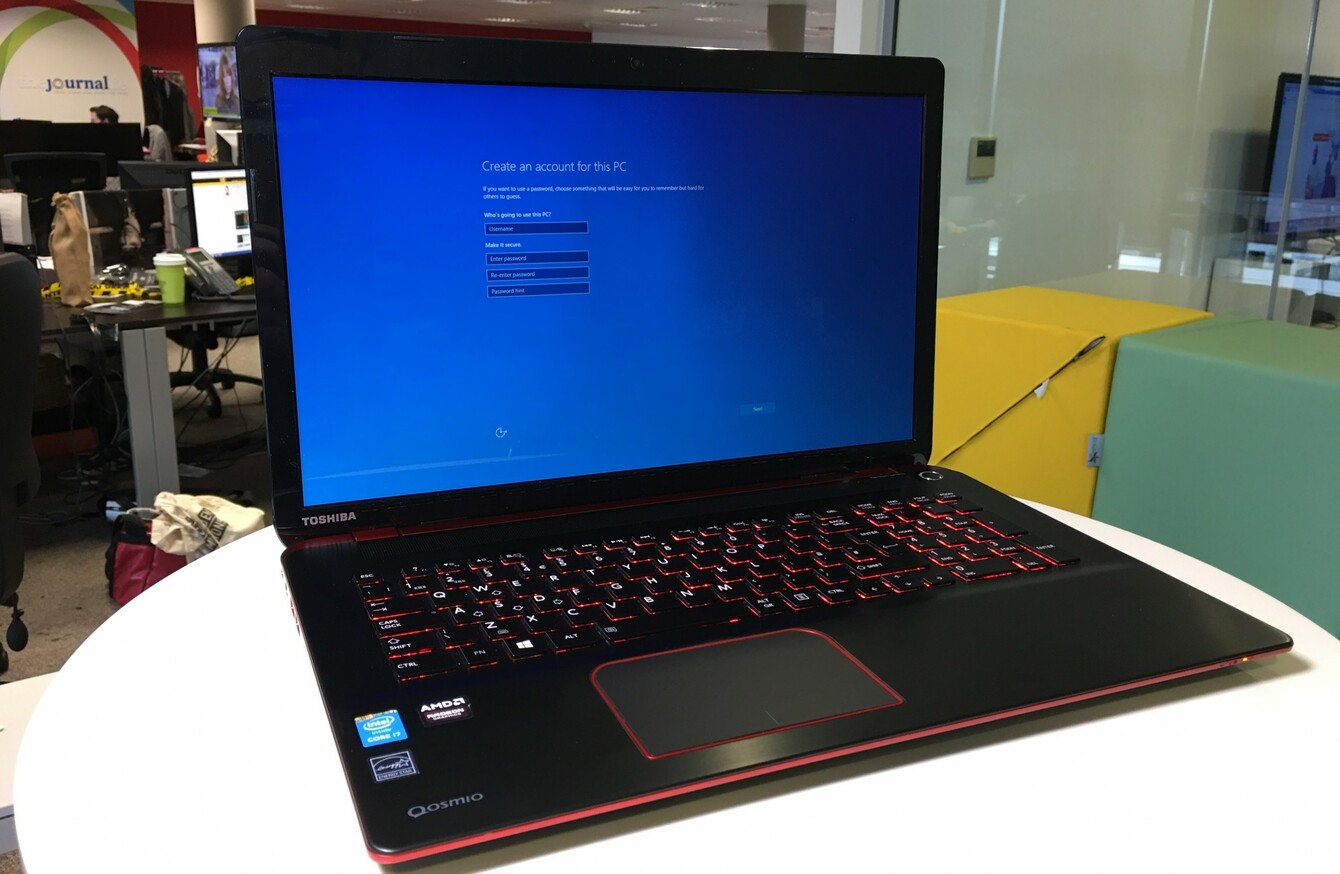 Score: 7/10
Verdict: A solid gaming laptop that has great performance but is let down by battery life and screen quality.
THE ENTRY FOR a gaming PC isn't as high as you would think. Usually, you would have to buy a high-end PC tower and upgrade it, but for those who want some degree of portability, the vast number of gaming laptops out there offer that compromise.
Toshiba has a solid reputation for laptops and its Qosmio range is its latest effort to break into the gaming laptop space. The X70-B-112 is the latest addition to the range but how does it fare?
If you build it, they will come
The one thing this laptop certainly isn't is light. This is a 17.3-inch screen, built using a mixture of metal and plastic and it's heavy.
While it's not one you will be carrying around with you regularly, the build quality is great. The keys are rather chunky and have a bit of weight to them, although the inclusion of the number pad at the side means you don't have to get used to typing with your hands moved slightly to the left instead.
Instead of being placed bang on the centre, the large trackpad is positioned somewhat to the left as well.
This makes more sense when you're typing, you can have the trackpad directly below but in a gaming sense (where the mouse controls the camera or viewpoint), it's awkward if you're not left-handed. If anything, it means that investing in a good mouse is more useful if you're right-handed.
The speakers are located just underneath the screen has enough volume and depth to bring most games to life and the quality is clear.
The quality of the screen, however, could be better. The 1920×1080 resolution display is good but the backlighting can make it seem a little washed out and dimming it doesn't really help matters.
It's a little disappointing when you're trying to make out anything that is against a white background as it just doesn't feel like it's entirely clear. This problem carries itself over to the games themselves as well which doesn't help.
The other thing is the fans. This is a heavy duty laptop and you should be prepared for the fans to kick in as soon as it starts being pushed somewhat.
The noise isn't unbearable, but you should keep any objects like mouse mats away from the side as they will heat up pretty quickly.
The device comes with an Intel Core i7, 16GB of RAM, and a hybrid hard drive (1TB HDD + 8GB SSD), which gives it enough firepower in theory to run the more demanding games out there.
But what about the games?
The short answer is you will be happy with the quality, and it will handle modern games, but you will have to keep your expectations in check.
To test it out, we tried out Batman: Arkham City and Tomb Raider (2013) since they cater for both mid- and high-end PCs.
Pumping Batman: Arkham City up to its highest settings resulted in a great game graphically, but the frame rate took a battering at the more demanding sections. When putting it through its benchmark tests, the frame rate went down as low as 2fps with the average being 30fps.
When you put it to more modest settings (mid-range), the game performs at its best with the lowest begin 24fps and the average being 57fps. On this setting, the game runs smoothly, there's no lag and while it won't run at 60fps consistently, it will be pretty close to it.
Testing out Tomb Raider (2013) yielded similar results. Its benchmarking test was similar when booting it up to the highest levels, the frame rate also plummeting down to unbearable levels, but bringing it to its recommended settings (mid-range) saw it hover around the 35fps mark, a good compromise between graphics and speed.
Should you buy one?
While the price isn't as bad as previous versions of the Qosmio range, it's still a laptop that needs a little bit of refinement. The screen quality could do with a bit of work and the battery life all but negates the ability to bring it around with you, but the specs are solid.
If you are on the lookout for a gaming laptop, it will meet most of your requirements, but you would be recommended to shop around first before you pay for it.
Pros
- Great hardware, will run more demanding games out there.
- Solid build.
- Speakers offer great sound quality.
Cons
- Can get quite loud during gaming.
- Poor battery life.
- Screen quality can appear a little washed out.
The Toshiba Qosmio X70-B-112 costs €1,499 and is available in Harvey Norman, DID and SoundStore.