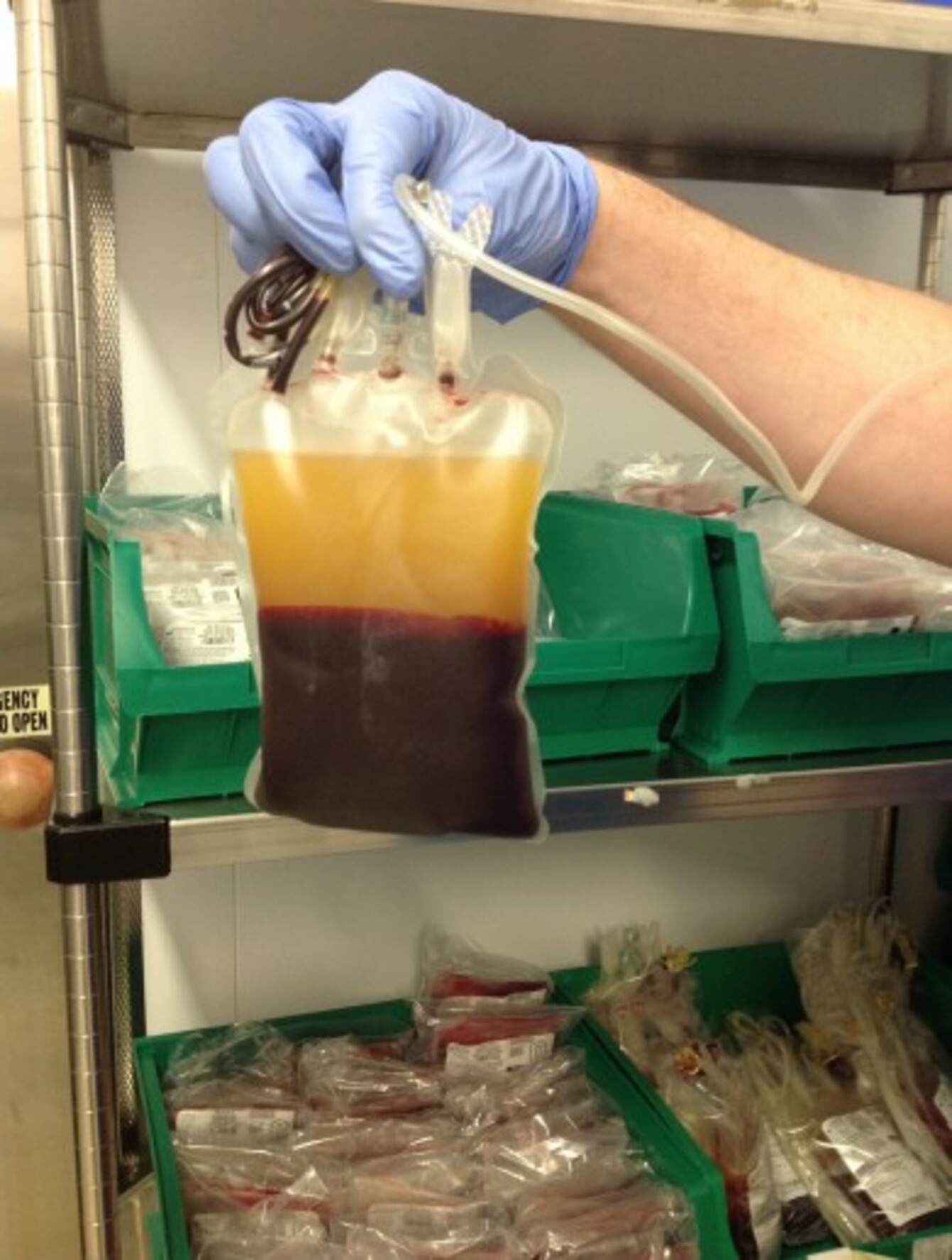 Blood separated
Image: Christina Finn
Blood separated
Image: Christina Finn
MOST PEOPLE THAT give blood walk away never really thinking about what happens next.
There is a whole team of people working in the Irish Blood Transfusion Service (IBTS) based on the St Jame's Hospital campus that are tasked with testing and processing blood donations from all over the country.
They can work around the clock, weekends and bank holidays as the demand for blood never ceases.
When blood is donated it is processed and separated in the lab the next day.
The facility, for obvious reasons must be kept extremely clean, with Barry Doyle, the Senior Medical Scientist with the IBTS explaining that the air conditioning is filtered to ensure it's all clean air, as well as test petri dishes left around the facility to detect any harmful bugs that could grow.
It is also the reason why I had to wear this:
(Please give me credit for including this photo!)
Doyle explained that there are two types of people that need blood – patients who are actively bleeding, for example from a major trauma and patients who do not produce sufficient or functional blood cells, like that of cancer patients.
Blood separation
The labs go through a number of stages with the blood, but they use all of it for different things.
Red cells are used for patients who may need a red cell transfusion if they are anaemic, while platelets, which are found in the blood are used on cancer patients as they cannot make their own.
Plasma is also used for clotting factors and is used to control bleeding.
Different patients need different blood components depending on their condition.
Every time someone donates blood samples are taken from every single blood donation for testing. They are tested for the donor's blood group as well as for any viruses and bacteria.
The day that I visited the lab  there were 700 donations the day before.
Diseases
At around 6am, testing begins on bloods for HIV, Hepatitis C, Hepatitis B and HTLV, West Nile disease and Syphilis. Donations also get screened for bacteria.
"There is a high turnover as bloods have to be tested within a couple of hours," said Doyle.
A relatively unknown fact is that a sample of every donation ever given is stored away – forever. Doyle said that a sample of every donation given is sent to a large storage facility in the UK, where it is kept indefinitely.
This is for traceability, explained Doyle, who said that if a person who has donated in the past, is tested positive for a disease, such as Hepatitis, then each and every sample of every donation that person has ever given has to be checked, to ensure that the person was infected after those donations.
"It's all about tractability," said Doyle, "we need to ensure patient safety at all times".
One of the questions on the questionnaire is about whether the donor knows they have HIV and are just donating to be tested.
Doyle said that every sample is tested for HIV, but since 2008 there have only been a handful of donors that have had to be contacted to inform them that their sample was HIV positive, he said.
Scientists testing for bacteria in the blood samples.
Special blood groups
On the walls of many of the labs there are screens with people's names on them and what hospital they are in. Doyle explained that some patients need specialised blood, due to different anti-bodies in their bloods.
Often these patients get regular blood transfusions.
"We work off this screen to see what patient needs blood. These people in this particular lab will look after these patients alone, screening blood to find a match that would be suitable. Some cases are severe where only one in every thousand sample would be okay to give a patient and while it looks like a lot of resources to source one blood group for just a handful of patients in Ireland, if this wasn't done then these patients would die," he said.
So how is the blood processed? You wouldn't want to be queezy about blood walking around these labs, with boxes full of blood everywhere, hanging off devices and being spun around in machines.
White cells are removed from the blood, seen here:
Blood is spun around in large centrifuges.
Red cells which are heavy sink to the bottom and plasma, the yellowish liquid stay at the top.
Platelets settle in the middle. Each component is then physically separated from each other using a blood separator.
Doyle said that everyone really has a different looking plasma, referencing to the saying, "you are what you eat" can really be seen here.
Holding up different packs of plasma, they range from a light yellow to a darkish brown. You forget that you are looking at stuff that has come out of another persons' body.
Once all the necessary processing of all the components is complete, the blood is stored. Platelets are stored on an agitator that keeps them constantly in motion.
While red cells are stored in large fridges at 4 degrees Celsius and can be stored there for 35 days. Here they are ready to be taken to the hospitals when needed.
Barry Doyle, who gave me the tour around the labs is well used to being at this end of the blood donation process, but when his son was brought in to hospital and needed a blood transfusion Doyle said he saw the process full circle.
He said: "It really is a gift that people are giving, be it to improve a dying person's quality of life, by giving them platelets that gives them a boost to enjoy their last days, or in emergency situations, like my son. We really can't underestimate people's generosity," he said.
If you would like to find out about giving blood visit the Irish Blood Transfusion Service website here.