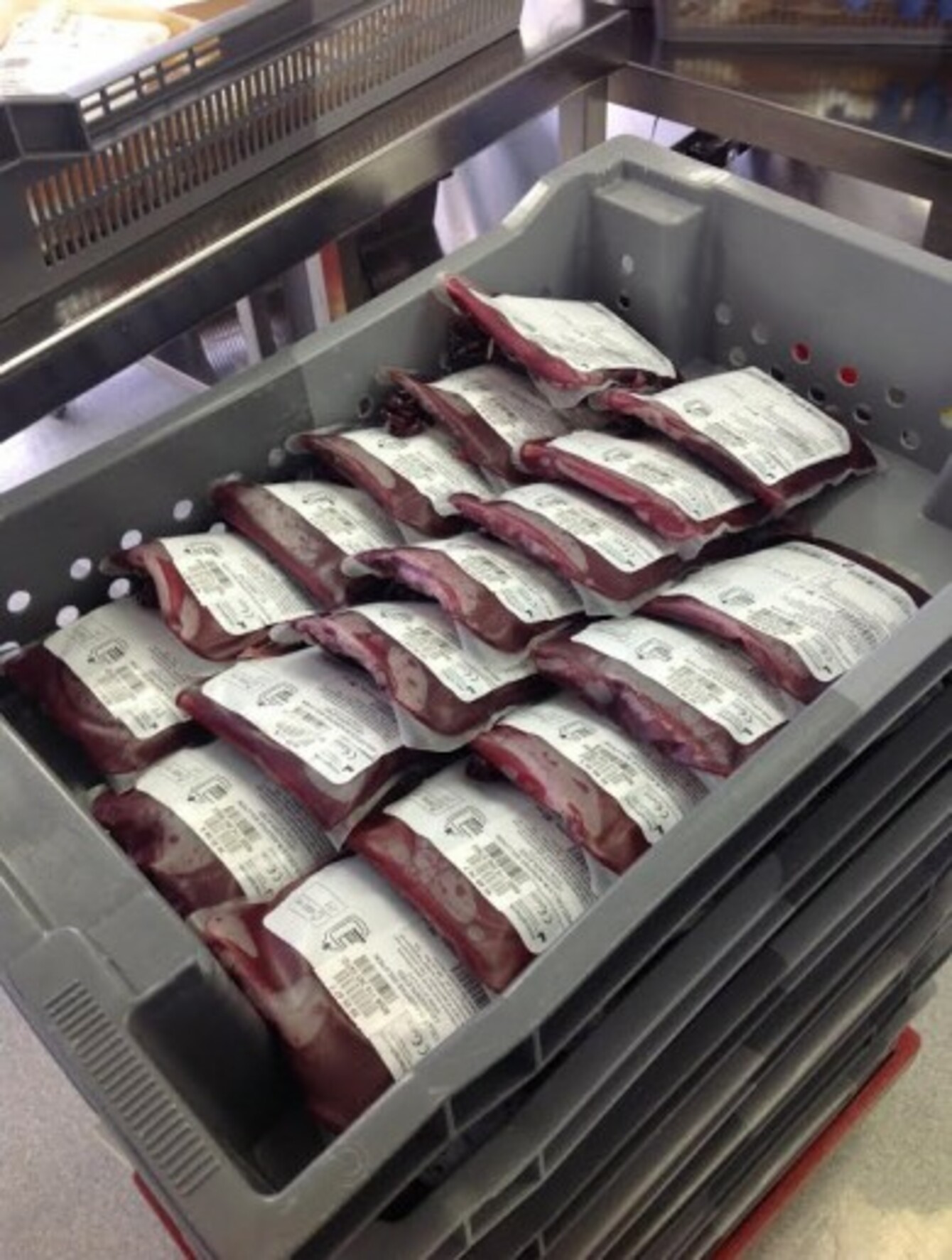 Bags of blood.
Image: Christina Finn
Bags of blood.
Image: Christina Finn
DO YOU GIVE blood? Have you ever considered it and have you ever wondered how the whole thing works?
Over 150,000 donations are needed every year in Ireland, that's over 3,000 per week.
I started giving blood a couple of years ago after I saw a movie that showed people doing good deeds for others and while it sounds corny, I thought that giving blood would be a good way to do something for others.
There was one problem, my fear of needles. However, I thought, what better way to finally get over this irrational fear than to start regularly getting pricked with a needle.
Blood transfusion
However, when you think about the facts that one in four of us will need a blood transfusion at some point, it is difficult to give much power to an irrational fear like that.
I really didn't know what to expect when I went along to my local blood donation clinic that was run out of a hotel function room on particular days. When I walked in, the place was bustling with donors, people filling in forms, people eating the goodies and of course nurses there administering it all.
Since that day, I have tried to go as often as I can, but I often wondered about the whole process. How do they know what blood they need, how important are the blood types and where does the blood go after it has been donated?
So, I decided to follow the blood line, from the donor to the labs and see what it's all about. My plan was to give some blood and follow it through, but I soon found out that it's not always that simple.
Donating
First thing's first – how do you go about giving blood?
There is information on the Irish Blood Transfusion Service website which should help you determine if you are eligible to donate blood, if you are, then you can pop into a clinic and donate.
The day I turned up to give blood at D'Olier Street clinic in Dublin, I hadn't donated in some time, so I was given a detailed form to fill out about my health.
This form is also given to people when they first donate blood. You might be shocked by some of the questions as many are quite personal – see below – but as Barry Doyle, the Senior Medical Scientist with the IBTS later told me, they have to be picky about their donors, in the interest of their patients.
When you see the extent of the science behind the whole process and ultimately who the blood is going to, very ill people and babies in hospital, you can understand why the questions are asked.
Confidential
Once the form is filled out, a nurse will go through your answers to ensure you have filled it out correctly. There is no need to be embarrassed – they do this all day long and it is all confidential.
Next your Haemoglobin level will be tested, which requires a tiny prick on your finger and a small drop of blood is tested. If your blood passes this test, your donation should  be accepted straight away, however, many people's level can be too low, as was mine.
Why? I have given blood before and there's been no problem before, I said, but I was told that under new EU rules, the level that can be accepted has risen, so while over the last few years, they were allowed to accept people a little below the specified level, now they cannot.
Test
Basically, if they took blood from me that day, then I would not have what a certain amount of blood in my body that they would prefer when I was leaving. It is not harmful, as I would build it up again over the next few days.
Stephen Cousins from the IBTS explained that the new rules introduced last year meant that ten per cent of all their current donors were ineligible, meaning that 1,000 donations per month needed to be filled.
He added that up to 35 per cent of first time donors cannot donate for a variety of reasons.
Cousins said:
One of most common reasons is if someone has lived in the UK from 1980 to 1996 for over a year, they are excluded, as it is based on Variant CJD, it's just unfortunate that we can't do anything about that.
He added  that there can be temporary deferrals too if people have been away on holidays, in places like America, where the West Nile virus might be in an area they went to.
Appeals
Steven Cousins explains here how they appeal to people to donate: (click here)
He said that the profile of donors is getting that little bit older, stating that emigration has had a big impact.
"Because we collect all over the country, there are some parts of the country which have really been hit hard by emigration, so that's an important group we are just not getting anymore, so we are making an effort to attract more younger people to donate," he said.
Why donate?
However, many people can donate over and over and have no problem at all. While I could not donate on the day, Peader Laighléis, who has been donating blood since he was 18, told us why he donates: (click here)
Most people give blood and then get on with their lives, without realising or thinking about the people their donations helps.
The majority of blood transfusions are given during surgical procedures and to cancer patients, but it is also given to patients with terminal illnesses so as to improve their quality of life.
Here Peader explains a heartwarming moment he experienced at a ceremony for blood donors: (click here)
Apheresis
People may not be aware that there are two types of blood donations, whole blood and apheresis. Whole blood donation, like that given in D'Olier Street and in other mobile clinics around the country, while apheresis donation, which involves removing the blood from someone, separating the component that is needed, such as platelets and then putting the blood back into the donor.
This sort of donation is only done in fixed clinics in Cork and Dublin. The platelets go on to help patients with illnesses such as cancer and leukemia.
Once you have given your donation, that's it, you're done. You can go enjoy the treats and goodies for free, but sadly Guinness is no longer given.
Yum…
If you would like to find out about giving blood visit the Irish Blood Transfusion Service website here.