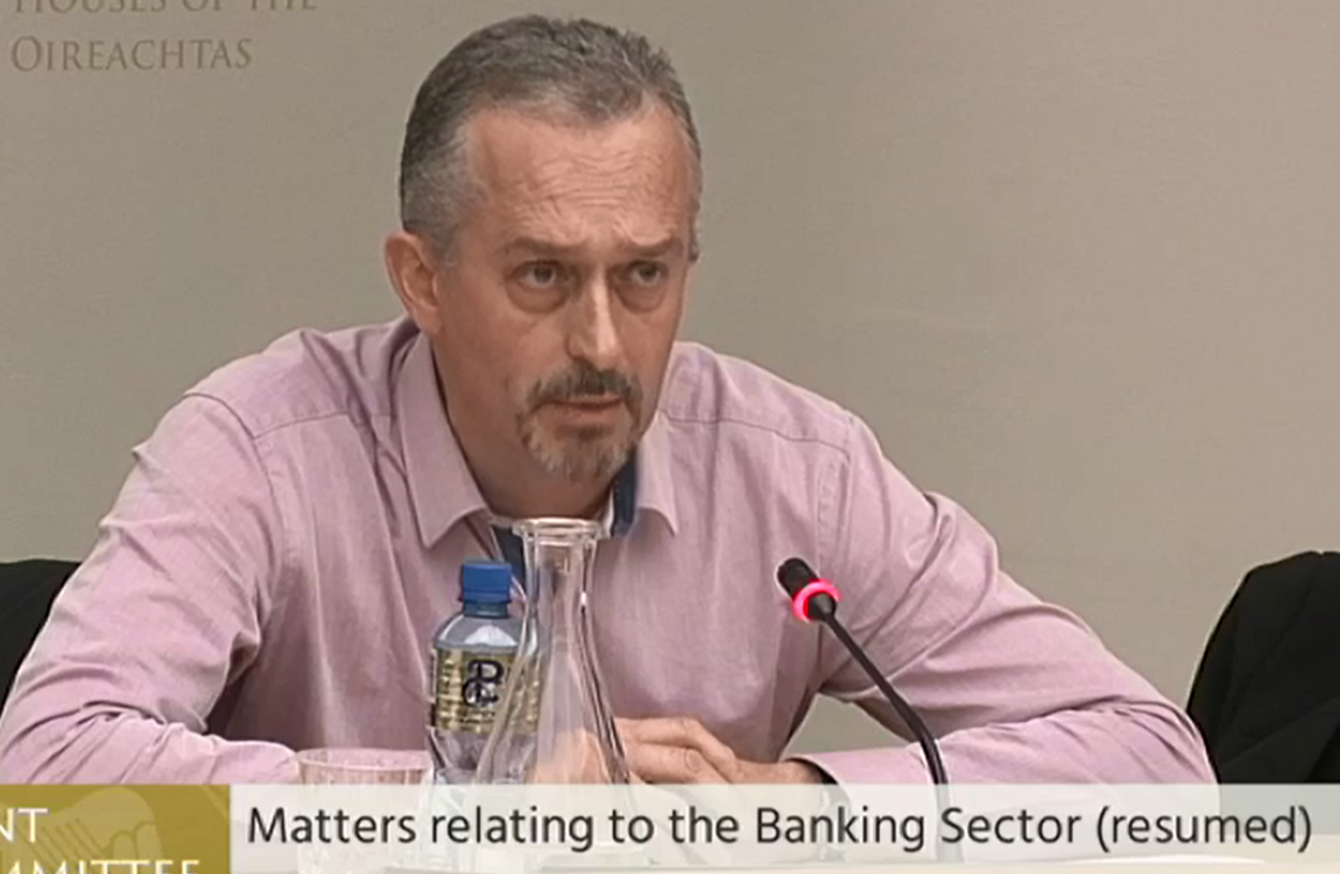 A COUPLE WHO believe they are affected by the tracker mortgage scandal suffered a stroke and a nervous breakdown over the duration of their battle with Permanent TSB.
Thomas and Claire Ryan renegotiated interest rates on two mortgages they held with the bank and Thomas claims he secured an agreement on a cheaper rate and believed he could at a later date revert back to a tracker.
He challenged the bank on this later when it refused to allow him to revert, but his appeal was rejected, as was his complaint to the Financial Services Ombudsman.
However the High Court quashed the ombudsman's ruling in 2011 after it emerged the bank failed to disclose a transcript of a recorded phone conversation with Ryan during the complaint investigation.
Today he told TDs and Senators about the hardship he and his wife have suffered as a result of this ordeal.
He suffered a stroke in 2013 which he said will have "lasting consequences". Two years after his stroke, his wife Claire had a nervous breakdown "losing her ability to speak".
Thomas said this was a "horrific experience" for his wife as she suffered "long periods of stuttering or stammering". She can no longer attend large gatherings and still has issues with her speech when she gets stressed.
He spoke of how difficult it had been for him as her husband to see her previously "confident and bubbly nature stripped away from her".
"Both conditions are medically documented and attributed to huge stress as we were a normal, healthy and private couple prior to all of this," he said.
The position they put us and countless others in could have been totally prevented if they had shown a shred of honesty and human decency. Even though there has been partial redress since, and that has been acknowledged, my family have suffered enormously due to stress caused.
This complaint remains with the ombudsman's office, but all such complaints are essentially on hold now until the Central Bank's tracker investigation is finished.
'Where is the end to it?'
Niamh Byrne, an Ulster Bank customer who has spoken in the past to TheJournal.ie also shared her story with the Finance Committee today. The bank refused to give her a tracker rate in 2008 and she later complained to the Financial Services Ombudsman.
It took more than two years for the FSO to make a ruling and the bank was ordered to pay her compensation. Byrne, who is a teacher and could not secure a fulltime position during the recession, had moved to AIB in 2009 to save money after she was denied the tracker. She has been fighting to get back her tracker contract with Ulster Bank – and still is.
Today, Byrne said she had written more than 40 times to the bank last year demanding it give her back her tracker. She eventually got a meeting in December.
I met someone from their legal department and again it was like talking to this [a table], he swaggered into the meeting with a takeaway coffee in his hand and there wasn't the proper kind of decorum you could expect in a meeting such as that. Before the meeting I had been extremely clear with them saying that I was only interested in a meeting that was going to resolve the situation, a settlement meeting. And when I went in, they spent an hour basically telling me to stop writing to them.
Byrne said it was "extremely distressing and very upsetting". She did not stop writing to the bank and in January, she received a letter telling her she was impacted by the tracker mortgage scandal.
Since then, she said that while she has heard from the bank a few times, she still has no idea what will happen with her case.
"They're not telling me anything when they write back to me so I wouldn't consider that to be engaging with me," Byrne said.
Today it's nine years, two months and 28 days since this happened. The whole of my 30s has been spent in this situation and it looks like there's no end to it. It has been extremely stressful, it has a huge impact on my finances, in my own family there's been a suicide. If you have a direct link to that the statistic goes to one in 100 of it happening to yourself so I'm quite careful to look after my mental health, but this kind of situation does not in any way help that. And where is the end to it?
'Rage and anger'
Helen Grogan moved back to Ireland in 2005 to help care for her father and bought a house near him. She moved her mortgage from EBS to Permanent TSB in 2008 as the bank was offering a lower rate of interest and said she went for a variable over a tracker rate "under duress".
However, her payments later increased and when her father's health worsened, she had to reduce her work week to four days so she could care for him.
She spoke today of the "rage and anger" and told the committee, she felt "duped" by the bank.
Grogan is approaching retirement now and had been trying to avoid paying a mortgage afterwards, but is still locked into her contract now.
"I went there because I trusted building societies, I thought they had my interests at heart," she said. Now she said she does not trust the banks at all.
"I go to them with a wary eye, knowing they're not really on my side, they just want to make money".
'We are still suffering'
Hazel Melbourn  also spoke today of the "catastrophic effect" this scandal has had on her family.
There's one major consequence that has affected us and unfortunately I don't want to disclose it in public, probably to the delight of Permanent TSB.
The consequences we have suffered, purely at the bands of Permanent TSB are devastating, heartbreaking and totally unacceptable. Permanent TSB will never be able to compensate us as a family, they have taken a huge part of our lives away from us.
She said that for six years the family had no control over their finances and they are "still suffering the consequences of this".
"To think that month after month we were charged an extortionate amount and struggle to manage what was left in our finances, blaming ourselves and suffering horrific stress as a couple. Then to find out by a letter six years later that it was all down to a so-called error by our bank – to be honest it was just inconceivable and still is."
She said they feel sick knowing that the hardship they faced could have been avoided and their future may not have been changed in the way it now has.
Hazel and her husband were unsuccessful in their appeal to Permanent TSB's customer appeals panel on the basis they had "not shown the financial and non-financial damages were caused by the bank".
"There are certain situations where conclusive evidential proof is impractical and impossible and it does not mean they are not responsible without this," she told TDs and Senators.
Financial advisor Padraic Kissane pointed out that each appeal point in the couple's case had been supported by documentation. He said the difference in the interest cost "between their correct tracker rate and the incorrect PTSB rate" is in excess of €60,000 over the remaining term.
If you have been affected by the tracker mortgage scandal, we want to hear your story. Get in touch by sending a message to trackermortgage@thejournal.ie.