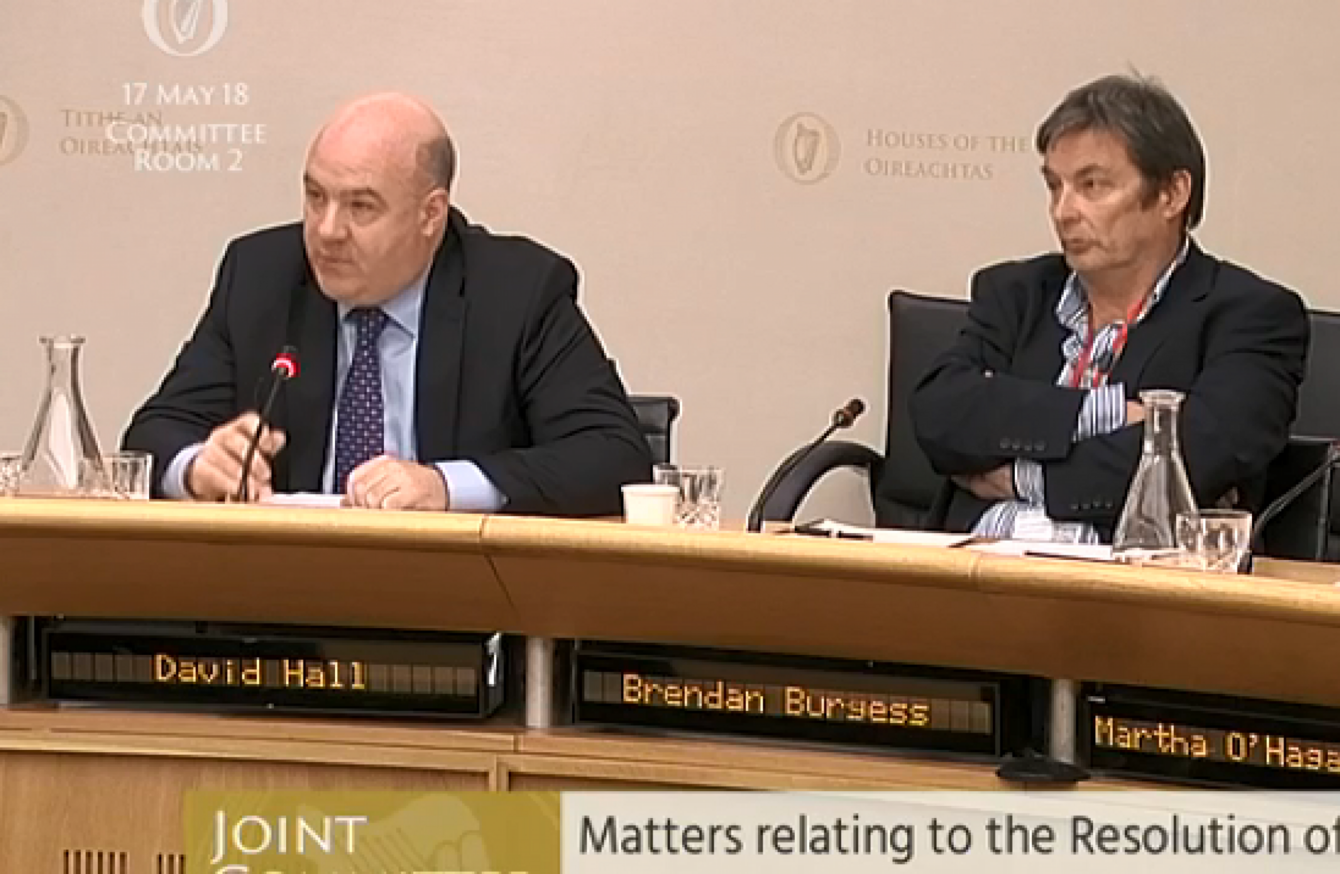 Image: Oireachtas.ie
Image: Oireachtas.ie
CONSUMER EXPERTS BUTTED heads at the Oireachtas Finance Committee this week as they discussed solutions for the tens of thousands of customers in mortgage arrears.
First, Askaboutmoney founder Brendan Burgess told the committee that he believes variable rates in Irish bank are high now because thousands of "irresponsible borrowers" refuse to pay their mortgages.
He said there is "no effective sanction" for an estimated (by Burgess) 10,000 people who will not pay their banks, and because of this, the 300,000 responsible borrowers "pay their mortgages for them".
"Non-payment does not hurt the lenders – it hurts other borrowers. The lenders use the difficulty in repossessing houses as an excuse for charging more. When overseas lenders look at the Irish market and see that it takes years to repossess a home from a defaulter, they stay well away."
This was at odds with David Hall's evidence to the committee. The Irish Mortgage Holders Organisation (IMHO) CEO said that there has been a "collective intended or unintended incompetence and/or conspiracy" to ignore the fact that the majority of people who are in arrears can not pay.
Instead, he said, a narrative has been fostered that those in arrears who have not been resolved are "messers, strategic defaulters and non-engagers".
"The majority of those in long-term arrears, which stands at 31,500 households can't pay."
Close to the end of the two-hour meeting, Burgess made reference to four people who had appeared before the committee in relation to the tracker mortgage scandal.
They had been invited in, alongside financial adviser Padraic Kissane who was representing them, to talk about how the overcharging had affected them.
He accused the committee of failing to challenge these people about their personal circumstances and said not everyone affected by the overcharging could blame their bank for their financial distress.
"You were saying 'you lost your tracker that's terrible look at the impact it had, tell us about the impact', you didn't ask them the questions 'well were there any other issues in your life at the time? Did you have other financial difficulties?'" he said.
At this point David Hall interjected loudly with: "Who cares? They stole the tracker off them!"
Chair of the committee, John McGuinness told Burgess they "didn't have to ask".
"They actually told us, they came and they told us. They poured their details out before this committee and regardless of what happened, no bank was entitled to treat them the way they were treated."
In the cases of more than 37,000 customers, lending institutions have admitted wrongdoing and will provide redress and compensation. Thousands of others who believe they have been impacted are still battling to be included in the current examination.
Burgess said he was aware of the scale of the problem and had advocated on behalf of impacted customers.
Because somebody goes publicly and says 'my life was destroyed because of the loss of the tracker, and it was unfair', there are two possibilities. First of all it might not have been unfair in the first place and secondly their life may have been destroyed, but it might not be by the loss of the tracker.
"Jesus, Brendan they were at the end of their tether when they came in here, Christ Brendan," Senator Kieran O'Donnell responded.
"This is cuckoo stuff," David Hall added.
"Padraic Kissane has the utmost reputation has being an eminent professional and has driven this thing, they're his clients. This is bizarre carry-on."
McGuinness pointed out that after the witnesses appeared before the committee, pressure on the Central Bank and on the offending banks intensified, and this helped tens of thousands of other impacted customers to get recognition from their lenders.
He also said committee members are constantly contacted by people who are battling with their banks and when the TD or Senator passes on their details and evidence, the customers are contacted by their lenders the next day.
"It proves they're not doing their job, they're ignoring the plight of people. The evidence given by those people was so exceptional, it told all about the hard facts of how lives can be destroyed by banks who could care less for people."
The Central Bank has said 88% of the identified affected customer accounts have received offers of redress and compensation. Further offers are expected to be made to the remaining 12% by the end of next month.