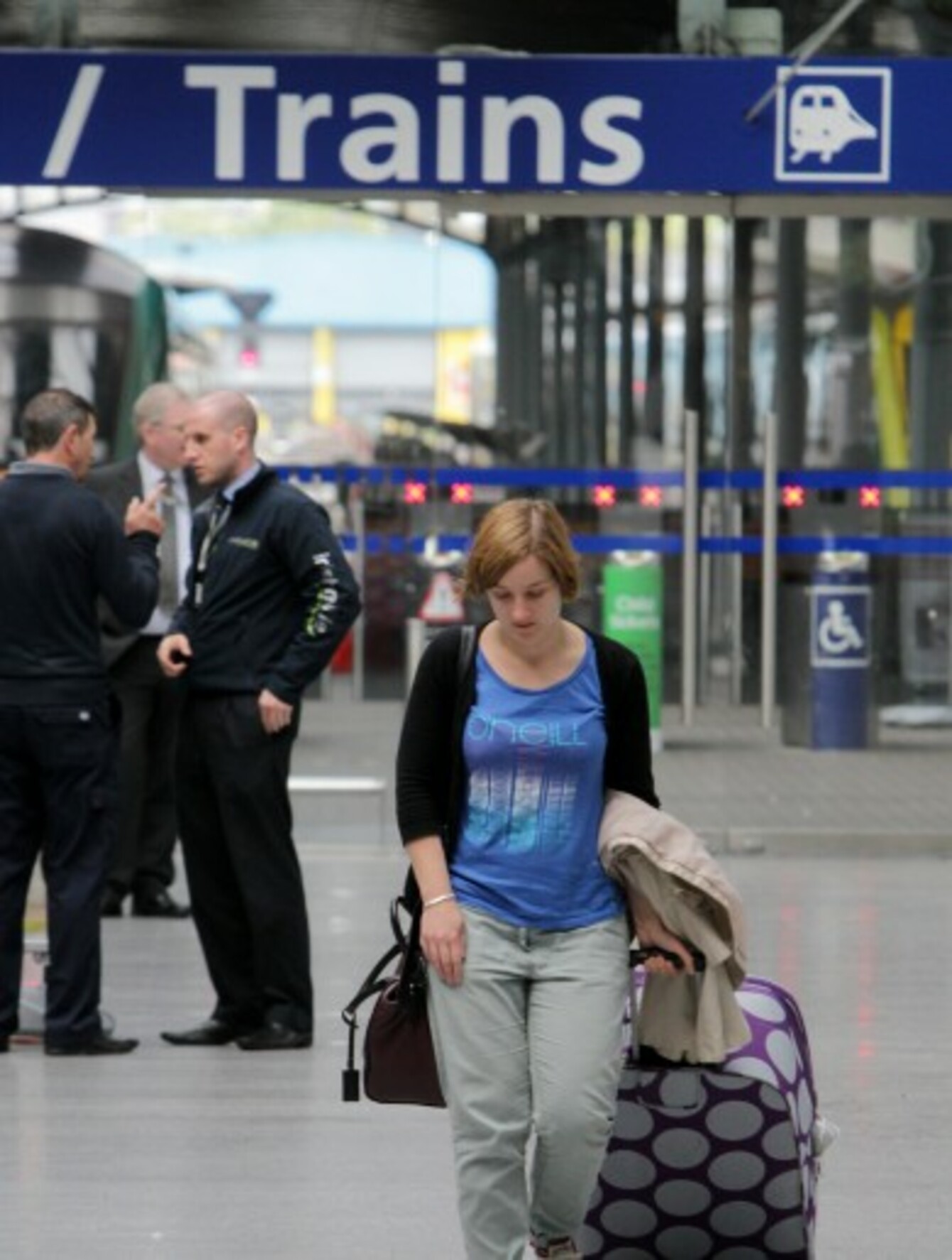 Some people were caught off guard by today's strike.
Image: Mark Stedman/Photocall Ireland
Some people were caught off guard by today's strike.
Image: Mark Stedman/Photocall Ireland
SIPTU HAS SAID that it will consider a further escalation of today and yesterday's rail strike if there's no movement from Iarnród Éireann to roll back on pay cuts.
A spokesperson for the union says that the current 48-hour stoppage is "unfortunate" but raised the possibility that there could be more following those already planned on 7-8 September and 21 September.
Up to 100,000 people are estimated to have been affected by today's strike with both sides of the dispute acknowledging that the next round will cause even greater disruption.
The All-Ireland Hurling Final is on Sunday 7 September with more schools back in term the following day than was the case today.
The stoppages are being implemented by both Siptu and the National Bus and Rail Union (NBRU).
The dispute centres on a pay cut which came into effect from yesterday and saw a reduction of 1.7% on workers earning up to €50,000-a-year and 2.5% on salaries above that.
The pay cuts are slated to last for a period of 28 months and are backed by the Labour Court but Siptu's Paul Cullen says the union are concerned that these cuts will lead to more down the line:
"The question mark is over future funding. The cuts are estimated to save just €8.7 million, that's just over 10% of what is identified as a shortfall."
Siptu puts the deficit at about €60 million.
Cullen says that workers would like to see a guarantee that no further cuts will follow and added that a "package of proper funding" would also help create confidence among workers that they will not be tapped again.
But Iarnród Éireann says that these fears are completely unfounded as the company have said clearly that this won't happen.
"It's just not the case because it's laid out in a Labour Court recommendation," says spokesperson Barry Kenny. "It explicitly says that the cuts are for 28 months when they will be reversed, we've committed to that."
Kenny adds that there was a previous agreement which left the option open for further cuts and the union is pointing to that rather than to the current one they are committed to.
"This has been stated time and time again," he says, adding they've reduced non-payroll costs by 40% and plan to do more.
Escalation
Siptu says that there has been no direct contact from Iarnród Éireann about the pay cuts since the industrial action was announced on 24 July.
Cullen says that if there hasn't been any by the time the second 48-hour stoppage comes around on 7 September then an escalation would have to be considered.
An executive meeting will take place after the 24-hour stoppage on 21 September but Cullen says that if there's no contact in the next two weeks than the message would be clear the the company does not wish to enter discussions.
But responding to the possibility of an escalation, Kenny says that the "current action itself is counter-productive" and extending it would show a disconnect between the union and their members.
"It suggests that they're not listening to their workers. They don't want want to be out, they understand that costs have to be reduced and unions threatening to escalate is just a case of them trying to cause a scare."