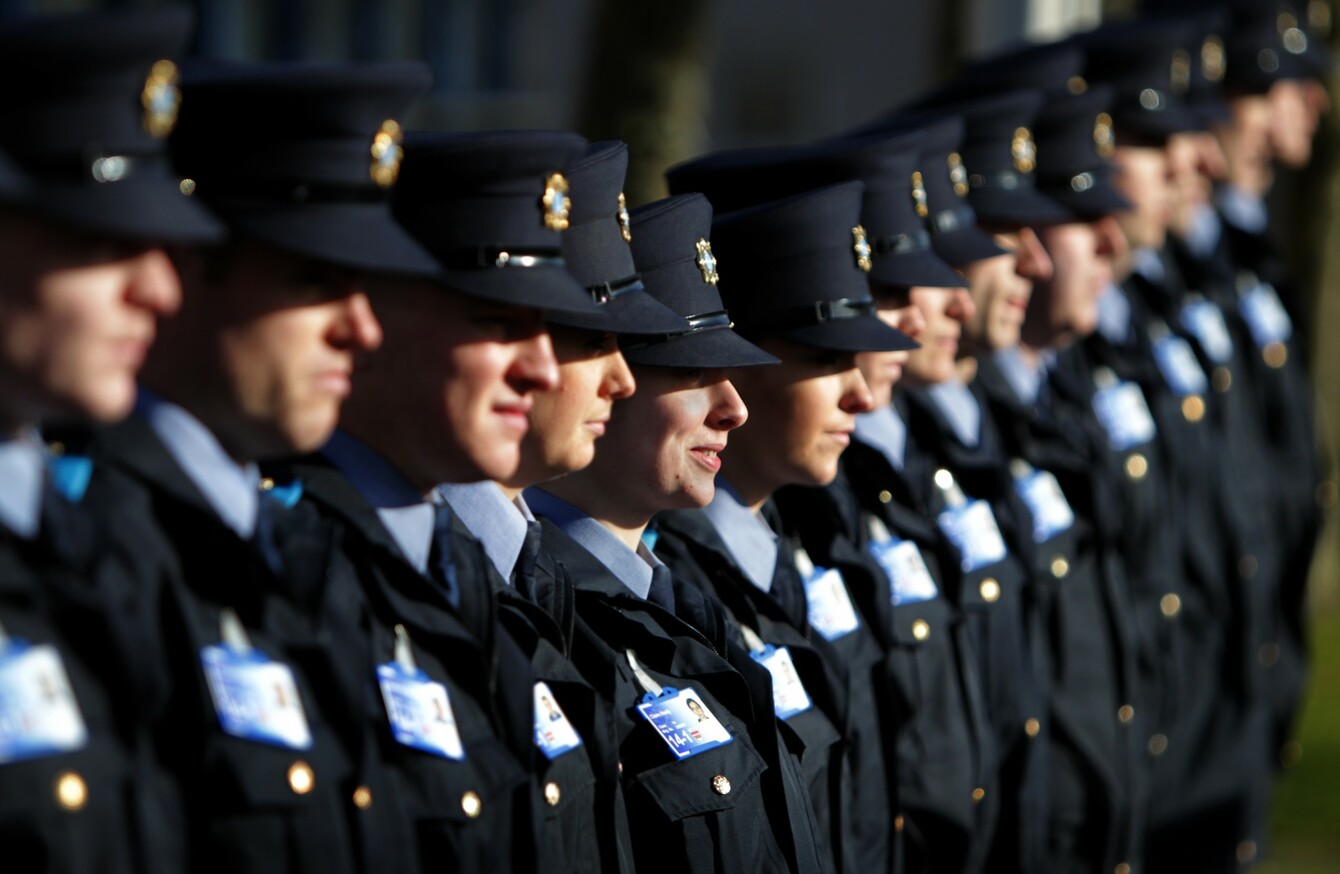 Image: Mark Stedman/Photocall Ireland
Image: Mark Stedman/Photocall Ireland
Updated 10.42am
PROBATIONARY GARDAÍ HAVE expressed anger at an unexpected transfer that will see many of them out of pocket as they struggle to get by on their starting salary.
Last Wednesday a number of trainee gardaí were informed that they were expected to present themselves for duty at Dundalk garda station on 23 March, despite the fact they had been told they would remain at their training stations at least until September this year.
"It's put us in serious trouble," one told TheJournal.ie. "We're in the middle of contracts with rent and bills etc."
It's well documented that we're on €22,000 a year, which is farcical wages when you think about it. Basically, we're living off scraps at the moment and for them to tell us we have to just up and leave with three weeks notice, to go to the other side of the country – it just completely destroys us financially.
The new gardaí were told us that they would be in their current stations until they completed our BA in Applied Policing which will be in September.
"It would be fair enough if we were coming straight from Templemore – we knew then we could be sent anywhere – but this was totally out of the blue."
Without rent allowance, which was scrapped in recession pay cuts, the trainees now face losing rent deposits and having to scrape together the funds for new accommodation in Louth.
They are also concerned about how this will impact on their qualification. As part of their degree they are required to volunteer with a charitable organisation for 40 hours on top of their working hours and this move will disrupt that.
Costs
The probationary garda said three of the 14 who were told they were being moved to Dundalk are now seriously considering resigning from the force altogether.
They have sought help from the Garda Representative Association but he said the GRA is "stuck between the two sides" because additional resources are sorely needed in Dundalk.
GRA President Dermot O'Brien said that while the association recognises the Commissioner's right to transfer gardaí, there can be "substantial costs" in moving around the country.
"Once again this highlights our newest members are suffering financially as a result of the two-tier pay structure that currently exists in An Garda Síochána."
O'Brien called on the new government to engage with the GRA on pay, resources and the restoration of the €4,000 rent allowance for new gardaí.
Resources in Louth
A source in Louth said the new gardaí were getting "a raw deal" but added that the division is under serious pressure:
Numbers, they have dwindled so drastically, there's been a huge shortfall in numbers. It was on the cards, especially after poor Tony [Golden], and Adrian [Donohoe] as well.
The trainees are being moved from a number of busy stations across the country, including Cork, Galway, Letterkenny, Tralee, Limerick and Castlebar.
In response to a query from TheJournal.ie, a spokesperson for An Garda Síochána said:
The allocation of garda personnel throughout the country, together with overall policing arrangements and operational strategies, are continually monitored and reviewed to ensure that optimum use is made of Garda resources, and the best possible garda service is provided to the general public.
"An Garda Síochána recognises that the wellbeing of each member is essential from a personal level and contributes to the overall efficiency and effectiveness of the organisation," they added.
"The Garda Employee Assistance Service provides support and assistance to members who may be experiencing variety of personal difficulties/problems which could adversely affect the quality of life of individual members and their families, work performance or attendance."