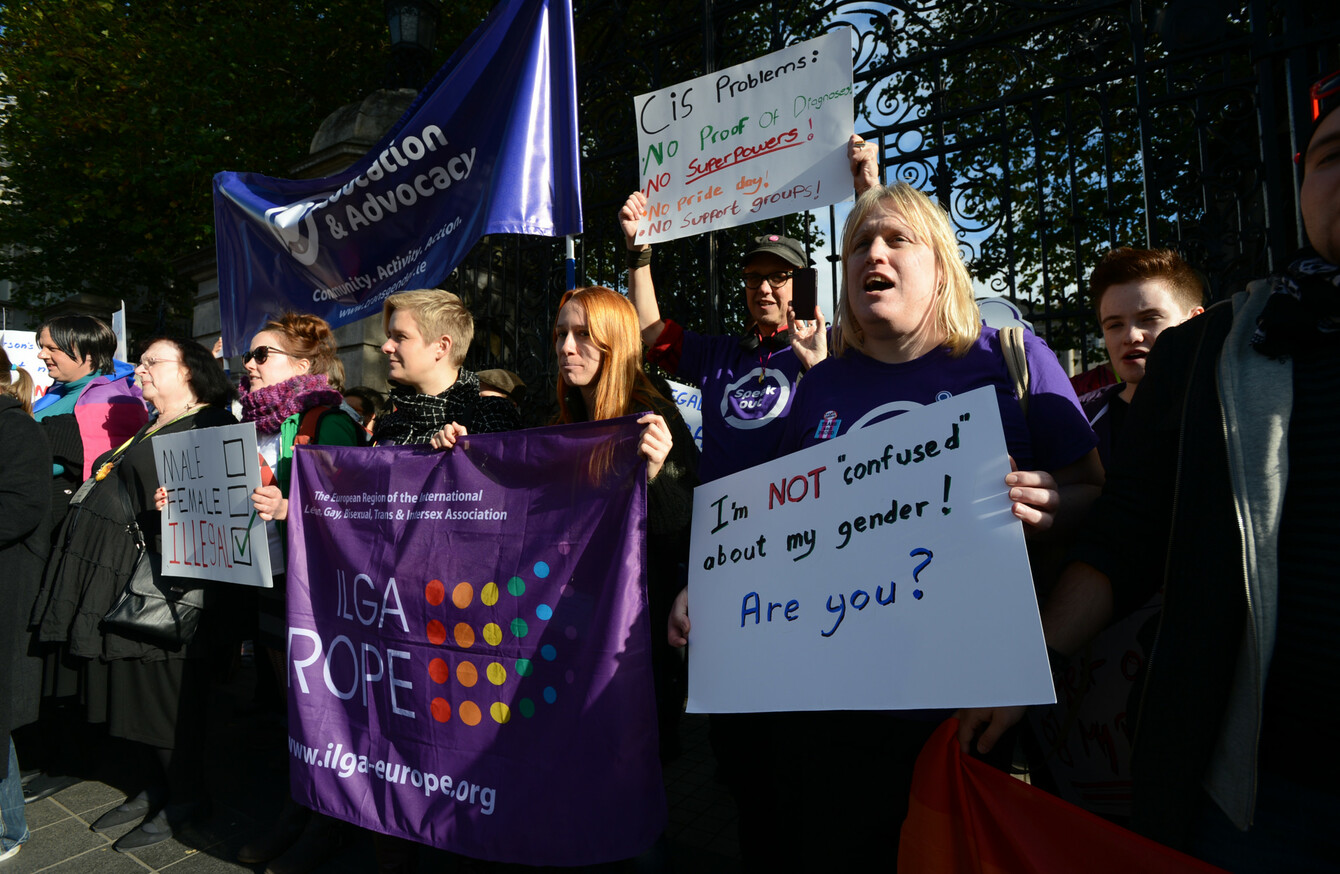 A 2012 rally for trans identities to be enshrined in Irish law.
Image: Sasko Lazarov/Rollingnews.ie
A 2012 rally for trans identities to be enshrined in Irish law.
Image: Sasko Lazarov/Rollingnews.ie
A REVIEW OF the Gender Recognition Act commissioned by the government has recommended reforming the process to allow children to have their gender legally recognised under a number of conditions.
Under the 2015 act, trans adults over the age of 18 can enter into a process to have full legal recognition of their gender, but the process is more difficult for 16-17 year olds, and not possible for those under that age.
The proposals published by Minister for Social Protection Regina Doherty today would see a system of gender recognition be introduced for children where parent consent was acquired, third-party support for the child and family, and a straightforward revocation process.
Furthermore, it proposes a system of gender recognition to be introduced for people who are non-binary – which the department described as a catch-all term for gender identities that fall outside of male or female.
Monnine Griffith, chair of the review and executive director of Belong to Youth Services said that implementing the report's recommendations would "change the lives of trans, non-binary and intersex young people across Ireland".
Gender recognition
The Gender Recognition Act allows individuals to apply through the Department of Social Protection for certificates so they can be legally recognised by the State under the gender they identify.
Following the battle of Irish transgender woman Lydia Foy, who spent 20 years of her life involved in a difficult and complex litigation to have her gender legally recognised in the Irish State, the Oireachtas passed the Gender Recognition Act in 2015.
Where a gender recognition certificate is issued, a person's gender shall from the date of that issue become, for all purposes, the preferred gender. If the preferred gender is the male gender the person's sex becomes that of a man, and if it is the female gender the person's sex becomes that of a woman.
The Act provides a process enabling trans people who are over 18 to achieve full legal recognition of their self-identified gender. This new review recommends provisions for those under that age to get the same recognition.
Other recommendations in the new report relate to birth certificate reference numbers, costs and privacy associated with official documents and the provision of information.
Griffith said: "Trans young people and their families tell us how vital it is to their everyday lives to have access to legal documents that reflects their true gender such as passports, birth certificates and other official records.
Young trans people do not just wake up one morning and decide that they want to change their legal gender. This happens after a period of social transition, living in their preferred gender. What is clear from the young trans and non-binary people that we work with is, however is that having access to legal gender recognition will have a hugely positive impact on their lives, self-esteem, self-worth, and well-being.
Also responding to the report, Free Legal Advice Centres CEO Eilis Barry urged the government to act on these recommendations now.
She said: "There is now a clear onus on the Minister for Employment Affairs and Social Protection to ensure that legislation to give effect to the proposals is introduced when the Dáil reconvenes.
There are many legal issues affecting trans people including the need to amend the Equal Status Acts and Employment Equality Acts and we call on the government to address these as a matter urgency.
The Department of Social Protection said in a statement that Minister Doherty was considering the implications of these recommendations and how they could be best put in place.
With reporting from Christina Finn