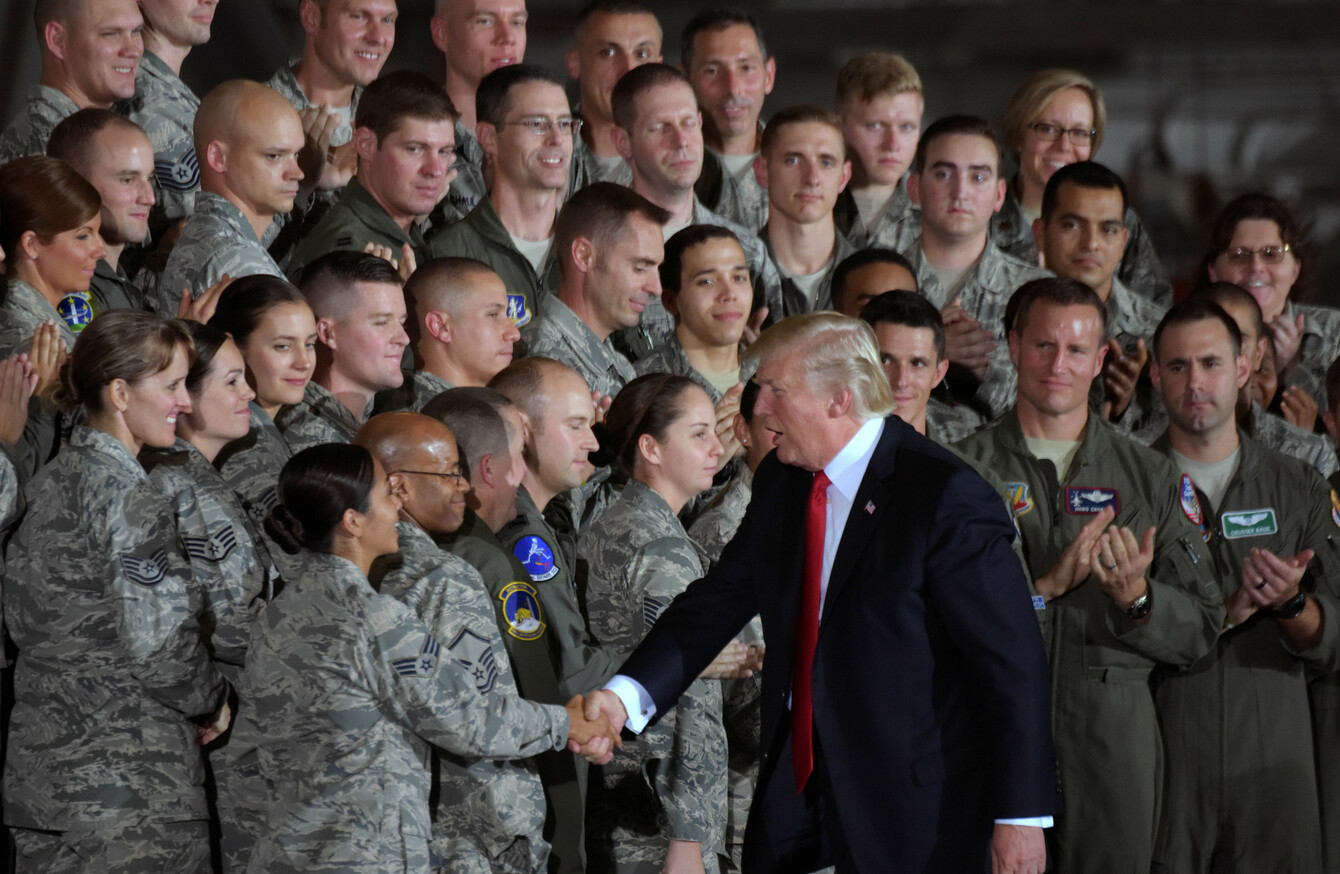 File photo of Trump's shaking hands with soldiers in Maryland last month.
Image: Yin Bogu Xinhua News Agency/PA Images
File photo of Trump's shaking hands with soldiers in Maryland last month.
Image: Yin Bogu Xinhua News Agency/PA Images
A US FEDERAL judge today denied a request from the Trump administration to delay allowing transgender people to join the military, clearing the way for them to sign up from 1 January.
The move will be seen as a blow to President Donald Trump, who in July sent out three tweets saying that transgender troops could not serve "in any capacity," citing "tremendous" medical costs and disruption.
Those messages, later followed by a formal White House memorandum, set off a roar of protest – with several service members and rights groups quick to sue. Already two federal courts have ruled against Trump's proposed ban.
Under a new policy originally announced last year by the Obama administration, the Pentagon was first supposed to start accepting transgender recruits on 1 July this year, but Secretary of Defence Jim Mattis pushed that back by six months to 1 January pending further review of the matter.
Then last week, the Justice Department asked a federal court to further delay the January date while the legal battle plays out.
But US District Judge Colleen Kollar-Kotelly ruled today that the government had not shown it would be "irreparably harmed" if the military begins to accept transgender individuals on 1 January.
Government lawyers cited Lernes Hebert, an acting deputy assistant secretary of defence, as saying that meeting the January deadline would "impose extraordinary burdens on the department and the military services" because "there are considerable requirements associated with implementing this significant and complex policy change".
Kollar-Kotelly said she was not convinced.
In her ruling, she wrote that the government had failed "to acknowledge the considerable amount of time defendants have already had to prepare for the implementation of this particular policy".
"Defendants have had the opportunity to prepare for the accession of transgender individuals into the military for nearly one and a half years," the judge wrote.
'Planning to prepare'
Pentagon spokesman Major David Eastburn said the military was getting ready for the 1 January deadline, in accordance with federal court rulings.
"DoD is planning to prepare to assess transgender persons into the military effective 1 January," Eastburn said.
The number of transgender troops among America's 1.3 million active duty service members is small, with estimates topping out at 15,000.
#Open journalism No news is bad news Support The Journal

Your contributions will help us continue to deliver the stories that are important to you

Support us now
Trump's 26 July tweets caught observers and many in the military off guard, coming with little apparent coordination with the Pentagon.
The president's policy shift meant that transgender troops who were encouraged to come out under one administration suddenly faced getting booted under another – opening up a legal quagmire for the Pentagon.
Several senior military officials voiced unease over the policy shift, and the head of the Coast Guard soon said he would not "break faith" with transgender personnel.
Trump has said he did the Pentagon a "great favor" by banning transgender troops, saying the issue had been "complicated" and "confusing" for the military.